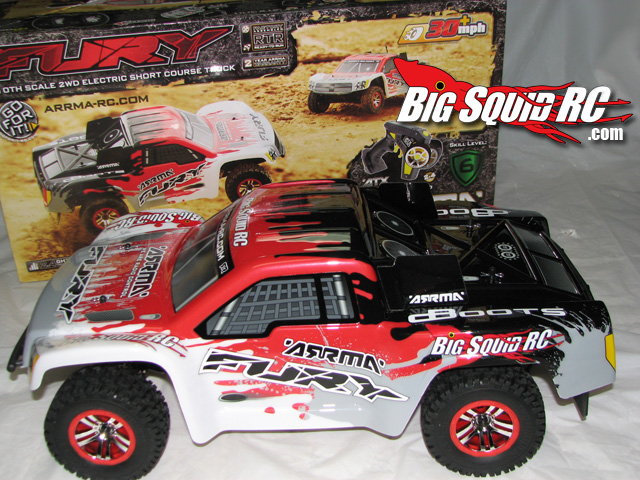 THE ARRMA Fury RTR Short Course Truck Review
Months and months ago when I saw the first pictures of the ARRMA Raider buggy all I could do was think about who I had to bribe to get my hands on one of their products. It's not very often when a new company pops up with a line of cars/trucks, and muchhhhh more rare when they are actually radically different from the established norm. Does ARRMA put out a good product? Is their radically different chassis better than what's currently available? Find out below…

From: ARRMA RC
Direct Link: ARRMA Fury
Review By: Cubby
Pics By: Cubby
Specs-
RTR or Kit: RTR
2wd or 4wd: 2wd
Electric or Gas: Electric
Length: 540 mm
Height: 200 mm
Width: 295 mm
Wheelbase: 330 mm
Ride Height: 40 mm
Track: 248 mm
Top Speed: Stated to be 30+ mph (we did not radar our test truck to confirm)
Motor: 540 15 turn Brushed
Speed Controller: Waterproof, brushed only
Tranny: 3 gear, all metal
Differential: Metal geared, oil filled
Slipper Clutch: Included
Driveshafts: Steel
Screws: Hex head
Street Price: $220
Primary Competition: Venom Gambler, Traxxas Slash, HPI Blitz, Associated SC10, Losi XXX-SCT
What's In The Box– Everything you need except four AA batteries for the transmitter, 6 cell Ni-mh for the truck, and a battery charger for the 6 cell.
Build Quality– Shocks were well assembled and not leaking, diff felt good, gear mesh was properly set, slipper was well set, no excessive flash on plastic parts, and I didn't notice any stripped or loose screws. Our servo saver was too tight, but otherwise build quality of this RTR was very good.
Test Drivers– Cubby, Brian, Top Jimmy Swift, Tim "Hollywood" Mohr, "Hawaiian" Chris
Test Venues: RC Outlaws in Collinsville Illinois, St Louis Dirtburners, Costco Parking Lot, Backyard
Set-up Notes– The Fury came stock with a Tamiya plug on its speedo, that went bye-bye real fast when I installed a Traxxas plug. Truck was tested all stock except for the Traxxas connector. We used MaxAmps 2S 6500 mah Lipo packs during all testing.
Turning– The stock tires aren't too hard, yet not too soft, giving decent traction both on dirt and on pavement with decent tire life. The Fury is an amazingly neutral turner on both dirt and pavement. The included servo is quite slow and doesn't pack much torque but it gets the job done (perhaps a testament to how good the chassis handles).
Jumping– 2wd short course trucks can be downright hard to jump properly but our Fury jumped as well, if not better, than any other truck in its category. The Fury was quite responsive to driver input while in the air, more so than others in its class. The Fury was also quite forgiving on jump faces, it didn't take hitting a jump face perfectly in order to land successfully. Landings were surprisingly plush, the suspension would bottom out, but not as harshly as some of the others in its class.
On-Road: Life is good if you like to bash on-road style with the Fury, no traction rolling yet decent mechanical grip. There is some body roll, but seemingly just enough to for decent grip, but not so much to make the truck flip on its lid.
Suspension: Spring rates, pistons and oil all seemed right in the ballpark. Someone obviously put in a lot of time making sure the stock set-up worked correctly. The shocks on our test Fury have yet to leak, a HUGE plus in my book.
Tires: The included tires are slightly too hard to offer maximum mechanical grip for racing, but they work great for bashing and will last a long time. The stock foams on the other hand are very soft, a good thing if you drive on loose surfaces, but a bad thing for pavement or blue groove running.
Power: The included speedo/motor (which is a brushed) combo puts out about the same power as a brushed HPI Blitz. How much power is that? About the perfect amount of power for a noob, and enough power to make most (but not all) of the jumps at your local track.
Radio: Whoa! This is the most radically designed transmitter we have ever laid hands on. All of our tester liked its innovation and the transmitter alone drew a crowd at the local track. Performance wise the stock 2.4 Ghz radio had outstanding range, I didn't walk if off because I really didn't feel like walking that far. If I could still see a little red/black dot (the color of our test truck) on the horizon I still had control of the Fury. The stock transmitter did have one downside- the spring rates on both the trigger and the wheel were too high, or at least they were higher than any of our testers liked.
Broken Parts: I seriously overdid it this time. You see the ARRMA Fury is in the same class as epic bashers like the Traxxas Slash and HPI Blitz. That means a lot around this place, if you are going to go head to head against against the Traxxas Slash and the HPI Blitz you dern well better be tough as a fire hydrant. So…. myself and the bash crew absolutely tortured the ARRMA Fury. First we beat it, crashed it and thrashed it for hours both on-road and off. Next up on the torture list was jumping it off the first level of the drivers stand at the St Louis Dirtburners track. I jumped it off the first level (about 10 feet off the ground) 4 times. The result? The motor slid forward after a hard rear end landing but I re-set the gear mesh and it was back to the thrashing (this took about 2 minutes). Next up was jumping off the roof of the St Louis Dirtburners drivers stand (about 20 feet off the ground). We did this four times (just to make sure we did it right…LOL). The result? A screw came out of one of the rear body mounts, and 2 screws came out of the rear bumper. Nothing was broken, but we did lose 3 screws. The truck was still driving fine so…. next up was driving it full speed into a railroad tie-> repeatedly. I personally drove it full speed into the railroad tie a dozen times. The result? We had two tie-rods pop off at the wheel (which we popped right back on), we cracked the front top deck, and finally after a couple more full speed runs into the railroad tie we broke the servo horn. So… after hours of abuse, 4 jumps from 10 feet high, 4 jumps from over 20 feet high, and over a dozen full speed runs into a railroad tie we broke the servo horn and cracked the front top deck. I was trying to completely destroy the truck, I failed. Fury 1, Cubby 0.
Best Mod Under $5: Traxxas plugs! Tamiya plugs may be all "retro" and hip but they suck for transferring power, put TRX connectors on before you even drive the truck.
Best Mod Over $5: The stock servo leaves a lot to be desired, pop $50 on a decent Hitec and the Fury will instantly become much more responsive.
Misc Notes:
The stock rims use the same size hex and roughly the same offset as Traxxas Slash "rear" rims. Kudos! This makes it soooo much easier to find replacements.
There are some e-clips on the Fury. Captured hinge pins next time around please?
The mud flaps utilize the best capturing method I've seen yet on an SC truck. What does this mean? It's unlikely you'll ever lose a mudflap on your Fury.
The stock body clips are the small "hard on your hands" type. Replace these with Traxxas or Losi units ASAP.
The Fury comes with a properly designed front bumper. Not only does it look proper but it's also mounted to all the right places to dissipate the forces involved during crashes, hitting other trucks, brick walls, etc.
The front arms on the Fury aren't the thickest I've seen but they are nearly solid plastic. The plastic used is of the best quality for bashing allowing enough flex to not break, but not so much flex as to greatly affect handling.
I wasn't a big fan of the bottom mount battery, although other testers liked it. The bottom mount battery tray is a necessity with the twin spar chassis used on the Fury and some may prefer it because you don't have to remove the body to install a battery.
---
As with all of our stuff, if you see us at a bash, stop by and check out the vehicles we have with us. We may let you take a test drive, and at the very least get you some stickers!
SUMMARY
Time To Bash – 9.0/10 -Pop four AA cells into the ray gun transmitter, then charge up a 6 cell Ni-mh, that's all that is needed to get running.
Workability – 7.0/10 – The twin spar frame has its upsides but slows down wrenching on certain areas of the truck.
Car Show Rating – 8.0/10 – The ARRMA Fury was well received around the office. The body comes with a good paint job, the tires look scale, and the chrome on the rims bring up the bling factor.
Bash-A-Bility – 9.0/10 – I can't give it a 10 because we did end up breaking it. But…. our ARRMA Fury was subjected to the worst beating we've ever done to any test vehicle. To boil it down- the Fury is every bit as tough as the class leading Blitz and Slash.
Fun Factor – 9.0/10 – The Fury is loads of fun because it drives so well and you like it even more because it's so hard to break.
Handling – 8.0/10 – A neutral turner, a great jumper, handles very well for both noobs and experts.
Power- 9.0/10 – Compared to other brushed 2wd short course trucks the Fury puts out good power.
Value- 9.0/10 – At $220 the ARRMA won't break the bank, but it will give you hours of fun.
Big Squid Rating – 8.5/10 – Tentacles.. While the Fury short course truck is one of the first offerings from ARRMA RC, it doesn't come with any freshman issues, in fact it is quite refined. Obviously ARRMA took their time to make sure even the first trucks out of the warehouse were spot on, something that is far less common than it should be now days. The Fury handles as well as anything else in its class, its as tough as anything else in its class, has just as much power as anything else in its class, and comes with the craziest transmitter we've ever seen. Oh and it's unique, it doesn't look like a complete copy of anything else on the market. Great truck, buy one and you'll love it.
Need more pictures? Check out our ARRMA Fury Unboxing pictures!