It's rare when a company comes out with a product that you would never expect, and even more rare when that product does not look like anything else you have ever seen. This is exactly what ARRMA RC and Horizon Hobby did when they released the 1/7 Scale Infraction 6S BLX. Does this street basher fire on all cylinders? Keep reading to find out.
From: Horizon Hobby and ARRMA RC
Direct Link: ARRMA Infraction
Review By: Brian
Photography By: Brian
Specs:
RTR or Kit: RTR
Age: 14+
2wd or 4wd: 4wd
Shaft or Belt: Shaft
Electric or Gas: Electric
Waterproof: Yes
Scale: 1/7
Length: 695mm / 27.36″
Width: 308mm / 12.13″
Wheelbase: 406mm / 15.98″
Weight: 4.8kg / 10lbs 9oz
Motor: BLX 2050KV BRUSHLESS 4074
Speed Controller: ARRMA BLX185 Waterproof
Radio: DX2E Active
Differential: Geared
Slipper Clutch: No
Driveshafts: CVD Front/Dogbone Rear
Gear Ratio: 5.44 – 10.15
Shocks: Oil Filled
Screws: Metric, hex
Bearings: Yes
Tires: dBoots Hoons
Battery: Not included
Part Number: #ARA109001
Bashing Specs:
Wheelie on demand: No
Backflip off ramps: No
Stability Control: Yes
Sound Module: No
Self-Righting: No
FPV: No
Top Speed (measured by BSRC on 6S LiPo): 65 mph stock gear, 81mph with included optional pinion.
Street Price: $599
Primary Competition: The Traxxas XO-1 is probably the closest competition, but there are not a lot of 1/7 scale bash vehicles out there to compete with the Infraction.
What's Needed To Complete: You are going to need some serious batteries to power this beast. We recommend running 2x3S LiPo packs.
Build Quality: Out of the box we had absolutely no issues with build quality. Shocks, screws, gearing, everything was dialed-in and ready to go.
Test Drivers: We have had a ton of hands on the Infraction, but most driving was done by Wrench and myself.
Test Venues: We have had the truck everywhere, parking lots, streets, run-ways, gravel and dirt roads.
Set-up Notes: We used both Dynamite and Spektrum 3S packs (6S total) which provided plenty of power to spin those tires.
Turning: The Infraction is glued to the ground when you want it to be… and drifting the corners with crazy precision when you feel the need to get sideways. This truck is so much fun when you want to get loose, it's mind numbing. Every time we went out to test and bash, you couldn't wipe the grins of our faces.
Jumping: So while the Infraction is not meant to be jumped, it can be jumped. Not only did we sky the truck multiple times at the skate park, we recently launched it at one of our long jump events! At the skate park, the speeds were more controlled, and the angle of the jumps was better, but when we hit that long jump at 80mph and launched it 149 feet, we were completely out of control flipping end over end. That being said we, jumped the long jump 3 times, well over 100 feet, and didn't break a single thing! We don't recommend planning on going out and driving the off-road course, but for you die hard basher types that just can't resist a ramp, you'll be fine.
Bumps/Whoops: You are really going to want to stay away from any bump/whoop off-road action.
On-Road: On road is of course where the ARRMA Infracion shines. Now there are going to be some on-road racer guys that claim their cars can crush it, and they are right, but that's not what the Infraction is made for. This truck is made for bashing, and ARRMA knocked it out of the park! The truck does a great job of sticking to the road, and gets around very quickly. We haven't had this much fun in an empty parking lot in years! What's also really impressive is at high speeds, we still felt like we were in control. Maybe it was the AVC kicking in, maybe it's just the design, but it does very well when it's flying by.
Grass: Nope, not going to do grass. We landed in the grass after some jumps, couldn't move an inch.
Tires: The stock dBoots Hoons tires are great! They are great for driving, they are great for traction, and are also great for burning rubber! The smoke you see in these photo's is the real deal. Now before you get yourself all worked up and see the damage we have done to these tires, keep in mind this truck is built for bashing! We are burning rubber and shredding tires on purpose here. With the amount of abuse we put these tires through, they do last a little longer than expected. With that being said, the Infraction does eat tires for lunch, and asks for desert! During our review period we did throw on some foam tires just to see what would happen, and we smoked those too!
Power: Did you say power? Oh it's got the power! The BLX4074 2050Kv brushless motor has no problem putting down the power when it needs to! It can break those tires free in a turn at just about any speed with a squeeze of the trigger. It's got enough power to smoke the tires and not break a sweat, and during our top speed runs, there was no question that it couldn't keep going all day long.
Radio: I think a few people would have liked to have seen the Infraction come with a different radio other than the Spektrum DX2E just because that's sort of the 'low end stock radio' Horizon normally uses, and the ARRMA Army expects a little more with their high-end basher. That being said, we had no issues, no glitching, and no problems with the DX2E.
Broken Parts: Besides destroying some tires, we had no breakage, which is amazing! We sky'd the Infraction off multiple jumps 149 feet, landed to pavement from big air at the skate parks, and hit more than our share of curbs while drifting and making smoke. All of that, and not a single issue! Congratulations to ARRMA on giving us a true on-road basher vehicle!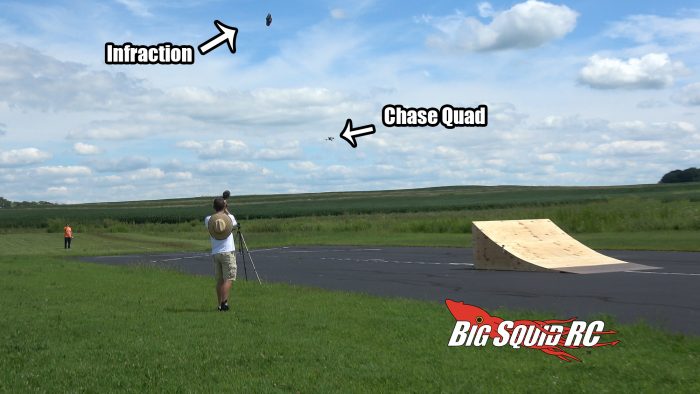 Misc. Notes: The first time we saw smoke while doing donuts in the parking lot we thought 'uh oh, there go the electronics!' and immediately shut it down. It takes a little getting used to seeing smoke coming from your vehicle and being able to appreciate it.
There are a lot of times we have been out bashing in a parking lot with a monster truck or short course vehicle and had a good time. The Infraction takes that fun to the next level, and is absolutely a must bring vehicle if we know there is a place to be on road!
When we were going to hit the long jump for the first time, a lot of the Horizon Hobby employee's were visibly uncomfortable about it. It's not meant to be jumped, especially full speed at a GIANT ramp that was going to launch it into space. When they saw that we were committed to making it happen, they basically threw their hands up and said 'it's your truck.. do what ya want'. Even they were amazed by the amount of abuse the truck could take. Jump after jump, hard landing after really bad landing, it just drove away.
Best Mod: Consider foam tires. While you can still smoke the tires, they will last a little longer and just get smaller, so you can keep driving longer.
---
Summary:
A = Outstanding/Best in Class, B = Above Average, C = Average, D = Below Average, F = Horrific
Time To Bash: B Pop in some charged batteries, and hit the streets!
Workability: B Everything is pretty easy to get to, in true ARRMA fashion. We had no problems swapping tires, batteries, or gears.
Car Show Rating: A Jaws drop when this vehicle hits the pavement. Yes it looks a lot like the Hoonigan truck without actually being the licensed version, and that's ok.
Bash-A-Bility: A We have beat this truck to a pulp, and done things to it most vehicles should not experience, and it's lived to bash another day.
Fun Factor: A It smokes the tires! If that's not enough for you, it is a true blast on any flat surface. This truck was built for fun.
Handling: A It handles surprisingly well. There was never a time while driving the Infraction that any of us were upset about the way it handles. The built-in AVC basically makes it handle however you want it to.
Value: B The $599 price is a good value, but can be seen as a bit of a reach for a bash vehicle. You will get your fun out of it for sure.
Parts Availability: C You can get parts online, but you won't find a lot of parts on the pegs of your local hobby shops.
BigSquid Rating: A The ARRMA Infraction is a contender for our Bash Vehicle of the Year! We have had an absolute blast with the Infraction and are happy to see ARRMA take the chance on something that was unique and different!