ARRMA announced the Notoriuos 6S Stunt Truck a few weeks ago and now it is finally available. Being similar to its brother Outcast, it was specifically designed to please your bashing needs. Flips, wheelies, and giant air time are in its genes, but is it really a worthy machine for extreme bashing? Read on to find out…
From: ARRMA RC
Direct Link: Notorious 6S BLX Stunt Truck
Review By: Thomas a.k.a. Tommy Chong
Pictures By: also Thomas, what a coincidence…
Specs:
RTR or Kit: RTR
Age: 14+
2wd or 4wd: 4wd
Shaft or Belt: Shaft
Electric or Gas: Electic
Waterproof: Yes
Scale: 1/8
Length: 21.3″ – 540mm
Width: 18.1″ – 461mm
Height: 9.1″ – 230mm
Wheelbase: 12.91″ – 328mm
Weight: 10lbs 11oz – 4.9 kg
Motor: ARRMA BLX 2050kV brushless
Speed Controller: ARRMA BLX185 150 amp
Low Voltage Cut-off: Yes
Radio: Tactic TTX300 2.4GHz
Differential: Gear type
Driveshafts: Metal
Shocks: Metal, oil filled
Servo Saver: In steering rack
Screws: Metric, hex
Spur/Pinion Pitch: Mod 1
Bearings: Yes
Tires: dBoots Back-Flip
Battery: Not included
Part Number: #AR106036
Bashing Specs:
Wheelie on demand: Yes
Backflip off ramps: You bet!
Stability Control: No
Sound Module: No
Self-Righting: No
FPV: No
Top Speed (measured by BSRC on 6S GensAce Bashing LiPo): 52 mph
Runtime (measured by BSRC on 6S GensAce Bashing LiPo): 20 minutes
Street Price: $499
Primary Competition: Lots of 'em: Traxxas E-Revo 2.0, Tekno MT410, Sworkz Zeus, Thunder Tiger MT4G3, Team Magic E6 to name just a few
What's Needed To Complete: You will need four AA cells for the Tactic radio and between 4 to 6S of LiPo batteries for the truck. You will also need a battery charger. Other than that, the Notorious comes pre-built and ready to rock.
Build Quality: Our Bash Crew didn't find any faults with the assembly of the Notorious. No leaky shocks or loose or stripped screws.
Test Drivers: Thomas, Kai and Andre gave everything to break that thang.
Test Venues: Parking lots (especially the one at Horizon Hobby Europe), a soccer field, a skate park, a construction site and a long puddle for hydroplaning.
Set-up Notes: What's that word again? S.T.O.C.K. We didn't change a thing on our Notorious. Power was provided by a pair of 3S LiPo batteries wired in series.
Turning: While shorter in wheelbase than the other trucks in the ARRMA 1/8th line-up, it is easy to take those corners. Too much throttle and the front wheels will lift off the ground, which makes a cool stunt turn on loose surface, because it starts wheelieing while drifting. Being a stunt truck, the Notorious is not made for racing, even though it is really fast. It gives you a ton of fun doing all sorts of unusual tricks.
Jumping: The Notorious reacts great on trigger inputs while catching air. It's stunt truck genes make it jump the way you would expect it to. When you pound the trigger to full speed ahead, the Notorious backflips like a champ, when you slam the trigger to full brake it drops its nose down. The set-up on the Notorious does indeed make it easy to pull off double and triple backflips, as well as front flips. When not stunting, the suspension and chassis geometry did a solid job of launching the truck flat. It has stiffer and longer springs than it's brother Outcast, so it has improved a lot when it comes to soaking up big landings.
Bumps/Whoops: The short wheelbase combined with huge power on the Notorious can cause things to get crazy when hitting rough sections at high speeds. It needs a little more sensitivity on trigger inputs than longer trucks, but still does a good job on soaking up the bumps.
On-Road: Bashers bash anywhere, even on-road! The Notorious can be a blast in a parking lot. It easily does standing backflips when you pull the trigger. You can ride wheelies for days, or just race your buddies down the strip with it's high speeds.
Grass: The stock tires love to run through grass with no questions asked. The BLX power system didn't even flinch. Even if you are stuck in a backyard filled with grass, you will love the Notorious.
Tires: The dBoots Back-Flip motocross styled tires did well overall. They are at their best in the soft stuff, but also excelled in grass. the tires did fine on pavement, but the 6s power will make then wear eventually if that's where you bash most. They have great traction but do not turn into pizza cutters at top speeds, making the truck very controllable.
Power: Power is super strong from the bottom to the top. It's perfect for putting those front wheels straight up. The Notorious just has power for days. There isn't really a week spot on that power band. It tops out at just over the 50 mph.
Radio: The Notorious comes with a Tactic 2.4GHz transmitter, which many of us here are big fans of. It's one of the better RTR radios on the market with outstanding range and zero glitching. Its ergonomics tend to fit a wide variety of hands and the foam covered wheel was comfy enough to us.
Broken Parts: The Notorious is becoming well known for its durability. We did not manage to break it when doing normal bashing, but it even held up like a champ when we went crazy with it. Hitting curbs at high speed, jumping into a pile of bricks, jumping off of a three story building would not destroy anything. Even the body held up very well and looked so cool with all its scratches.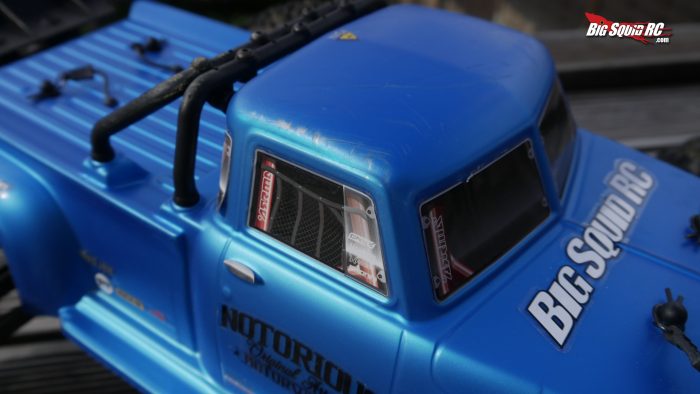 Misc Notes:
Yes, everyone was a little disappointed after the teaser that there was not an entirely new vehicle. But ARRMA made an already outstanding stuck truck even better. The BSRC crew recently had a chance to talk to the team behind all the development at ARRMA, they are very proud of the new truck, and hinted that some big stuff may be on the way!

The Notorious is like the incredible Outcast but a little tweaked and improved here and there. And that body, oh that body… it is sooo amazing. Go out to your local hobby shop and compare the Outcast and the Notorious side by side. You have to see it in person, do not judge by looking at pictures.

A lot of people seem to believe that kits are always better than RTRs, because of their "higher quality parts." When you drive the Notorious though there is no lack in quality. You can take it out of the box, put in some Lipos and go bashing right away. We have not managed to break it yet, and we did try very hard. All the parts and materials they used to build this truck, are more than enough to give you a ton of fun. There is simply no need for i.E. 7075 aluminium parts, so why pay for the upgrade?
The stock servo is very good for a RTR unit. It has enough speed and power to satisfy 90% of the user base out there. A lot of people think that it should be replaced right away, but we did not have to do so in our test units and we still abuse them on a regular basis. Even our Outcast still runs the original servo.
Like most of the ARRMA cars in the fleet, the Notorious comes with rubber retainers for the body clips. Did we mention how much we hate losing body clips? That isn't a problem on the Notorious.
Best Mod: Put some foam in between the drivers cabin and the platform on the chassis that is supposed to support the body. Bend the body pins for easier removal (this is a tough job though, because they are made out of hardened steel).
Summary:
A = Outstanding/Best in Class, B = Above Average, C = Average, D = Below Average, F = Horrific
Time To Bash: B We had no problems getting our truck up and going quickly. Four batteries into the transmitter and a freshly charged big LiPo into the Notorious and you are ready to bash the heck out of it.
Workability: B Hex hardware and a standard 8th scale layout make the Notorious pretty easy to get in there and get things fixed. You can get to all parts with minimum effort, i.E. if you need to get to the front or rear diff it takes very few steps.
Car Show Rating: A+ The Notorious is a real beauty. In fact, it looks so hardcore that we did not even dare to put any additional stickers on the body. The ARRMA designers really went out of their way to make this one a stunner. The old school look along with the unique feature of a truly scratchable body make it outstanding. Talk about scale looks in a monster truck, the Notorious has it all. No kindergarten graphics just a real metallic color that gets scratched off when shredding on asphalt to leave some real looking scars in your paint job. AWESOME!
Bash-A-Bility: A The Notorious, like all ARRMA 1/8th scalers, which are known for their toughness, proved it can take a beating and will come back to ask for more. We keep doing crazy things to it, and it keeps driving away! We are glad the plastic parts hold up.
Fun Factor: A The Notorious is one of the most fun vehicles we've ever had. Is it the best? Maybe it's time for another shootout. This truck is a blast to drive! Go big or go home!
Handling: A The Notorious is a basher, but it handles extremely well. You can easily control it while jumping and flipping, which is what it's built to do.
Value: A At a price point of $499, the Notorious offers a great value for a great vehicle. The BLX 6S power system has proven it can take a beating, the plastic parts have held up well. You will have a tough time finding a better value vehicle in this price range.
Parts Availability: B The Notorious has solid parts support on-line, but Arrma is working hard on bringing them to every local hobby shop.
BigSquid Rating: A- If you are an extreme basher, the ARRMA Notorious belongs in your rc garage – period. It does an excellent job of doing all the gnarly tricks that a hardcore basher does on a daily basis, plus it is tough enough to live through all sorts of abuse. If you haven't picked up one yet, cut the check, the Notorious is perfect for the extreme bashing side of our hobby.