ARRMA Raider Buggy Review
THE ARRMA Raider RTR Buggy Review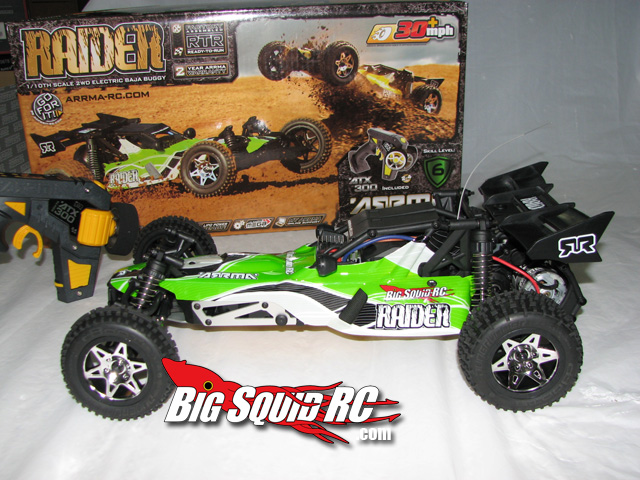 Cubby recently posted our ARRMA Fury review so you had to know the official ARRMA Raider review was just around the corner right? So how's the Raider as a 1/10th scale buggy? How does it compare to the Fury? Is ARRMA RC on a roll? Keep reading to find out…
From: ARRMA RC
Direct Link: ARRMA Raider
Review By: Brian
Pics By: Brian
Specs-
RTR or Kit: RTR
2wd or 4wd: 2wd
Electric or Gas: Electric
Length: 400 mm
Height: 140 mm
Width: 253 mm
Wheelbase: 290 mm
Ride Height: 30 mm
Track: 217 mm
Top Speed: Stated to be 30+ mph (Our radar gun had us around 26mph)
Motor: 540 15 turn Brushed
Speed Controller: Waterproof, brushed only
Tranny: 3 gear, all metal
Differential: Metal geared, oil filled
Slipper Clutch: Included
Driveshafts: Steel
Screws: Hex head
Street Price: $200
Primary Competition: Associated B4, ECX (Electrix) Boost, Losi 22
What's In The Box– Almost everything you need minus four AA batteries for the transmitter, 6 cell Ni-mh for the truck, and a battery charger for the 6 cell.
Build Quality– Overall the build quality was pretty good. Everything was pretty dialed out of the box. We didn't notice any issues that would stop us from driving immediately. Nothing seemed over tightened or loose. For a RTR, it was looking good.
Test Drivers– Cubby, Brian, Bill "Wrench"
Test Venues: iHobby Demo Track, Street, Parking Lot, secret dirt track, and a skate park.
Set-up Notes– Like the Fury, the Raider comes stock with a Tamiya plug so we quickly switched that over to a Traxxas plug. The buggy was tested completely stock except for that connector. We used a several lipo batteries during testing. While normally we run a Max Amps pack or something similar, the Raider has a very small bottom battery compartment. It's over an inch smaller than the Fury, and this made it next to impossible to stick a average hardcase lipo in the box. We tried every hardcase we had on hand, and nothing fit nicely, so we had to settle for whatever soft packs we had available. Our 6 cell NIMH packs fit perfectly. But 7 cells would not fit. It's not a huge problem, but it could be an issue for some people if you are planning on running LiPo over NIMH.
Turning– The turning radius on the buggy wasn't bad. The car itself is pretty light the the stock server could muscle it around without too much trouble. It wasn't the fastest, but it was average for a RTR. The stock tires handled all the surfaces we through at it just fine. The Raider even did ok getting through the grass, which is normally trouble for some smaller vehicles. I think the treads helped this a lot.
Jumping– This is where the Raider really shines. It is easily one of the best jumping stock vehicles I have driven. Every single jump it would be flat out in the middle and land on all fours extremely consistently. The low center of gravity and overall balance/weight of the vehicle really let this thing soar through the air. Big jumps, little jumps, steep or soft, it just seemed to fly like a bird and land flat. It made Wrench and I actually look like we knew what we were doing out there, and that's no small task.
On-Road: The buggy is not really aimed for on-road but we did do a fair amount of testing on pavement, asphalt and cement. It had just enough grip on all the surfaces, with minimal tire wear. The front tires (on all similar buggy's as well) have a slight lean as they turn giving less than optimal surface contact with the road, but we didn't see anything we didn't expect.
Suspension: The suspension feels a tad soft for bashing, but pretty close to optimal for a track setting. The softer suspension and low ride height had the buggy bottoming out more often then we would like to see. Some thicker oil, with some slightly stronger springs would help, but probably cause some re-tuning to get what was already a perfect jump trajectory.
Power: The brushed motor and ESC put out a fair amount of power. At Acceleration was ok, and the top speed was enough to keep any new person in the hobby happy. We were able to handle most jumps without any issues, but you are not going to be clearing the tripples anytime soon.
Radio: As you have seen and heard, the ARRMA transmitter is a completely different animal. You have the ability to bring the steering wheel from the left side to the right, and anywhere in between. This is now the second vehicle we have driven with this radio, and it is starting to grow on us. It's probably not going to replace our high-end radios anytime soon, but for a RTR radio, it's not bad. Our Raider came with the steering reversed. There is no 'servo reverse' switch or button. And as a matter of fact, the quick start that comes with the vehicle does not tell you how to change this. We discovered (It's also online in their larger/downloadable manual, just not their quick setup guide) that holding the two steering trim buttons down for a short period of time will reverse the settings for you. Just listen for the beep.
Broken Parts: While we didn't break any parts, we did manage to break the motor. Or at least the magnet in the motor. We have seen this in the past several times, so it wasn't a huge shocker. As you know we do tend to abuse these vehicles, and during one of our big air jumps at the skate park, we launched it, landed perfectly but on cement, and it bottomed out hard. We drove away, and came to a halt to see we had cracked the magnet. We are chalking it up to one of those 'one in a thousand' chances of landing it hard and that low ride height along with the motor being aligned with the rest of the chassis allowed it to take a rough impact.
Best Mod Under $5: Toss out those Tamiya plugs and install Traxxas or Deans. With the smaller battery compartment, Dean's may be the better choice, you could use the extra space. Trust us. If you plan on doing more bashing away from a track, you should look into some thicker shock oil, and maybe stiffer springs to help reduce the impact on the landings.
Best Mod Over $5: A faster steering may help. Brushless in this guy would be insane, but we will let you make that call.
Misc Notes: The body is held on with fasteners and not body pins, so a quick look under the hood is anything but quick. The ESC Cooling fins literally site just outside of the front of the cab. Landing upside down, you will be saved by the lights and the front and back of the buggy if you are on a flat surface, but if you land on a jump/hill/ramp/other vehicle, there's a good chance your cooling heatsync is going bye bye. The on/off switch is also located there which means you have a chance of shutting off your vehicle on a well placed hit.
The small battery compartment, while needed to keep the buggy it's current size was probably necessary, it's slightly less than ideal because fitting a standard hardcase lipo (without modifications) may be a little difficult.
---
As with all of our stuff, if you see us at a bash, stop by and check out the vehicles we have with us. We may let you take a test drive, and at the very least get you some stickers!
SUMMARY
Time To Bash – 9.0/10 -Charge your NIMH, put in the AA's for the transmitter and start driving.
Workability – 7.0/10 – The chassis and body make for a tight fit for everything. Changing something like a receiver is no quick task.
Car Show Rating – 9.0/10 – The ARRMA Raider has a lot of people drooling. It's got a really good look to it, and the gang around the office digs it.
Bash-A-Bility – 7.5/10 – It jumps and fly's like a dream. It makes you appreciate all the design work that went into making that happen. The LCG and soft suspension will have you bottoming out even on average medium jumps, so be mindful of where you are doing your bashing at.
Fun Factor – 8.0/10 – The Raider is relatively quick, and able to navigate a good amount of terrain.
Handling – 8.5/10 – This buggy lands on all four wheels like it's part cat. It's hard to get in trouble or out of control. Even on the loose dirt I could put it anywhere I wanted to.
Power- 8.5/10 – Compared to other brushed 2wd buggies, the power is on par.
Value- 9.0/10 – At $200 the ARRMA Raider is a great starter buggy. If your looking to get into the buggy scene, you can't go wrong here.
Big Squid Rating – 8.3/10 – Tentacles.. From a basher point of view in need of a 2wd buggy, this would suffice. It will take a little work to handle the big air, but it jumps and fly's with the greatest of ease. If your looking for a buggy for the track, and you are new to the scene, this is a great start.
Need more pictures? Check out our ARRMA Raider Unboxing pictures!