ASK Cub Reporter- 01.19.2012- Written Questions, Garbled Replies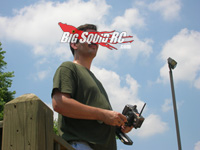 Thanks

Before Christmas I sent you guys an e-mail asking for some advice on getting a new truck.
I was really pleased to see my question appear on your site with a suggestion of what would be best to get. I followed the advice and today went with my son for our first 'drive' of a HPI Bullet ST Flux. It's fantastic. I'm not sure who was the better driver but we both managed plenty of air time and several rolls. I've attached a picture of my son hitting yet another take-off point. He's definately the latest convert to the world of bashing.
Thanks again,
Gary F.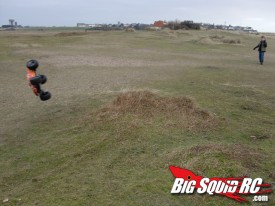 Cubby– Hey Gary, thanks for letting us know how it turned out, fantastic to hear not only you are dig'n your new HPI Bullet ST Flux, but even more importantly, that rc is giving you yet another great reason to spend time with your son. Above all our hobby is about people- whether it be eat'n Rosemont dogs with one of the corporate brass from HobbyTown USA, huck'n vert ramps with your buds at the local bash spot, or teaching your son how to rebuild a diff, the rc hobby is about bringing people together for a good time.
Oh and… thanks for the sweet bash'n pic!
---
Mini recon brushless combo
hello, I'm looking for a brushless combo for my mini recon, what do you sell for this car.
Thanks,
wayne
Cubby– Yoooo what's up Wayne?
Ummmmm… BSRC doesn't sell anything. Well… except for BigSquid stickers and some sweet shirts (and very Soon even more uberrrr gear!). And while I have no doubt a few BigSquid stickers would make your HPI immeasurably faster, even they wouldn't quite rock your world like a full on brushless system.
So… what is the best brushless system for your HPI Mini Recon? My vote goes to the Castle SideWinder Micro 6800 kv system. The speedo is rock solid and the 6800 kv motor is a rocket, even on 2S Lipo or 6 cell Nimh. Oh and… it jams at a decent price, right around $100. This system on 2S is crazy, on 3S it's straight up insane, exactly what you are looking for when bashing. You can find the Castle 6800 system on Tower Hobbies HERE.
Also of note on the Mini Recon… the stock wheels/tires are junk (the stock rims crack/break like crazy), so keep your eyes open for some Associated or Pro-Line rims/tires (intended for the first gen RC18) to replace your stockers with ASAP.
---
Jake's Place
Hey guys,
I see you are always around Collinsville, Jakes and Smac Track. Those are three places I often frequent. How can I find out when you are going to be around one of them? I check your website daily and would love to come and meet you guys and maybe even pick up some stickers! Keep up the good work.
Thanks.
Chris G.
Cubby– Hola Chris, thanks for the email.
We have a rather big crew here at the Squid. On any given day you'll find us anywhere from Chi-Town, to Joliet, to Champaign, to Peoria, to Springfield, to the STL metro. Most of the time we are bashing (read- destroying stuff) in empty parking lots and city parks, but we do hit tracks from time to time. The best way of spotting us is just looking for the BigSquid stickers all over our rides. There are get'n to be a lot of people out there running BSRC stickers, so even if it's not one of our on staff guys at least you'll meet someone cool who reads the site.
Lastly… one of our resolutions for 2012 is to try and do a better job of posting up when/where we'll be bashing on a given day. So… with any luck you will be able to find that info on our front page in the near future.
---
That's it for this week ya bunch of rc-a-holics. Shoot me your pics, questions, etc to Cubby at BigSquidRC dot com!

YOUR Cub Reporter