ASK Cub Reporter, 01.23.2014, Version- Your Questions, My Drivel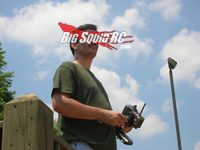 "Question
I'm thinking of buying a hellion dominus, can a lipo be used in the truck in its stock form?
thank you,
Frank B."
Cubby- Yo to the yo Franky B, thanks for taking the time to shoot out an email.
For those not familiar with the Helion Dominus, it's Helion's 4wd 10th scale short course truck. It has an affordable price point, $199, and won March Bashness a couple years ago, which is voted on strictly by our readers. We liked the one we got to review, the Dominus is a basic, affordable, bash machine.
So… does it do Lipo in stock form? You are gonna love this answer, yes and no.
Yes you can! If you use a Lipo that has a relatively small form factor and you don't mind driving without an LVC (low voltage cut-off).
No you can not! If you use a ROAR sized Lipo and want some low voltage protection.
Now… the BigSquid Bash Crew doesn't really freak over the lack of an LVC. We routinely drive vehicles that do not have an LVC in their speedo. We have learned that when you first start feeling a pack getting soft you pull off and re-charge. However, if you are a noobie noob, an LVC can come in handy to keep you from over-discharging your Lipo pack.
Also of note, we ran Lipo in our test truck, a ROAR sized one at that, but to fit such a pack requires some elbow grease. You can find the details on what it takes Here, but if you don't feel like doing any modding, you might want to look at another platform.
---
"Send to Cubby
Who you think the number one company that makes bashing trucks and cars is, all my friends say Traxxas but I like HPI the best.
Shiloh F."
Cubby- Hey now Shiloh, what's up and be sure to shoot Brian your snail mail so we can hook ya up with an uber BSRC sticker set.
So who do I think the numero uno manufacture (<- sorry guy from last week, LOL) of bash machines is? Wow, my cell is gonna blow up tomorrow for answering this one, but of course that isn't a deterrent to me.Well... it's not Traxxas, that's for sure. I sure like their parts availability, but that's about it.
HPI- has put out solid basher gear for years upon years, but no doubt they've had their issues the last couple of years. They didn't release much last year, and what they did seemed to be drift/on-road oriented, which is fine for some, but not for the people I hang with. My crew needs a machine that works on pavement as well as hucking vert ramps. Oh and, the whole Octane thing…. oooofffaahh….
ARRMA- is known as Durango's basher line, and they certainly do have some kick butt machines. Their line-up is modern, their marketing is coming together, all they need is one big 4wd gnar-core bash truck to be on top of the heap.
Thunder Tiger- TT has a winner with their epic G3 platform, but some of their lower-end models could use some freshening up.
ECX- still a relatively new brand, they got off to a slightly slow start, but their line-up now days is real solid. While some may hold their very low price points against them, we don't care about such things here, if they work, they work, and we drive Torments and Ruckuses nearly every day.
Vaterra- is my preferred basher line-up (at the moment). Ya, they are still new to the scene, and it will take another 3-5 years of marketing to cement their name to an average hobbyist, but the product they've put out thus far is amazingly good. Pretty much everything in their line-up has class leading looks, while the platforms underneath are typically solid bash machines. Hot looks, decent price points, and vehicles that can survive a good hucking off your roof, now that's what bashing is all about.
However Shiloh… if you were to go around the table and ask every member of the BSRC Bash Crew what their favorite is, I can assure you there would be several different answers. We have guys that are big fans of HPI, big fans of Axial, and some that even still like Traxxas. And… just because our answers might be different, it doesn't mean a single one of them is wrong. What's best for me might suck for you, while the best brand for you might just not work for me.
---
That's it for this week ya bunch of lugs, shoot me your vintage '72 Unadilla GP t-shirts, questions, rants, and F1 swag to Cubby at BigSquidRC.com. If your letter makes the bigtime you'll get a free sticker set, if I proclaim yours as "letter of the month" you get a brand spank'n new BSRC t-shirt.
YOUR Cub Reporter