Ask Cub Reporter, 01.27.2010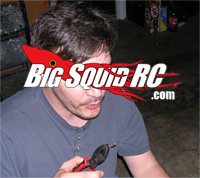 Ask Cub Reporter, A Weekly Advice Column- 01.27.2010
==========
Hello Brian and the Big Squid Team,
My name is Douglas and I have been a long time RC fan and Big Squid reader. I really love what you have done with this site and love seeing it gain in popularity. I remember seeing a while back that you were looking for writers for site content and I thought I would email you and see if you still are looking. I would really love to write reviews or do product tests/editorials and am just inquiring to see if there is any openings. blah.. blah blah…
-Doug
Hey Doug, what's up? Glad you like the site. Funny how BigSquid has recently blown up. Absolutely bizarre to hear that it's actually "cool" to read BigSquid now days (or a must if you are part of certain legal teams). We must be doing something really right, or really wrong, I don't care either way as long as hits are up and my check isn't late.
Perhaps Brian (our editor in chief) has already sent you a reply, but I thought I would go ahead and answer the question here on the front page since we get this one a lot. YES, we are always looking for talented people who want to write/work for Big Squid RC. Our problem is- everyone who wants to be a part of Big Squid RC wants the fame and fortune, without actually doing any F'n writing. My suggestion to you is, the next three items you buy, do write ups and submit them to BigSquid. If we dig'em, they'll get posted and you'll have your foot in the door. Otherwise, don't be like the other wanna be posers who want all the uber swag but are too lazy to write anything.
==========
Dear Brain,
I know you did a review of the Pro-Line Powerstrokes Scaler Shocks back in July of 2009 as well as the Pro-Line Powerstrokes Monster truck shocks back in 2005. But what about the new Proline Powerstrokes Shocks for the Traxxas Slash? By the way I noticed them at www.HorizonHobby.com for $39.99 (PRO6063-00) for the fronts & $39.99 (PRO6063-01) for the rears, which is alot better than the 59.95 price from Proline! My question is how do they stack up against the Traxxas Big Bore Shocks or any other aftermarket shocks & and could you justify spending the extra money? And could you guys even throw up a video on YouTube about the reveiw?
Thank you,
John P. M.
Hey ya John P, thanks for the email. I see you addressed it to the "Brain", so I figured I better answer this one. 🙂
So you are looking for replacement shocks for your Slash. The stock Slash shocks actually work fairly well. Both their damping characteristics and spring rates are well suited for traction on loose surfaces, rough tracks and just general bashing. Their biggest downside is the caps like to pop off and the shafts like to bend.
The Traxxas Big Bores totally solve the shock cap problem, and are built to withstand more abuse.
The new Pro-Line Power Stroke Shocks are very trick. Very beefy design, big 3.5mm shafts, and a true dual stage spring design.
ST Racing Concepts also makes some uber shock bodies and caps for use with the Slash. BigSquid has tested them, and when used in conjunction with tougher shafts, are rock solid.
All the above brands are good solid upgrades, the difference will come in how you tune them. But, if I had to use just one set on my Slash, it would be the Power Strokes. They are very high quality and work just as well out jumping curbs as on the track.
==========
Submit your questions to cubby at BigSquidRC dot com. Till next week, go fast, have fun!
YOUR Cub Reporter