ASK Cub Reporter, 02.07.2013, Version- Your Questions, My Drivel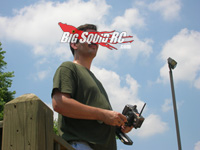 MG4 T3
Hi there
I just received a mg4 t3 from my wife it doesn't seem to roll freely i haven't turned it on yet because im waiting for batteries the buyer said that they don't roll freely due to it having 3 diffs what do you think
Daryn B.
Cubby– Hey Daryn, shoot Brian your snail mail so we can send ya out some free BSRC stickers for your monster truck.
So… you have a Thunder Tiger MT4 G3 (I agree they need a simpler name) monster truck that doesn't seem to roll freely. You don't mention if it has the stock brushless motor or not, but if it does, then yes, it should roll very freely. For example, if you give the truck a push it should keep rolling quite easily after you let go.
There are a bunch of things that can add resistance/binding. Your truck could have a bad bearing, something could be bent and rubbing against another part, your gear mesh (spur/pinion, or ring gears in the diffs) might be too tight, or even an aftermarket slotted motor (slotless tend to spin over easy, slotted type BL's turn over harder) can make it feel like there is too much rolling resistance. For sure, you do NOT want to drive the truck if there is too much resistance/binding, it will be torturous to the power system.
The first thing I would do in your case would be to remove the pinion gear then give the truck a push to see if it is any freer. By removing the pinion you can find out if the pinion/spur mesh was bad or if you might have a bad motor. If after removing the pinion you find you still have binding, I would attempting spinning different wheels to see if you can track down the spot where the extra friction is happening.
Best of luck and shoot us an email back to let us know where the problem actually was.
---
My son and I go to the local track to race our 2WD and 4×4 Slash trucks. We talk with a lot of RC nuts and test a lot of different ways to make our trucks better on and off the track. I was wondering what we would have to do to test your new products for the slash trucks. We know a lot of people that have that truck and are always looking for a better product. We would love to show off the new Pro-line product and tell them where to get it. Let them know to go to www.BigSquidRC.com to get what they need.

Matt H.
Cubby– Congrats Matt, I officially proclaim your email as the "Letter Of The Month". This entitles you to a brand spank'n new BigSquidRC t-shirt, now you'll instantly be the coolest guy at your local bash spot.
What would you have to do to test products for BigSquidRC?
When we do reviews we attempt to do them for who we think are our typical readers- everyday backyard bashers. The most important input we get during our review process is from random people we end up bashing with at the track, ball diamond, or local city parks. So while I might write up a review, or Brian might write one up, our reviews really are a sum of at least the input of a half dozen different people.
Local bashers are the kind of drivers that don't avoid mud-holes and they use drivers stands for jumping their trucks off of not for standing on. We feel their input is the best for our readers. Matt, it sounds like you and your son are racers- while your input could certainly be part of our testing process, it would not be optimal for what we are searching for.
But… lets say you were a perfect candidate to be a tester. The hard part isn't installing the new parts. The hard part isn't driving the new parts. The hard part is all the hours spent getting the actual review on the website.
For example, in the Pro-Line performance review that you mention, it took us a "couple hours" to install the new parts. Then we spent a couple hours shooting pictures (you can read more about this on our G+ page), then perhaps another hour editing, resizing, and watermarking the pics. Then we spent 4 days actually driving the new parts, at roughly a half dozen packs per day. Of course we were also driving other review vehicles at the same time, but I'd say we spent roughly 4 hours of actual driving time with the new Pro-Line parts. That isn't a lot of time by any means, but enough to get a good idea if they were going to break and if they were actually worth owning. Finally, we spent at least an hour writing up the review and another hour posting it to the web. All in all, I'd say we had a solid 10+ hours into the Pro-Line performance parts review. And no, 10 hours doesn't sound like a lot, but when we are attempting to do 2-5 reviews a week, plus all the other stuff we do for the site, I can assure you there isn't an extra minute left in our days. If you are a normal family man with a job, a wife, and kids, finding an extra 10 hours a week probably isn't as easy as you might think.
---
That's it for this edition of ASK Cubby, submit your questions, rants, spats, or whatever else you have on your mind to Cubby at BigSquidRC dot com. Every question that makes the big time gets free stickers, and letter of the month gets one of our new uber BSRC t-shirts. Don't be shy, ask away!
YOUR Cub Reporter