ASK Cub Reporter, 02.14.2013- Your Weekly Questions, My Weekly Drivel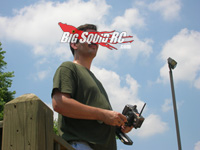 Hey guys I check your site quite often for great reviews on new RC vehicles etc. I am in the market wanting to buy an electric 1/8th scale basher and when I saw the new Thunder Tiger E-MTA I fell in love. This is what I want to get. Do you guys know where I might possibly be able to get it as I am unable to find any dealers in the US that has this. I don't mind purchasing over seas but I need to find a hobby shop or store that has this baby in stock and can ship it to me. I am emailing you guys because I believe you did a review on this truck. I tried contacting Thunder Tiger America and the guy on the phone said he has never heard of this truck and doesn't know what I am talking about. I found that to be a bit funny buy oh well. Hopefully you guys can help. Thanks.

Sujal P
Cubby– Hey ya Sujal, thanks for the email.
So where is the Thunder Tiger E-MTA? I have no idea, and I'm with ya that I'd reallyyyyy like to see it hit the states. For you readers who might not have heard of it, it's a new brushless monster truck from Thunder Tiger that comes with extra sic suspension.
We posted information from the European press release a few months ago on the E-MTA and since then we have asked the Thunder Tiger guys if it would ever make it to the states. So far the info says no, so Sujal, if you really want a E-MTA (which will instantly make you the coolest guy at any bash spot in America) you will have to buy it from over-seas. And yo sorry, I've got zero leads for ya on tracking one down. I can only suggest that Google is your friend. Good luck and shoot us pics when/if you get one in your hands. Till then, we'll keep bugging the TT people about importing them stateside.
---
This next one is a big long for the front page, so I'll get it started here.. but you'll need to hit the 'READ MORE' button for the rest and the answer..
Can we give up on RC racing EVER going mainstream?

I was REALLY bored the other night and read some old Cub reports. A consistent theme of those reports were your ideas to get RC racing mainstream such as DC shoes or Red Bull sponsorship. It got me thinking and below are my 10 reasons (in no order) RC racing will not go mainstream:

1. Size. Racing small several thousand dollar 8 lb vehicles on tracks not much larger than a studio apt compared to multi-million dollar race efforts in full size vehicles on full size tracks. Same reason 1/8th racing is more popular than 1/24th.

2. Injury risk. It's sad but true that anticipation of crashes is a top attraction at racing events. RC racing – one of the racers goes down due to trigger finger cramping (the nefarious relative of arm pump)?

3. Crazy factor. In most forms of racing people watch and say "Wow, what they do is crazy." RC racing doesn't have that.
4. Drama. Racer 1 is switching from Kyosho to Mugen and is coming off 2 finger surgeries and on top of that he has a new pit mat and his wife thinks he's wasting his life. Where's the intrigue?

5. Lifestyle. Most forms of racing promote a high energy high risk lifestyle. What is the RC racing lifestyle? Does Red Bull show a buggy attempting a triple with the driver white knuckling the controller and the crowd of 50 grimacing as everyone knows a crash could break a $7 a-arm?

6. Exclusivity. People want to see out of the ordinary i.e. Bugatti, Ferrari, etc. F1, nascar, motocross are outside the realms of everyday living so purpose built machines are rare. Is an RC racer's vehicle more powerful than a rtr savage flux or more technically advanced than an off the shelf x-ray? Seemingly, mass availability would create mass appeal but who wants to see a Toyota Camry racing series?

7. Envy. Do I wish I had the skills of Schumacher, James Stewart & Chris Borich? Yep. Do I wish I had the skills of the top RC racers? Not really-I'm happy bashing with my own abilities.

8. Manufacturer support. RC racing is never getting off the ground without support from major manufacturers. Traxxas promotes their products, not by supporting RC racing, but by sponsoring other forms of racing (forms of racing which involve the above points).

9. Video game factor. Racer is stationary the entire race with only their fingers slightly moving. Who wants a close up of a racer's hands triggering a car or an explanation of the subtleties of moving a foam wheel ½ an inch?

10. Boring. In his 2/11/13 report, Cubby sums it up "Watching rc cars go around a 30 second laptime track is about as much fun as watching paint dry for most muggles…"

RC racing is great fun FOR THE DRIVERS and beneficial to development but does not have mass market appeal. Poor management by ROAR and IFMAR is secondary because RC racing lacks items 1-8 partially or entirely. The only glimmer of hope RC racing has of going mainstream is the fact ESPN televises bowling.

Before I'm accused of RC blasphemy know that I've been in the sport about a year, love it & spent too much (per my wife) on vehicles and parts. BSRC is the best rc site on the web I've found so keep up the good work.

Sincerely,
Jerry H
Cubby– Yo hey Jerry, thanks for the email and don't forget to shoot Brian your snail mail for some free stickers.
While I try to not let my decades in the hobby skew my views, that is clearly impossible, as it is for every other long-timer in the hobby. Long time hobbyists have been programmed a certain way since the 80's that rc should be "this way" and only "this way", therefore, when rc racing clearly isn't gaining any ground on the general populous, long time hobbyists can not fathom a major change. People such as yourself who have only been in the hobby for a year have a much more clear overall view of rc racing because you haven't been pre-programmed. Jerry, you can look at F1, bowling, and rc racing and actually see how they stack up. Unfortunately most of the guys that make and shape rc racing have been in the hobby for decades, and thus lost that magical outside perspective sometime in the mid-80s.
But… even with my amount of pre-programming I can clearly see this- Traxxas has taken hobby grade rc's to the mainstream, yet rc racing is still some red headed step-child that can't draw spectators if you paid them.
Jerry, I will totally agree with you that rc racing has a lot of strikes against it, but IMO it does have a chance of being much more popular, even to the point of being on the lower end of "mainstream". Here's why- big mainstream racing like NASCAR, Supercross, and F1 aren't so much about the cars or talent level or even the racing, as they are about the personalities of the racers and their marketing machines.
Let's say there are 50k fans sitting at the Dallas Supercross this weekend. A quarter of them actually ride and can truly appreciate what the riders are doing. The rest are there for the "soap opera". They are there to watch the Millsaps Cinderella story unfold, they are there to see if Reed parks Bubba going into the whoops, and they are simply there to see some good close racing. If there are 200k people in the stands at Daytona for the NASCAR opener they are there 1. for the soap opera of their favorite driver, and 2. to witness the "history" of the event. The NASCAR marketing machine has burnt it into the minds of NASCAR fans that each and every Daytona is the end of the world and they simply must be there or face spontaneous combustion.
Rc has plenty of good tight racing (albeit extremely hard to film and follow) and it has plenty of "personalities" to build soap operas around. If the proper marketing machine was there, Ryan Cavalieri, Elliott Boots, Cody King and Dakotah Phend would be household names worth making the time to watch race on Speed every Saturday. But… it would take cubic dollars to get their names out there and buy up the airtime for the racing. These are cubic dollars that simply aren't there unless some deep pockets like a Red Bull, GoPro, Pepsi, or a Traxxas (GASP!) were secured as a title sponsor.
---
That's it for this week gang, shoot me your questions, answers, and song lyrics to Cubby at BigSquidRC dot com. If your email makes the big-time you'll get some free stickers, if I proclaim yours as letter of the month we'll send ya one of our uber new t-shirts.
YOUR Cub Reporter