ASK Cub Reporter, 02.29.2012, Version- Bring The Questions On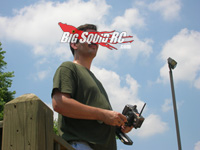 Cubby,
I'm looking at getting a mini to have fun with in and out of the house. Just wondering if you have any preference between the small scale stuff. RC18T or RC18r or losi 1/24 rally, I've ruled out the mini-z's as they are indoor only. Also need to get something a 2year old can play with so a little slower isn't that big of a deal, I've got to convince the wife it is a birthday present for the kid.

Thanks,
Fletch
Cubby– Hey what's up Fletcher, and thanks for the email.
So you gotta convince the wife it's a birthday present for the kid? Obviously you didn't break your wife in properly. What do I mean by that? Well… I highly recommend early in every rc'ers relationship with a new woman to bring home something crazy expensive, like a new full scale Corvette. Yes, of course she'll defecate green twinkies when she sees it, and you might even have to return/sell it, but years later when you bring home a cheap $200 RC18T she won't even bat an eye, and you won't feel compelled to lie. Just say'n…
So you go out this weekend and buy a new Vette. Congrats, they are a fine whip, and more importantly you get to go rc truck shopping next weekend without remorse. So what should you get, an RC18T (truck), an RC18R (rally), or a Losi 24th scale micro rally car?
The Associated RC18 series are good bashers. AE used very flexible plastics throughout the platform resulting in cars/trucks that you can pound hard without breaking a lot of parts. The Losi 24th scalers are also quite durable, but due to their size aren't as good driving outside as the 18th scale Associated's. So… if you plan on only bashing inside, the Losi's are a blast and a better choice. If you plan on bashing outside go with one of the RC18's. If you plan on doing a lot of jumping get the truck version, if you don't, pop for the rally.
---
Do you know of any articles out there that compare and contrast all of the Traxxas Slash 4×4 Brushless Course Trucks? I am new to RC cars and I want to get a Slash 4×4, but I cannot decide if I should spend more $$ and get an Ultimate, Platinum, or just a Slash. Thanks for your input. I have found your website extremely informative and highly entertaining.
Thanks,
Josh B.
Cubby– Hola Josh, and welcome to the wonderful hobby of rc cars.
Do I know of any articles that compare the different levels of Traxxas 4×4 Slash's? Nope, and quite frankly I'm too lazy to even look for one, so I am gonna just lay it there which truck you should buy.
The obvious answer is… wait for it… the base Slash 4×4. Why? Because it's a rock solid truck- it handles well, has loads of power, it's super durable, but most importantly it leaves room for hop-ups. Believe it or not a big part our our hobby is wrenching and hopping up our cars/trucks. Having an uber truck is nice, but the satisfaction that comes with properly maintaining and taking your trucks performance up a notch is priceless. With you being a noob, driving a hobby grade truck is great fun, but to fully experience the hobby requires spinning some wrenches, going with the base Slash will give you plenty of opportunity to do just that.
---
That's it for this week, submit your questions, answers, and lyrical seismic activities to Cubby at BigSquidRC dot com!
YOUR Cub Reporter