ASK Cub Reporter- 03.07.2012- Unforgettable Questions, Regrettable Answers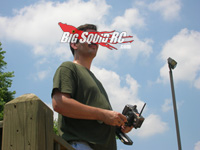 Hi Brian and Squiddy!

I am really fascinated and really wanted to own Savage Flux XS as my first decent RC. I've seen a lot of reviews but yours finalized my decision to purchase one. However, with all the reviews I've seen so far, nobody mention (or maybe I missed those parts) about the run time of lets say 2s Lipo 5500mah on the savage xs. I understand that most of the reviews was focused mainly of the truck itself but mentioning the run time of batteries in use is a plus deciding factor.

Hope to hear from you guys and thank you in advance!
Regards,
Nestor D.
Cubby– Nestor…. hummmmm… quite a brilliant name you have there, and thanks for the email.
And yes, interesting to hear that our review sealed the deal on you deciding to purchase a new Flux XS. We get a rather ridiculous amount of emails saying that our reviews determine what people actually buy. Actually… we get more emails complaining about products we have not reviewed and people are torqued off because they won't buy it until we review it. We'd like to review more, but unfortunately we've rubbed a lot of people the wrong way (oopppsseee!! LOL) and we are having a tough time getting product for review now days.
So… what kind of runtime can you expect out of your Savage Flux XS? I haven't read our Flux XS review, I'm lazy like that, but…
Personally, I got the bulk of my wheel-time with the XS at the iHobby show. Myself, Bash Heavy Evan and Tim The Pro Guy drove our Flux on the iHobby demo track for what seemed like forever, and by forever I mean "Lets keep passing this truck around until all three of us are tired of driving it!" kind of forever. I can't give you an exact time figure, but what I can say is the XS is so fast that you are rarely full throttle on it, and with the truck being so small and light it simply doesn't drain a lot of juice from the battery. No, I can't quote you how many minutes you'll get out of a 5500 mah pack, but from first hand experience I can say that you'll have to Reallyyyy like driving the XS to finish an entire 5500 pack in just one run.
Great truck, you'll dig yours, send us pics of it at least 10 feet in the air or in a pile or rubble, thanks!
---
Big Squid RC:

We just wanted to thank you for the articles that you have done on the "Carpet Racers" movie. You had done a really nice article when the film first started playing at film festivals, and then the latest ones that you've posted concerning the airing of the film on the Documentary Channel are just great.

We wanted to let you know that we truly appreciate the write-ups that you've done, and we post them on the film's website (www.Carpetracers.com), and on our Face Book page! You do a really wonderful job with the "Big Squid" website and keeping people informed of the latest R/C news!

Thanks again for all of your help!

Barbara
Cubby– Hey Barbara, totally our pleasure to help promote your documentary. I met Thames at Birds 08′ and he's a cool cat, glad to see that his movie turned out great. "Carpet Racers" has done a great deal to promote the hobby of rc, so thank you!
Working in the hobby skews our perspective of everything, it was quite refreshing to see in "Carpet Racers" how people outside of the rc community look at our hobby. Yes we are nutty, yes we can be cranky, and yes we continue to do this hobby even though it is looked down on and made fun of. We are core if nothing else.
Btw, if you guys are ever in the Chi-Town area and feel like huck'n an rc monster truck over a house, hit us up, we'll do lunch BigSquid style.
---
Helion mod question
I had a question about the article on the dominus mod. Setting the proper height and the tires.
Was the height you guys set in the tutorial for street or is that right for the track also?
The tires you guys put on the truck, the website says not to use with a brushless motor and I was wondering if you recommend it. Great articles and would love to read more about the helion.
Thanks
Gabe
Cubby– Hello there Gabe and thanks for the email.
Was the ride height we recommend in the modding article for street or track use? Answer is- for street use. We are a bashing site, hence the reason you won't be seeing much track related info here. We went with bones slightly above level, this is much lower than stock, yet still leaves enough up-travel for pavement joints, stones, potholes and small jumps.
About the Pro-Line Street Fighters that we installed on our Dominus– yea, we don't listen to rules very well. LOL. We've had no problems with the Pro-Line tires or rims while running on 2S. Bumping up to 3S (or greater) may create issues, but we haven't gone there yet.
Btw… we've got more modding the Dominus articles in the pipe right now- how to properly install a Lipo, how to install a brushless system and several more, so keep an eye on our front page.
---
That's it for this week, shoot me an email, anything cool or interesting makes the front page! Cubby at BigSquidRC dot com!
YOUR Cub Reporter