ASK Cub Reporter, 03.07.2013, Version- More Questions, Less Answers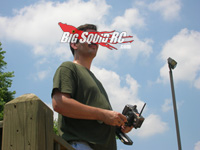 i have to say, the scale winch by integy looks freakin awesome! i really want one but i dont have a crawler, so, my question is, do you think it will fit on the my stampede? maybe with a little modding? i really want one but i dont want to drop the cash and it not fit.
Mason
Cubby– Hey what's up Mason, thanks for the email and be sure to shoot Brian your address for a free sticker pack.
I soooo don't know anything about scalers or winches. So… I'll just make up an answer.
Having worked around Brian, Bill, and Adam now for such a long time now, I would have to say it would be no problem to mount that winch on your Stampede. I say this for two reasons- 1. I've seen Bill do things with JB Weld that would shock Stephen
Hawking, and 2. the Integy comes with a relatively "universal" mounting plate. So ya, buy one, bolt it to something solid on the front of your Pede then shoot us some pics, we wanna see how trick it looks when it's done.
---
Question about the 1/12 scale HPI Mini Trophy Truck
I just want to say I enjoy reading all your articles on your website.

Do you know if hop-up parts going to be available for this kit?
I did a major overkill in this truck, I put a mamba max pro esc and a reedy sonic 4t running on 3s lipo. Im pretty amazed that for being so skinny it handles pretty well. With my setup its kind of loud, it reminds me of the Ofna Hyper 10 I had running it with an 1/8 scale motor but loud is good. This thing hauls
Thanks
Mike
Cubby– Yes Mike, I do believe you are a BSRC kind of guy, where "major overkill" is pretty much the norm.
And yes, I can only imagine what a beat the HPI Mini-Trophy Truck is on 3S brushless power.
One of the BSRC Bash Crew (Jim S) has gotten in a lot of time with the MTT. Straight out of the box it doesn't handle that well so Jim put in the time and got it to handle/jump much better. If I remember correctly he spent most of his time on the
rear suspension. Personally I felt like HPI just missed the mark with the MTT, it didn't handle well out of the box and it was a pain to work on. Oh and it was about an inch too narrow, which made it barrel roll like mad when crashing.
So… are there after-market parts for it? There are some out there. For example, GH Racing has a few aluminum parts for the MTT. Other than that, there aren't many out there.
Not having a ton of aftermarket support can make the MTT fun in another way- finding parts from other vehicles that will work. If you are dialed with a kick ass local hobby shop you can take your truck in and find other shock towers, shocks, hubs, a-arms, etc that will either bolt up or you can modify to work. Yes, that is a bit more time intensive than just clicking "buy" off the GH Racing website, but once you are done you'll truly have an uber one-of-a-kind machine that will astonish the guys at your local bash spot.
---
you guys did a radio shoot out a while back i was wondering why you did not include airtronics? or is any not worth considering, how would the best airtronics compare to futaba 4pks
thank you roger
Cubby– Yo hey Roger, thanks for taking the time to shoot us an email.
Why was Airtronics not in our last transmitter shootout? Pretty simple answer to that one- they don't talk to us. We've tried contacting them multiple times, but they don't/won't work with us on any level.
Have we torqued them off at some time in the past? Maybe (read probably) so, I've definitely offended just about everyone there is to offend in the hobby industry, but the fact remains, "Cubby" is a very small part of BSRC, and I certainly don't
speak for anyone else here. And more importantly, regardless of what kind of garbage I spew, BSRC could be considered to be one of the, if not the, leader in rc bashing websites. If Airtronics really cared about promoting their products to the bashing crowd they would work with us to some extent.
I can say first hand that Futaba actively wants bashers using their products, as does Tactic, Spektrum, and HobbyKing. These companies know that bashers are what make this hobby go-around, and have no problem catering to them. IMO, if you want to
support companies that support bashing I would spend my hard earned cash with them instead of other companies that might think they are "above" the bashing crowd.
---
That's it for this week gang, shoot me your questions, answers, rants, raves, and manifesto's to Cubby at BigSquidRC.com. If your email hits the front page you'll get a free sticker pack, if I proclaim yours as "letter of the month" we'll totally hook ya up with one of our new t-shirts.
YOUR Cub Reporter