ASK Cub Reporter, 03.28.2012, A Multitude of Questions, A Trickle of Answers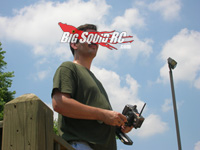 Chargers

I've recently gotten back into rc, matter of fact just bought a losi lst xxl. I ran across your website and have pretty well been hooked as you guys seems to cover everything from racing to bashing. Love your site and I find myself with a question that I feel is best directed to you. Which charger should I buy? I need one that will charge them all, lipo, nimh, etc… and would like one that can do up to a 6S lipo/w balancing, and discharging/storage abilities. Planning on getting a MT4-G3 soon, plus I got my wife a Stampede for a starter truck, and I still need to get at least 3 more trucks so my kids will all have one. I'd also like your opinion on LiPo brands, right now I'm looking at GensAce as they seem to be great for the money. Do you have a recommendation on Lipo brands?

Sincerely,

Matthew D.

oh and the charger needs to be able to run on AC and DC power sources!
Cubby– What's up Matt, thanks for shooting us an email.
What charger should you buy? I am a big fan of Hyperion chargers. They aren't cheap, but they are beefy and will fulfill all your charging, balancing and storage requirements. However… if the charger you want must be AC/DC don't expect very fast charge rates, especially on high cell counts. You see, on AC chargers the manufactures cram small (read crappy) DC power supply into the chargers case, severely limiting its charging potential. Yes, AC chargers are handy as you don't have to pack around a separate power supply, but if you plan on charging big (greater than 4000 mah) 6S packs their charge times are going to be awfullyyyyy slow for ya.
With that being said… the charger I would recommend to you is the Hyperion EOS0720iNet3 AC/DC charger. Its does up to 7S Lipo, balances your packs, has a storage mode, and charges at up to 90 watts on AC power (about 3 amps on 6S and 10 amps on 2S). If you are in this hobby to stay don't skimp on your battery charger or transmitter.
In regards to how good Gens Ace are- take a look at our Lipo Battery Shootout 4 that just went up, they took the win over 6 other brands.
---
Cubby,
Three weeks ago I got a new Aftershock. I think maybe its running hot it runs between 290 and 350 degrees. I am worried that it might be running too hot temp. Should I use a cooler plug or less nitro? What do you think?
Conan
Cubby– As far as I am concerned the hotter the better in regards to nitro engines. The faster you burn that nitro engine out the faster you'll convert over to electric.
But seriously…. from my very limited knowledge of nitro, most big blocks like being run under 250 degrees. If you are getting temps over that you'll need to run it richer, which means more smoke and less power. If all else fails smash it with a hammer, that's what I did. Oh the joys of nitro…
That's it for this week, submit your questions, pictures, and various other nonsense to Cubby at BigSquidRC dot com!
YOUR Cub Reporter