ASK Cub Reporter, 03.28.2013, Version- You Throw the Questions, I Masterfully Dodge Them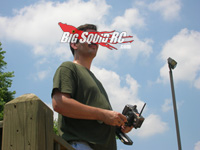 I have been looking at the Turnigy Trooper and I have seen that you did a review on it. I know that BigSquid is very educated in RC and I asked many others these questions but haven't gotten any educated answers. So,
1) Are there any parts from other more name brand trucks that will also fit this car? For example Traxxas…(parts like this would be easier to get)

2) I have heard that the body that comes on the Turnigy Trooper cracks very easily. And, I have also heard that the body from the old Hobby King Trooper is more durable. Is this true? And, would the body from the old trooper fit on the new one?

3) Or would the body from a truck like the Slash fit?
I appreciate your help with this.
Ryan C.
Cubby– Yo what's up Ryan, and thanks for the email. Per the usual, shoot Brian your snail-mail for a free BigSquidRC sticker pack.
Isn't it fun when the message boards are filled with such knowledgeable help? I mean, every board seems to have plenty of people who talk like they know what's up, but in reality they are simply regurgitating what they've read from other sources. I've always wondered why the "message board guru's" can't just own up to "I don't own the car, I've never personally tried it, but I read once somewhere where that might work". Instead wayyyy too many board "guru's" state a whole lot of bull as being 100% fact. "Sigh"….
To get to your questions…
1. Yes, we put a bunch of time in with the Trooper 4×4 SCT for one of our shootouts (that you can find HERE ) but we didn't drive it for the time it would take to know it inside and out. If you are lucky, you've got a quality hobby shop down the street where you can check parts first hand to see which ones might be interchangeable. Otherwise, the Trooper was a somewhat different design from other 4wd SCT's we've driven, my best guess is that there won't be many parts that will interchange with it.
2. From first hand knowledge- we didn't have any unusual problems with the body on our review truck. As far as the body from the older trooper fitting, no, we've never tried it. But… from testing a dozen or so different SCT's, short course truck bodies are "generally" very interchangeable.
3. Yes, most SCT bodies will bolt on the Trooper with minimal changes. The body posts on the Trooper are in relatively "normal" positions so they work just fine with most SCT bodies. We mounted up a proper Pro-Line Flo-Tek quite easily, it only required shortening of the posts and drilling a couple of new holes.
To boil it down, every truck is going to break sooner or later, if you are worried about parts support, you should be. Being able to get your truck up and running the same day might very well be worth the extra couple hundred bucks on one of the other brands.
---
How is it fair that in march bashness you had the ecx torment going against the hpi savage flux? A torment wouldn't stand a chance against a savage, i don't care who you are.
Pete O.
Cubby– Hey what's up Petey?
So… you seem concerned that the ECX Torment wasn't given a fair shot in the Sweet 16. Well here's how we determined the match-ups. We did it a whole lot like they do in basketball, we looked at the top 16 and seeded them. The truck that we guessed had the best shot at winning was given the number 1 seed, and the truck we guessed had the worst shot was given the 16th. The ECX was matched up against the HPI simply because that's the way our seeding worked out.
Last year arguably the slowest (and one of the least expensive) trucks won the overall championship in March Bashness, the Helion Dominus. In the Sweet 16 it beat the Clodbuster, in the Elite 8 it beat the HPI Vorza Flux, in the Final 4 it beat out the Losi FIVE-T, and in the championship it beat the Thunder Tiger MT4 G3. Based on those facts, I don't think anyone can say it's unfair to match an inexpensive truck against a more expensive one, March Bashness really boils down to a popularity contest, not which truck can go the fastest or jump the highest.
---
That's it for this week, shoot me your questions, ramblings, non-sense, and jive talk to Cubby at BigSquidRc dot com. If your email hits the bigtime you get a free sticker pack, and if yours gets picked as "letter of the month" you'll get a free t-shirt. I'll be picking a "letter of the month" next week, so get those emails in! Feel free to shoot us questions on FB, G+, and Tumblr as well.
YOUR Cub Reporter