ASK Cub Reporter, 04.18.2013, Version- You Write The Questions, I Fudge The Answers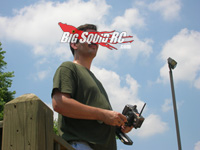 Hi my name is Eli
I have the traxxas slash 4×4 ultimate edition came with the lcg chassis. Well my steering servo gave out i told traxxas i was having problems with it they sent me a replacement one since it came from the factory like that. Well i got tired of waiting for it to come in so i went for a drive and smacked a tree at 50mph and snapped my chassis. Is there any way i can just get the chassis i dont need the conversion as mine came like that already. I just bought it feb 16th i believe and i broke it like a week later lol. So i just need the chassis. My local hobby said a week when i broke it then it turned into the end of march, now its almost the end of april and no chassis. Can you help?
Cubby– Yo what's up Eli, it sounds like you are having the same problem a lot of people are. The Traxxas part number #7422 LCG "chassis only" isn't in stock at the major distributors, thus the reason why your LHS can't get ya one. The conversion kits aren't in stock either, so ya, you've pretty much gotta wait it out a little longer. The only word I could find out on the chassis was another couple weeks before they hit the distributors.
Traxxas has typically been known for having a great parts supply, so it's not often when people have been forced to wait on replacement parts. Hang in there just a little longer Eli, or you can just convert your Slash 4×4 to the high ground clearance model, which is arguably better for bashing anyways.
---
Hi…
Just really try to establish who and where people are meeting and bashing in uk.. in in peterborough so maybe a way away from you.. any information on good sites to make contacts and info on any events that go on around uk would be great…
I have E-revo mamba monster, revo 3.3's and Tmaxx
Cheers Dean E.
Cubby– Yo what's up bro, and thanks for the email.
You have just asked an age old question, "How do I find other people to bash with?". Of course bashing by yourself is fun, but the more the merrier certainly holds true when it comes to rc. Back in the old days, pre-internet, it boiled down to keeping your eyes open and asking around at your LHS. Today, both of those still hold true. The guys working behind the counter of your LHS talk to a lot of different people each day, if there are people meeting up most likely they would have heard about it. If they have not heard of anyone meeting up locally to bash, shoot'em your contact info in case someone else comes in looking. About searching on the internet, I would recommend the MSUKForums to you. Those guys re-post some of our pr's and seem like cool dudes, so check them out. If there is bashing going on in the UK, you'll probably find it there, if not, put up a new post and see if anyone responds. Best of luck and shoot us some pics from your first UK bash.
---
That's it for this week ya bunch of lunatics, shoot me all that funky stuff running through your head to Cubby at BigSquidRC.com. If your letter makes the bigtime you'll get a free sticker pack, if I proclaim yours as "letter of the month" we'll hook ya up with one of our sweet new t-shirts.
YOUR Cub Reporter