ASK Cub Reporter, 04.26.2012- More Questions Equals More Fun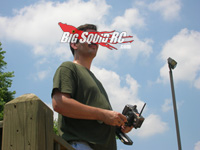 Battery Technology Inquiry
To whom it may concern,
I am representing the South Dakota School of Mines SAE Aero Design team. We would like to explore the use of electric storage in our next year's competition plane. With today's battery technology, is it realistic to have a 22.2V battery pack that can charge between 20-100A while weighing less than about three pounds? We appreciate any support you can provide us.
Thank you,
Collin E.
Cubby– Hello Collin, how did you know my nickname is "whom it may concern"?
So… you are looking for a 6S Lipo that you can charge at 20 amps (or greater) that weighs less than 3 lbs. Well lets see…
I am going to use the MaxAmps Multi-Voltage cells ( link here) in this example. These are the 5450 mah single cells that you can add as you wish to increase voltage. Each of these cells is rated for a 5C charge rate, has working voltage range of 4.2 to 3.0 volts, and each cell weighs in at 131 grams, about 4.6 oz.
Because the MaxAmps 5450 multi-volt cells are rated for a 5C charge rate, just over 27 amps, they meet your criteria of a greater than 20 amp charge rate. Charging the cells at 5C will take roughly 30 minutes from fully discharged (depending on your charger).
You are looking for 22.2 volts, essentially a 6S Lipo set-up, and this is easily enough constructed via serial connectors on the individual MaxAmps multi-volt cells, so no issue here either. Because these are individual cells that the end user can wire in series via connectors the upper voltage limit is totally up to you and your space and/or weight restrictions.
Finally.. lets look at weight. You are looking for a pack weighing less than 3 lbs, which is 48 ounces. Each individual 5450 cell weighs in at 4.6 oz, so six (22.2 volts worth) of them will weigh in at 27.6 oz, leaving plenty of wiggle room for extra wiring, connectors, etc.
So… to answer your question, yes, it is entirely realistic with todays technology to have a battery meet all the criteria in your email.
However Collin, I'm afraid you have left out some mighty important criteria, principally the runtime and amp draw required for your plane. How much runtime must your plane have? How many amps will your power system be pulling? I can say from first hand experience the MaxAmps 5450's can quite easily handle a 10C load, 54.5 amps. At this 10C load you'll have a runtime of right around 6 minutes. But… maybe you have a very large plane and your power system is pulling 100 amps and you are looking to get 20 minutes of runtime. In this case you'll need to use a significantly higher capacity pack which most likely will end up being heavier than 3 lbs.
Best of luck and let us know how your project turns out.
---
Cubby,
What are your suggestions for spare parts needed for to keep a Stampede 4×4 vxl running? I mainly bash in the street off of small plastic skate ramps.
Thanks,
Issac
Cubby- Brian reviewed the Traxxas Stampede 4×4 just about a year ago, you can read the review here. During the course of his review the Stampede was a tank, read- nothing broke.
But, over time you will break parts on your Pede. Normal wear and tear, slamming curbs at 30+, and landing at odds angles will take a toll on even the best bash machines.
So what spares would I recommend? Traxxas spur gears are worth their weight in gold on a late Saturday afternoon. Extra A-arms and hub carries will also come in handy at one point or another, and those plastic Traxxas drive shafts and outdrives can be a booger sometimes too. So… those are the items I'd keep in my toolbox for the Pede 4×4.
Have fun, jump high, crash hard, rinse then repeat.
---
That's it for this week gang, submit your questions, jokes, bogus stories, and partially read e-books to Cubby at BigSquidRC dot com!
YOUR Cub Reporter