ASK Cub Reporter, 05.02.2013, Version- Boring Questions, Witty Answers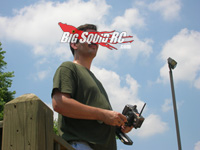 Hey Big Squid,
It's Luke L from Florida. I was just wondering what would be a good starter car forCompetition grade Rc racing. I'd like to know if you know of any good cars for a dirt (actually clay) track. I'm willing to spend about $100-$200 and possibly go a bit over my limit.

They use buggy, Truck, and short course I believe. Here is a link www.newredhobbies.com . (I'm thinking of short course but, I don't know too much about Rc cars) Also short course is allowed in all category's so it seems dominant.
Cubby– Yo hey Luke, congrats homie, I have selected your email as "Letter of the Month" and thus you are entitled to an uber BigSquidRC t-shirt. Hit Brian up with your snail mail and he'll get one on the way to ya.
So what's a the best "competition grade" vehicle for $100-200? Wow, that's a pretty tight budget there, but you do have some options. While not "competition grade", I would recommend the ECX Torment SCT to stay in your price range. Sticker price on the Torment is only $190 and would be a decent truck to get your feet wet with. It's not going to break any lap records, but it handles well, can take a good beating, and most importantly- is affordable to try out. If you race it for a while and decide this hobby is for you then you can really break open the coffers.
I'm also going to recommend one more vehicle to you, the Durango DESC210 RTR. Why would I recommend it to you? The Durango RTR is much more a race vehicle, and in RTR trim, the thing is a bashing beast. I spent an afternoon ramming it full speed into trees, ditches, off roofs, and broke literally nothing. Being a noob racer you are going to hit a lot pipes (and HARD) and the DESC210 RTR is going to allow you to have some huge slams without a bunch of wrenching afterwards.
However, there are three downsides to the Durango. The first being price, the second being its motor, and the third being its tires. Durango just dropped the pricing on the DESC210 RTR to $290, so it's a bit over your budget, but if you can break out some extra cash it will be worth it down the road. Also, the included motor is a 17.5 sensored unit. Ya, I know all the local race morons are ga-ga over 17.5's, but to me they are the dumbest thing ever created by man. The 17.5 "stock" brushless class basically makes you gear a motor to death to keep up. Bluntly- that is incredibly dumb. I'd recommend bolting in a lower turn motor for some real power that lasts. Lastly, the stock tires work fine on certain surfaces, but not well on prepped tracks. Pro-Line has numerous tires alternatives that will give you the grip you need to actually compete (and be easier to drive on a track). Of course these upgrades are going to put a hit on your wallet, but the Durango with proper tires and motor is an animal on the track and well worth the moolah. Best of luck and let us know what you end up buying. Don't forget the pics!
---
Cubby
What is your honest opinion of Traxxas product right now? Is it as good as everyone says it is?
Big fan and thanks,
Adam R.
Cubby– I just love loaded questions like this one, so sure, I'll answer it. I mean that's what I get paid to do right? You didn't ask me what I thought of Traxxas as a company, you state "Traxxas product", so here it goes… If I had to give a one word reply it would be "dated", "neglected", or even perhaps "overpriced". Ya sure, they've got some newer platforms like the Rally/Slash 4×4, the drag car and the XO-1, but a large part of their product line-up was engineered back in the mid-90's. IMO the real meat of their products, vehicles like the Pede, Rustler, and Maxx's, are overdue for a ground up overhaul.
But… Traxxas obviously has some upsides- their customer service and parts availability top the list. If you get a new truck and it's messed up Traxxas customer service has a great reputation for bending over backwards to make it right. Even more importantly, when you do end up breaking your new truck most local hobby shops stock a prodigious amount of Traxxas parts. Even the little mom and pop shops that carry more Dungeons and Dragons than rc typically have at least the bare essentials of Traxxas parts on hand, and that can't be said about any other brand. Finally, the quality control on most Traxxas parts is good, certainly on par with some of the brands known for "racing" gear. Ya sure, the knucklehead racing crowd loves to talk about what crap quality all Traxxas product is, but to say that means they've never compared parts next to each other without bias. Ya sure, the racer dude may have paid twice as much for brand XYZ so he thinks he needs to justify the extra price by throwing Traxxas under the bus, but if you do an honest evaluation most Traxxas parts stack up just as good as some of the racer brands. Is Traxxas as good as everyone says it is? Now that's a hard one. I've only got two choices for an answer, yes or no, so I think I'm going to go with "No". Here's why- the competition has caught up and passed Traxxas in many product categories. For instance, lets look at the Stampede, perhaps the biggest seller Traxxas has ever produced. The Pede finished last in our 2wd MT shootout last year. The Pede is still
a good truck, but the competition has put out better trucks that are priced lower. Sadly that is the story for much of the Traxxas product line-up, there are now better and less expensive alternatives to be had.
---
That's it for this edition of ASK Cubby, shoot me your questions to Cubby at BigSquidRC.com. If your letter makes the big time you'll get a free sticker pack, if yours is the "Letter of the Month" you'll win a BSRC t-shirt. Don't be a poser, send in your questions.
YOUR Cub Reporter