ASK Cub Reporter, 05.17.2012, Me Mauling More Questions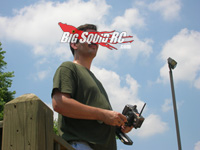 question for ask cubby
I have a Losi SCTE on your recommendation and I love it. I am setting up another one for my brother since he lives close to NorCal Hobbies and it is one of the more popular classes. I wanted to know if you had any issues with the Castle Sidewinder SCT with the 1410 motor in that truck. I have read on the forums that some people have tried it and had thermal issues with the ESC, but your review did not mention any ESC overheating problems. It seems like a good value for what I am trying to do. Thanks.

BTW, I wore my bigsquid shirt to the track last month and got props from Race Director Big Steve, he says he knows you guys.

Tom N.
Cubby– What's up Tom, expect some BSRC Stickers headed your way sometime soon. (send Brian your info)
When we tested the Losi SCTE it was late winter/early spring in our area, so it was driven mostly at cool indoor venues and when we drove it outdoors the ambient temps were quite low. Yes, we originally ran our SCTE on a Sidewinder but ran into temp issues when it warmed up outside or when we geared it for serious speed. I would not recommend running a Castle Sidewinder speedo in the Losi SCTE or any 4wd short course truck for that matter. I consider the Castle Max Pro SCT to be the best speedo for that application, although you can easily toss a Mamba Monster in there (if you have the extra bucks) and you'll never, ever have to worry about speedo issues. I also consider the Castle 1410 3800 to be the motor of choice if you plan on running on 2S, if you run on 3 or 4S the Castle 1415 2400kv is the better choice.
Peace and love, peace and love.
---
Hey Cubby,
I'm a big fan of your website and saw the "Modding the Helion Dominus" page. I was wondering what brushless system you would recommend for me to install in my Dominus. I got it last Christmas but I've gotten used to the speed and need some more.
Also, would you recommend modifying the battery tray to fit two NiMH batteries instead of running a LiPo? I have NiMH batteries and don't really want to spend the money to buy a $80 LiPo when I could get more power by running two NiMHs.

Thanks,
Evan J.
Cubby– Yo yo yo, MTV Raps Evan.
Hummmmm…. what affordable brushless system would I recommend for your Dominus? I (somewhat) recently reviewed the Viper Copperhead R 550 BL system (read it here ) and I can say first hand that it's a good bang for the buck. The Viper will instantly turn your Dominus from "mild" to "wild" and it will instantly put a huge grin on your face. Plus, because the Dominus doesn't use a center diff you'll be able to pull some gnarly wheelies with it. 4wd short course wheelies are great fun no doubt.
Btw, I hear Helion has some hop-up parts on the way for the Dominus to make sure it'll be able to handle crazy brushless power. We have not had a problem with ours, but then we've only run ours on 2S, I'd guess the hop-up parts are to help keep the truck together on higher cells counts/power levels.
About your battery question…
I would not recommend installing two Ni-mh packs in the Dominus for these reasons…
1. It's gonna be a serious PITA to get them to fit properly and to be properly secured. Perhaps the worst designed part of the Dominus is its battery tray.
2. Because Ni-mh's are so heavy they are really going to throw off the weigh distribution of the truck. This will result in a truck that turns differently from left to right and the way it jumps will be negatively affected.
I would recommend you use a single Ni-mh pack on a new brushless system. BL will give you a huge leap in power over stock and a single Ni-mh will fit and work just fine (assuming you are using decent quality Ni-mh cells and NOT the stock battery pack).
---
That's it for this week ya bunch of crazy hooligans, hit me with your questions at Cubby at BigSquidRC dot com. If your question makes the front page you'll get some uber BSRC stickers, and if I pick yours as the question of the month you'll get a ultra-trick Squid t-shirt.

YOUR Cub Reporter