ASK Cub Reporter, 05.19.2011, Readers Write- I Post Amusing Replies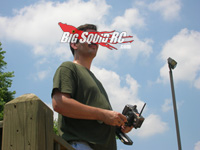 Hey just wondering did you do most of your testing on LiPo batts or the original NiMH batts with the Basher Review absolutely thrill'd to hear it took a couple full speed runs into a brick wall and stayed together. And just wondering when are you goin to do a LiPo test for this truck to see if the 20t has what it takes to run them?? Or just burn like some other stock motors??
Fellow smasher….
Lucky Vandy
Cubby– The vast majority of testing on the Electrix Ruckus was done using 2S Lithium packs. Well after the test period ended we did have a problem with the stock brushed motor arching and running hot. I plan on water dipping the motor to re-seat the brushes and get even more life out of it. If you just bought a brand new truck, it would be optimal to water dip it first, but if you don't, no big worries, it ran fine for a long time without it. Overall, the stock motor gives "good" yank for a decent period of time on 2S. The stock motor is easy to drive, yet has enough yank to have plenty of fun and even make some pretty respectable double jumps. If you are sitting on the fence about the Ruckus, get one, it's a ton of fun to bash with (and it's a tank!).
---
Hey Brian,
What's going on? Just got my stickers in the mail the other day, and I wanted to send a big thanks by sending a picture of a few of my cars rocking the new art work.

Absolutely love the site. If it weren't for you guys, I wouldn't have bought the Futaba 3PL which I am absolutely in love with. Also, you guys taught me everything I need to know about LiPo power and chargers. So needless to say, your site has done me some good, and I really do appreciate it.
Cheers from Canada,
Vince M.
Associated GT2 and Traxxas 1/16 E-Revo (brushless + 2S LiPo!)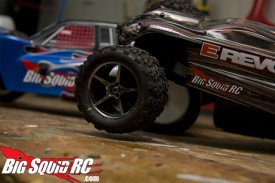 Cubby– I stole this one out of Brian's email box.
What's up Vince? Thanks for the love, we are working our asses off around here to try and change the face of rc media.
The two reasons I posted your letter are-
1. To prove not every letter we get here is hate mail.
2. Because you gave me a great idea for a series of rc articles.
Because of your email Vince we'll be doing a series of articles called "Everything you need to know about…". We'll do them on Lipos, brushless systems, tires, heck everything. After talking to Brian about the idea we'll keep'em as noob friendly as possible, just the basics, the kind of info it takes to get noobs up to speed fast.
Thanks for reading, and your trucks look much more uber with the BSRC stickers on them!
---
Cubby- Now for a couple responses I received after I asked readers to write in and give us their opinion on whether the TTR MT4-G3 should be included in a shootout with the Traxxas Brushless E-Revo, E-Maxx and the Savage Flux. Click through to read the rest
Include it. If there were any RTR electric truggies I'd say include those, but there aren't so maybe the TTR is a good choice (minus lack of parts support anywhere). I suggest the Losi LST XXL too; while its nitro they do have a conversion kit for it here You could toss in the lastest electric Mad Force VE from Kyosho, of course it probably won't do that well in comparison because of its bad suspension design (straight axles not withstanding). What about a RedCat Earthquake 8E? Yeah I know its a rebadged Chinese truck thats sold under 15 billion different brand names and part support is really poor, but maybe its time for someone to bash it hard in testing?

So for clarification:
Savage Flux,Traxxas E-Revo Brushless,Traxxas E-Maxx Brushless,Thunder Tiger MT-4G3,Losi LST XXL with conversion kit, Kyosho Mad Force VE,RedCat Earthquake 8E

Personally I far prefer my converted RC8T over my Savage Flux for bashing, even though I do like the Flux.
P.S. Where is BigSquid's bash spots? And why don't you guys have more 'BigSquid' sponsored bashes?
P.P.S. Why isn't Schumi in the old racers home?!
Chris
Cubby– Cool email Chris.
We considered the Kyosho Mad Force, and like you said, while it might lose some points because it's set up with a solid axle, it might do very well in a shootout when you consider its price.
We also looked at the RedCat. I think a lot of our readers would like to know exactly where it stacks up, for better or worse. The only problem on our end is if it breaks a lot that would reallyyyyy drag out the time it takes to do the shootout. It might be solid as a tank, I don't know, but I do think we should find out. If it didn't break too much, and you factor in its price, it would end up doing well, but that remains to be seen.
About the Losi LST XXL… we talked about it around the office as well, but unfortunately it's in nitro trim so it would not be included. Makes you wonder why the guys over at Horizon haven't put this truck out in electric form, because it would be one gnarly azz truck if they did.
And Chris I'm with ya on your weapon of choice the RC8T. Eighth scalers make incredible bashers- heavy duty drive-trains, heavy metal chassis, and super thick a-arms. Heck even our uber basher "Bill The Wrench Guy" choses a Losi 8T when he does serious bashing. But… the bulk of the bashing crowd tends to want to run a platform that was designed specifically for the bashing genre, instead of supporting something that started off intended as a racer, that's why we want to leave truggys out of the shootout.
ps- The rumor around the office is that BSRC is about to announce a Bunch of bash events (above and beyond Bash-A-Palooza at RCX Chicago), so stay tuned.
pps- I love Schu, regardless what he does the rest of his career he'll remain my all time fav racer, but… it sure is hard watching him get pwn'd every weekend lately. I'd love to see him get one more win, hear that German anthem, and see Schu's smiling face one more time atop of the podium, but that seems increasingly unlikely.
---
Read your article about monster truck bashers. I think you should include the Kyosho Mad Force Brushless. It is without a doubt a Monster truck. Solid axle like I believe you wished Traxxas had done with their Monster Jam releases. It's an 1/8th scale size truck with a large power plant and well under the price point of the Savage and E-revo (about $200 less). It's also 4wd.

Does it have a chance in holding up against e-Revo or Savage? Probably not but it costs a lot less. Perhaps the simplicity of its design might be its saving grace. Either way, I think it's a worthy addition just so you have something that isn't just HPI and Traxxas in the mix.
Greg Z.
Cubby– What's up Greg? Thanks for the email.
The Mad Force is no doubt a more realistic monster truck than the Revo or Savage. It's no doubt a beast with its brushless power system, 4wd system, and huge tires. Perhaps more importantly, it sports a very attractive price point. Every shootout we've done has a few surprises in it, maybe the Kyosho Mad Force would prove itself to be quite the contender. The only way to get the answer is to include it in the shootout, we'll see!
---
That's it for this week, shoot us your comments, random thoughts, ridicule, and whatever else you can come up with to Cubby at BigSquidRC dot com!
YOUR Cub Reporter