ASK Cub Reporter, 06.14.2012, Version- You Guys Write, I Pretend To Know What I'm Talk'n About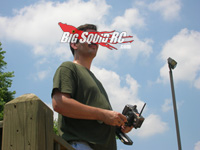 Hello, first let me say I love bashing now that's out the way I have a Cen Gen 7.7 I need a brushless conversion kit for it I tried smrcinnovations but I get no response and I don't want to send loot and get nothing! Any help will be appreciated,
Thanks in advance Ray
Cubby– Hola Ray, thanks for the email and we'll be in contact to shoot ya some fancy-dancy BigSquid stickers in the snail mail.
What does it tell me when SM RC Innovations won't get back with you after you contacted them? One- that either they don't want your business, or two- that they have gone belly up. Either way, you absolutely don't want to send them one dime.
So… you've got a gargantuan Cen GST 7.7 and want to go brushless with it. To me it looks like you have two choices- make your own conversion kit, or ditch the CEN. Unless you've got a decent fab shop at your disposal you are staring directly at selling your CEN then taking that cash and going with a genuine brushless monster truck like the Thunder Tiger MT4-G3. You would have spent $100 smackers on a conversion kit, plus nearly $400 for a good motor/speedo on your CEN anyways, so the entire Thunder Tiger truck at just under $600 is not a bad deal at all.
As Evan likes to say, "Bash Heavy" Ray, and let us know what direction you ended up going.
---
Love your reviews, and the site. Quick question about the Apache. When you are talking about bumping up to the Castle Monster system, were you referring to changing out just the ESC or both the ESC and the motor? And if both, then would you suggest the Monster 2200 over the 2650?
Thank you in advance,
Pete
Cubby– Hey what's up Pete?
The speedo is really the issue in the HPI Apache. We had two test buggies and both had issues with their speedo's, and… we just got one speedo back from HPI repair last week and we managed to break it again in a matter of minutes. "Sigh"
Because of the size and weight of the Apache a Castle Mamba Monster is the speedo of choice. No, they aren't cheap, but if you are looking for long term issue free performance the Monster is the solution, period.
I don't think the stock Apache "Alphastar 2350" is inherently a bad motor, we are still using them in our Apache's and they seem to put out decent power. However, you will need to solder larger bullet connectors on its wires if you upgrade to a Monster speedo.
---
Flowood R/C Indoor Park

Brian, I know there has been a lot of discussion lately on Race Fees. I run the Flowood R/C Indoor Park in Flowood, MS. It is a city owned indoor off road race track and I know I am prejudice, but to me it is the finest indoor facility in the country. We are open four days a week, have membership of $50 per year and race every Saturday if we have enough. We hold six special event races per year with one of them being our BIG race. All the income goes to the city but they provide me with whatever I need to have the best track. As long as it breaks even the city will continue to keep it open. Our first year being open, we broke even. However, I don't get paid and I did 71 birthday parties where I provide the kids with short course trucks for the parties. I also took in $12,000 in banner sales to the merchants in the city. However, if I had relied on strictly racing we would have not broken even.
(this is a long one.. so hit more to keep reading)
Our special event races are $30 to $40 for the first class. Our Big Event is Bring The Heat and the charge for it is $75 for the first class, $50 for the second and $30 for the third. We have indoor pit tables an electrical. We do not charge any extra for anything else. Last year we had 187 entries for Bring The Heat and I am hoping to be full this year with 300 entries. The problem I see with a lot of these weekend races is with individuals deciding to put on an R/C race for profit for themselves. All the money goes into someones pocket instead of back into the hobby. These individuals rent a facility for a weekend, pay a known professional to come in for the race, convince the manufacturers to be a sponsor for the race and donate product. I have seen some of them sell the product donated. Racers see someone they know sign up and they sign up. They really don't know nor care I guess who is putting on the race or the effect it is going to have on local tracks. Most racers will not participate in events the week before, the week of or the week after a big race. The local tracks are suffering and a lot of them are shutting down because of this. And, a lot of these tracks are terrible because they were built the day before the race. I strongly suggest racers be a little more selective before signing up for a race. Find out who is putting on the race and where the money is going. I would also suggest the manufacturers do the same thing.
We need to help keep the money in the hobby and for it to go back into the tracks. There are some super races that have been started by individuals that continue to grow and they are putting the money back into those races instead of their pocket. There is nothing wrong with that as long as the money goes back into the hobby instead of into someones pocket."
Cubby– I am posting this to kind of give our readers an example of the kinds of emails we get here at BigSquid. While a bit verbose, the email above lists some great points and some insight for people who don't run a track.
I am not against race promoters making some bank, goodness knows they work their asses off and deserve to make some cash. What I am against is charging $80-$100+ for something that is really only worth $30. If a promoter puts 20k into an event and charges $100 per entry it had damn well better give the racers one hell of a lot better experience than a Joe Bloe trophy race where the entry fee is only $40. The track, announcing, scoring, trophies, pitting, and other amenities had damn well better be state of the art for a $100 entry fee. Sadly, that is typically not the case, and that's what I have a HUGE problem with. But there are a lot of racers who gladly fork over the big bucks to waste 5 days at some piss poor facility just to have their asses handed to them by the factory boys. Go figure. LOL. This will work itself out in the end, but ultra high entry fees, races that last more than 2 days, and too many "trophy races" are simply not good for the general health of the hobby.
---
That's it for this week, submit your questions, remarks, rants, etc to Cubby at BigSquidRC dot com. If your email makes the front page you'll get some super-trick BSRC stickers, and if I select your email as the best of the month we'll totally hook ya up with a BigSquid T-shirt.
YOUR Cub Reporter