ASK Cub Reporter, 06.20.2013, Version- Endless Questions Terse Answers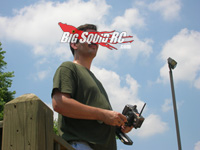 Hi my name is Robert I have been trying to get people to come to Columbus Indiana at Mill Race Park. I wonder if I can have BigSquidRC come here? Me and all of my good dudys have some RC stuff that we would love to share with you all but I have no luck getting anyone to come to Columbus,IN. (PLEASE and thank you)
Cubby– Hey now Robert, thanks for the email. Perhaps by me posting your email it will alert some of the bashers in your area to check out the park where you bash at. Hey, I'm doing my part to help spread the basher love.
There certainly are a LOT of bashers out there now days thanks to all the mainstream cross marketing, but they have problems getting in contact with other to meet up and bash. We've been working on that problem a couple of different ways here at BigSquidRC. The first way is to make it a focus of ours to post information about, and if at all possible, provide event coverage of as many bashes as we can. The second and better way to get bashers together is still in the works, we should be posting more information about that in the next couple of weeks. Ya, it's something cool and slick, excuse me while I crack the whip on Jeff to get back to work on it.
Btw Robert, if you can get permission from your local park to hold an "organized" bash (if there is such a thing), shoot us an email and I'll grab a couple of the staffers and head your way to break some parts together.
---
Heeeey Cubby!
I reckon you're the one to ask so I can get back to some ultimate bashing. I recently converted my CEN Genesis to brushless and with my 6S setup, it keeps eating the center diff outdrive cups. Not to bash CEN for bad parts, they did make the kit for a 4S setup – do you know of any other massive drive cups I can replace the standard ones with that can deal with 6S? I have used both of CENs cups, the newer Matrix ones and also the older hex style cups – both break/snap/do-a-back-flip where the spline goes through.
Cheers from Mark from Denmark
Cubby– Ya know Mark, I haven't been to Denmark is just over 2 years, I wish I had a fish smørrebrød in my hands right now. So you've got a huge CEN Genesis monster truck with crazy power in it, and you keep blowing the center out-drives to smithereens. Imagine that.
On one hand that means you are going huge and taking no prisoners, which I can certainly applaud. On the other hand, you've got a truck designed for "X" amount of power and you are trying to put "4X" through it. Now there might be some uber CEN guru's out there that can guide you to the right out-drives that can live at insane power levels. I've never personally owned a Genesis, so I absolutely can't give you any suggestions on higher quality replacement parts.
However, what I will recommend is ditching that platform all together. I've never been a fan of CEN, from the few that I've been around I've found them poorly engineered and built from less than desirable materials. IMO they are slightly above the "joke" level in quality, and I mean just slightly.
If I were in your shoes, that CEN would be hitting Craigslist faster than a stolen laptop and I'd be using the cash to buy an HPI Savage MT. The Savage starts out with a solid drive-train and there is decent after-market support to make it even tougher. Go huge, apologize later my friend.
---
That's it for this week ya freaks, send me an email at Cubby at BigSquidRC.com. If your email makes the big-time you'll get a free sticker pack and if I proclaim yours as "letter of the month" we'll hook you up with a BSRC t-shirt.
YOUR Cub Reporter