ASK Cub Reporter, 07.05.2012- Version- The Star Spangled Banner of Question Answerers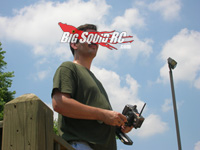 If you haven't already decided on which transmitters to review, I'd like to ask that you include the Traxxas TQi system and possibly the FlySky GT3-B. I own the GT3-B and very interested in the TQi for the telemetry capability. I do race, but pretty much just dirt oval (Slash MDM and Open 2wd) at Maryville Raceway in Illinois when time allows. The FlySky seems to be adequate for me at this time, but I could really use the telemetry for motor temperature during the race. Love the site and definitely love the shootout reviews. Keep up the good work!!
Craig De B.
Cubby– Hey what's up Craig? Thanks for the question, shoot us your snail mail so we can cut ya some stickers.
Maryville Raceway is a cool oval track in the Eastern St Louis metro. It's not huge, but it is normally very well kept with a nice banking. They also have a cool crew of regs there. I haven't been there for a couple of years, thanks for the little reminder that I need to get back out there. Tell Cliff I said hello.
And yes indeed, the HobbyPartz FlySky FS-GT3B transmitter is on the list for the shootout, in fact we've received a crazy amount of emails requesting it for the shootout. I've never seen a low end transmitter create so much buzz before, I can't wait to see how it stacks up.
And… yes indeed the Traxxas TQi is on the list. Whether or not it makes it into the shootout is another matter. Personally I'm not a fan of it, but we have staffers who are. The ergo's just don't work for me, and I am not a fan of its weight distribution with an iPhone attached, but that's just me.
---
It would be awesome if you reviewed some Pro-Line Badlands SC tires. Your reviews are the best!

Josh G.
Cubby– What's up Joshua? Thanks for the email.
About the Pro-Line Badlands SC's, we use quite a few of those around the office, most recently on our Helion Dominus. There are guys around the office that prefer other tires for pure bashing, but after having driven the Badlands I gotta say those things freak'n PWN on dirt. They get greater than expected mechanical grip on hard pack, and those suckers are missile launchers on loam. Seriously, the roost those things put off is quite impressive. What about a review on them? That would take some actual work on my part and to be honest I am quite the lazy type, but I'll see what I can do for ya.
About our reviews, thanks for the props. Luckily we have the freedom to actually rail on product that sucks. Most of the stuff we get in is actually pretty good, but I hear we have a couple reviews coming down the pike that are just plain ugly (HPI Bullet, cough, cough, Traxxas Funny Car cough, cough).
---
Hey Cubby,

First off, big fan of the website. I check every day for updates, rants and reviews. Great team and great stuff you guys do!
I'd like to offer a different perspective on the "Handicap" timing systems discussed on the Cub Report (7-2-12).

First of all, I was a racing noob only a few months ago (Jan) and there are some really fast guys at our local track during our weekly races, the drivers that win just about every week. I joined the 4×4 class because it's the most fun in my opinion, lots of fast guys, fast trucks and a great turnout every single week.

The first month or two I spent learning, practicing and learning how changes affected my truck (SCTE). I slowly upgraded my electronics, tires, and small hop-ups here and there. My driving skills progressed rather quickly as well there and just last week I was finally won my first A-main, beating the fast guys and all. I cannot tell you how rewarding that was.

Even when I was a noob, I really enjoyed watching my lap times get better and better every few weeks, I started finishing on top of the B main, then mid pack of the A-main, then regularly Podium, and finally a Win. This progression has been the most rewarding part of this hobby for me.

Knowing that I did it all without "handicaps" and that I worked to earn myself that win, was just awesome. I'm competitive in nature, so I would have hated to play a part of being "handicapped" just to have a chance. I would rather finish dead last without any "help"

I race to have fun, winning is even more fun. Even when I lose, I know I had a good time and I go home happy. I don't know that I would get that feeling if I went home with a podium finish knowing that I did it with some kind of external help.

I believe in practicing, working on your skills and taking on the "big guys" … challenging them, let them know you are coming. This is the most rewarding part of racing. "Handicapping" the less experience racer would kill this notion forever. I personally hope not too many tracks begin using this, I think it will take away many noob's chances to push themselves and improve their skills the old-fashioned way – through good ole' practice.

Thanks for reading, sorry if it was too long. Feel free to publish on the page if you see it fit or want to comment back publicly, go for it buddy 😉

John
Cubby– Hey now John, what's up, mucho gracia for the email.
Unfortunately you've only been racing for 6 months, therefore it would be hard for you to know I was talking about. You also have enough people showing up at your local track to have an "A" and a "B", yet another reason it would be hard for you to relate to what I was attempting to get across. Also, if you were able to move from the B to pwn'n the A in just 6 months you have a lot of natural talent, yet another reason you can not relate to what I said. And finally, you are still racing, hence the reason you are not a good example of the type of person I was alluding to about the handicapping.
So lets imagine this scenario- that God gave you little to no natural driving talent and/or you didn't have any spare time to practice or wrench. Lets say that last weekend instead of winning the "A" that you only finished mid pack in the "B". Lets say that Every weekend you raced that you finished mid pack in the "B". Just how stoked would you be to race again this weekend?
John, you are the exception to the rule, the vast majority of drivers do not end up winning A mains. Is it their fault God didn't give them "Kinwald Heaps" of driving talent? Is it their fault they work 2 jobs or have a family with 4 kids and have no time to practice or wrench? Yet these people should be the bread and butter of local racing, they are the majority of drivers, they should be the guys showing up once a week to get their rc fix on, race simply for the fun of it, and keep your local track open. Unfortunately these guys are not. Most local tracks have gone to some ridiculous "trophy race every other week" schedule to make the cash to keep the lights on, when they should be keeping the lights on via large weekly turnouts. But to do that they have to keep the "casual" or "non-gifted" racers coming back and that's where handicapping comes into play.
You said it yourself- "winning is even more fun". Hell yes it is, it's the only reason any racer Ever races. But when you are staring at absolutely no chance of ever winning can you blame people for not returning? You haven't been racing for very long, but you'll see a trend over time. You'll see a whole lot of guys who only race once. These guys are typically quite innocuous and are usually quickly forgotten by the local core racers. If most local tracks would have kept only a small portion of those guys over the last ten years they would be getting 100 people (not entries) instead of 35 every weekend and wouldn't need to have some "insert gimmicky name here" trophy race every other weekend. Just say'n…
---
That's it for this week, shoot me your questions, responses, marriage proposals, and unopened boxes of Macanudo Gold Labels to Cubby at BigSquidRC dot com! If your question makes the front page (and you send us your snail mail) you'll get free uber BSRC stickers, if I select yours as letter of the month you'll get a free BSRC t-shirt.
YOUR Cub Reporter