ASK Cub Reporter- 07.12.2012- You Ask Questions, I Blow Them Off While Hooning In The Parking Lot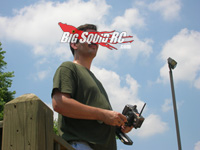 Hey Guys,
Do you think you'll be able to do a review on the MIP Pro4mance Chassis and Tuning Package for the Losi Ten-SCTE?
Thanks,
Mike L.
Cubby– Hey now, what's up Mike? I'm not certain if it's time for me to declare a letter of the month or not, but what the heck, congrats, you have just won a BigSquidRC t-shirt. Shoot me or Brian your snail mail so you can totally pimp it up at your local bash spot.
Is it just me, or is ASK Cubby a day late? Maybe I should have retired from the hotel bar at the HobbyTown Convention a bit earlier, but I digress…
To get to your question- yes, from what I hear we are doing a review on the MIP Pro4mance chassis and tuning kit. We are big fans of the Losi SCTE platform around here, we've got plenty of them laying around, and I'm personally pretty stoked to bolt up the MIP mods and see how they perform. Better springs, the uber MIP pistons, the chassis and towers, oh yea, it should make a huge difference in performance. Not that the stock SCTE drives like a hay wagon, it doesn't, it drives awesome, but the MIP mods should take it to epic factory levels.
---
I have the stock brushless evader and my tires are always getting ripped off while I'm running it at high speeds and I'm looking for very durable tires that are compatible with the evader but can't find any. I want bigger than stock tires on the back though and the front I want smaller.

Also I want a bigger motor but I want the same ESC. can you assist me in finding these parts and materials?

Shawn K.
Cubby– Hola Shawn K, thanks for shoot'n me an email. Sounds like you are doing some serious high speed running with your Duratrax Brushless Evader.
I'm not certain what you mean by your tires ripping off at high speed. To me that probably means they are coming loose from the bead, but it could also mean that they physically rip to shreds (as has been the case with stock Slash tires, among others). If your tires are simply coming loose from the bead that's a super easy and cheap fix- add some CA glue, give it plenty of time to dry, and you are dialed. If you are actually ripping the tires to shreds, then yea, obviously you need to skip the dumb stuff and go to higher quality tires.
So one thing at a time here- you say you want smaller front tires. Here I'm gonna recommend this combo- Duratrax Evader buggy front rims (Tower part #LXCXT5, $6), and some Pro-Line tenth scale buggy front tires (like their 4 ribs, part #8175-02, $12). Now double read this- I am not certain the Evader buggy rims will fit properly on your Evader BL truck as I have not tried it first hand, so email the Duratrax guys to make sure. If they should happen to fit, they'll be both more narrow and significantly smaller in diameter.
Bigger motor on the stock speedo? You are just begging to burn your speedo up and/or blow drive-line parts to smithereens. Yes, there are a lot of bigger (read- longer) motors that will bolt right in that will produce more torque and overall power. But… the stock motor on 3S Lipo can put out more power than 90% of drivers can ever use. If you are already running 3S on the stock system and that simply isn't enough power for you (if you aren't, you'll be amazed how much faster it is), I'd recommend installing a Castle Mamba Pro SCT speedo with one of their 3800kv 1410 motors. Drop 4S on the Castle system and I can absolutely assure you that you will not want for any more power (however your truck's drive-line will be a pile of rubble afterwards, just say'n).
I can't recommend that you go to larger than stock tires in the rear. I say this because you simply won't be able to properly gear your truck on higher cell counts with huge tires.
Have fun, go fast Shawn. Oh and send pics, I gotta see what you end up with.
---
That's it for this week gang, hit me with your emails at Cubby at BigSquidRC dot com! If your question makes the front page you'll get free stickers, if I declare yours as letter of the month you'll win a free BSRC t-shirt!
YOUR Cub Reporter