Ask Cub Reporter- 07.14.2011- They Call Me The Wiki Of RC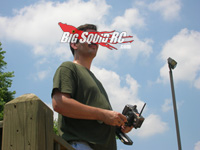 Hey Cubby,
So what does the BSRC crew have planned for this summer? New vehicles to buy? Exotic vacations anywhere? New tracks or bash spots to visit?

As for me, I've decided to try something different and out of my comfort zone…..aircraft (gasp!)….specifically helicopters. There seems to be more
aircraft rc clubs (airfields included) than car/truck clubs in my area. So that just gave me the perfect excuse to go try helicopters and mingle in with the
clubs.
Well, I hope I don't crash too much…hope you guys are having a good summer so far.

Joe
Cubby– Hey what's up Joe?
I'm not a big helicopter fan but a lot of people are, maybe with enough ribbing we can get Brian (aka- Brain) to start up an uber rc heli site? Oh, and I hear he has a heli review on the way in the next couple weeks.
What is the BSRC crew up to? I am spending the week in Nebraska at the Hobbytown USA national convention and leave Friday for the AMA Motocross National in Millville Minnesota. Brian (aka- Brain) has been working his butt off and I hear he may be doing a bash-fest put on by Slot-N-Wing in Champaign Illinois this weekend. Adam "The Intern" has been busy mopping the floors and polishing our marble floors to a high sheen. Jeff left to go make some major cash, freak'n slacker. Tim "The Pro Racer Guy" is doing the J-Concepts race in Fort Dodge Iowa this weekend racing our STRC fortified Losi Ten SCTE and our test Losi SCB. And lastly, I hear Evan is about to start a series of hop-up articles on our test Axial Wraith. In general, BSRC has blown up the last year and quite frankly we are all way busier than we prefer to be.
---
Cubby
I have been given two used Orion lipo batteries. The lipos are a couple years old and I am not sure if they are good anymore is there some way to find out?
Roger W.

Modesto CA
Cubby– Thanks for the email Roger, what's up in Modesto (one of my fav spots in California)?
How can you tell if a used Lipo battery is any good?
The first thing to check is- if the pack has vented internally (puffed). This means actually feeling the battery with your hand, it should not feel "squishy". If it feels squishy or expanded consider it garbage.
The second thing to check is voltage, preferably of each cell independently. Each individual cell should read between 3 volts and 4.2 volts, so… between 6 volts and 8.4 volts on a 2S pack. You can measure cell voltage with a good charger or with a multimeter/VOM. You don't want to see a vast difference in voltage between each cell either. For example if one cell is 3.5 volts and the other is 4 volts I'd be wary of using the pack.
Third thing to check is capacity. Capacity is measured during discharge at a 1C rate. If your used Orions were originally rated at 4000 mah, but now only tests out at 2000 mah on a 4 amp discharge, the pack is likely bad or worn out (and certainly won't give you much runtime). You would like to see at least 3000 mah out of a used 4000 pack. If you have a good charger with a discharger built in you should be able to perform a capacity check with it, otherwise you'll want to invest in a West Mountain CBA discharger (about $150, and worth every penny if you plan on staying in the hobby for more than a few months).
Fourth thing to check is voltage under load. If you put a reasonable load on the pack (lets say 15 amps) and the pack voltage drops below 3.5 volts per cell, most likely the pack is no longer any good. The best way to check this is with the West Mountain CBA I mentioned above.
If your used packs breeze past those four tests they should be good to go. If they don't pass the four tests above do not hesitate to pitch the packs and buy new, better safe than sorry.
---
That's it for this week ya maniacs, shoot me an email at Cubby at BigSquidRC dot com!
YOUR Cub Reporter