ASK Cub Reporter, 07.18.2013, Version- More Questionable Answers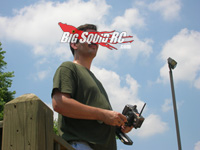 Exceed nitro short course
I recently purchased the ecx torment after reading your review. It was everything I expected and I love it (after I changed the battery). I would like to get back into nitro, but im not looking for an expensive "race machine". Im just a hillbilly just looking to tear some stuff up and have a good time.
Im currently watching an Exceed truck that is really inexpensive. I searched your web site, but couldn't find a review. Please be honest with me if it is junk then I will move on. Any help would be greatly appreciated.
Thanks Jon
Cubby– Yo Hillbilly Jon, thanks for the email and the kind words. Glad to hear you are liking your Torment, we still have several running around the BSRC Bash Compound and we have a blast with them on nearly a daily basis. We are working on a set of hop-up articles for the Torment, keep your eyes open for them.
So… you are looking for a cheap nitro and you've been looking at Exceed. No, we haven't reviewed any here, they are one of a bunch of companies that won't talk to us. One of the downsides of being the outcasts of the rc community is that we don't get the chance to review certain products. That frees up more time for our other reviews, but it leaves readers like you without the information you need to make certain buying decisions, therefore you leave your cash in your wallet.
From what little first hand knowledge I have of seeing Exceed nitro vehicles run- I've never seen one run without issue. Now, it may have been the drivers behind the wheel, maybe the vehicles already had 20 gallons through them, I have no idea, but the less than half dozen I've seen run spent more time on the pit table getting worked on than actually running.
The Exceed's have a very, very low price point, making them inviting to the point of "Why not give'em a try!", but even a couple hours of frustration can make the $200 you saved not seem like a very good deal.
I'm going to recommend a vehicle to you that we've tried, tested, and worked well without any major issues- the Duratrax 835B nitro 8th scale buggy. It drives well, has good power, jumps decent, and is really a good overall bash machine. It's priced at $349, which might be on the high end of your price range, but at least we both already known it's worth the cash. Read our full review HERE.
---
I like to know you opinion on the Vaterra RS Camaro and do you think its a good product and I was wondering what kind of speed I get out of it even with lipo battery's and is there other websites to get more parts for that car. I hope you can help.
gridrockv10
Cubby– Hey now Grid, thanks for shoot'n us an email. Send Brian a snail mail and we'll hook ya up with a sticker pack.
Here's another case of "We haven't tested one". Heck I've never even seen one run in person, so I have no idea if it's a good car or not. We've had good luck with the Vaterra small scale cars and with their Glamis and Twin Hammers, but their on-roaders are a completely different platform. We'll shoot Vaterra another request, if we get one in the mail we'll bust out the review ASAP just for you.
---
That's it for this weeks train wreck, shoot me your questions, requests, or whatever else is running through that mind of yours to Cubby at BigSquidRC.com. If your email makes the big-time you'll get a free sticker pack, if I proclaim yours as "letter of the month" we'll send you a free t-shirt (even in your size!).
YOUR Cub Reporter