ASK Cub Reporter, 07.19.2012, Version: Dodging Your Questions As Usual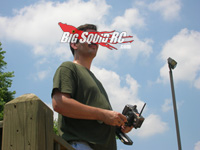 Hey there, big fan of the Big Squid you guys do great work. I was curious if there was a plan in the works to do a hopped up review of the Dominus 10SC. Also was interested in the possibility of seeing how the Dominus and Losi Ten-SCTE stack up against each other in a short course shootout, or more simply which would you (As in the Squid crew) recommend for bashing primarily maybe racing against a bud. I would like to see a 4wd SC on the basher approved list if you of the mighty squid deem one fit.

-Sam
Cubby– Yo what's up Sam, good questions you have there. Oh, and shoot Brian your snail mail so we can shoot ya out some stickers.
No, we won't be doing a review of the Dominus in hopped up mode, however, we have several more "Modding The Dominus" articles in the works. As you've probably noticed, all our hop-up articles on the Dominus have been geared towards noobs. You'd be amazed at how many peoples first truck in hobby grade rc is the Dominus, that's why we gear the articles that way.
Dominus vs SCTE, which one wins? They are two different beasts. The Dominus has very soft power out of the box but once a decent brushless system is installed it's a beast in a straight line. Both trucks have proven quite durable for us. The biggest difference in how they drive is the lack of a center diff in the Dominus. The lack of a center diff allows you to pull wheelies and it makes backflips easier to pull off, but it also makes the Dominus super sensitive to throttle input while jumping. So… the SCTE is much easier to jump (and to drive in general) but the Dominus can be more fun to bash if wheelies are your thing.
Which one would I recommend to you? The Losi Ten SCTE. It drives awesome, it's easy to work on, and it's quite durable. But if you were to go around the office you'd probably get 5 different answers from 5 different people.
About a BigSquidRC "Basher Approved" 4wd short course truck- we have had many a long discussion around the office about that very subject. The biggest thing holding the Dominus back is its battery tray, it's a pain to fit after-market packs in it. I've lobbied to get the Losi Ten SCTE on the list, in my eyes it's super durable, relatively affordable, and a blast to drive, but others in the office don't have the same love for it that I do. Really, to get Basher Approved a product has to be Epically outstanding, and thus far we've yet to find a 4wd SCT that us up to that specification (and can be agreed upon by all of us).
---
hey what's up, love your site and your reviews, definitely helped on some decisions with products between the group of us, but i got some questions for ya bud, would you be able to tell me what chargers these are in the bottom of this pic and what power supply you guys run for your chargers?

thanks man
Duane N.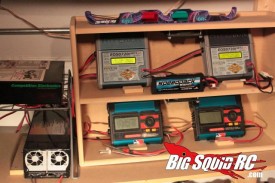 Cubby- Hola Duane, thanks for the mad props yo (read that assuming I'm using my Jesse Pinkman voice).
What are the chargers in the bottom of that pic? They are some of our ATF's (all time favorites), the Duratrax ICE. The ICE chargers have been out for years but are still available for about $100. They charge multiple chemistries and are generally a good solid charger. However, because they were designed years ago, they don't have built in cell balancing, they are not of particularly high output, and they tend to take a long time to fully charge a Lipo. Still, we use them day in and day out to get great quality charges into our packs.
The two chargers on top are Hyperion 720iNet3's. Pretty much state of the art Lipo chargers that have high output for quicker charging and built in balancing. They are rock solid, worry free, performers that are extremely easy to use.
About power supplies around the ultra luxurious BigSquidRC offices- we primarily use Maxamps. We use 24v DC MaxAmps power supplies when using high output battery chargers, and 12 volt MaxAmps and Competition Electronics power supplies for less demanding applications. We use the MaxAmps power supplies because they are quite affordable and we've yet to have any issues with them. We charge a lot of batteries on a daily basis, dependability is of the utmost importance to us, the MaxAmps power supplies do an excellent job and we never have to worry about them.
---
That's it for this week, shoot me your questions and you just might see your name on our front page. If your question does make the front page you'll get some free BigSquidRC stickers, and if I pick yours as letter of the month we'll totally hook ya up with a free t-shirt.
YOUR Cub Reporter