ASK Cub Reporter- 07.21.2011- More Rants, More Questions, More Good Stuff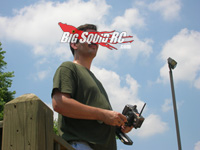 What is the deadline for winning your gambler and can I enter more than once?

Robbie D.
Pine Bluff, Arkansas
Cubby– What's up Robbie D?
For those that have not heard, I am giving away my BSRC test Venom Gambler short course truck. It's in fine shape and ready to tackle your backyard or track. To enter all you have to do is shoot me an email with 10 reasons you want to win my truck (heck, I'll even take just 3 reasons for those slackers out there). I'll pick the email I like best and my Gambler will be on its way to the winner ASAP.
My email address is Cubby at BigSquidRC dot com and the cut-off for entries is this Saturday night at midnight central time (July 23rd,2011). And ya sure, you can enter as many times as you like. I'll post the winner in this Mondays Cub Report. So far I've received less than 30 entries so your chances are pretty dern good at this point, so get to emailing!
---
I'm assuming Brian's LHS that offers test drives is Hobbytown Orland Park. If not, make sure it is on your list.
I wanted to add that Al's Hobby Shop usually has multiple vehicles available for test drives. I know they have dNaNo cars they can try out and have a track at the facility (so you get to actually TRY racing with lap times). There is almost always other cars available for test drives.

If you do end up having a "test drive locator", I'd love to see mention of the ChiMini R/C club as well (www.chiminirc.com) as we'll let anyone try their hand on trying out a Mini-z. Granted I'm not a LHS but it offers up a chance to try out racing on an affordable scale.

Greg Z.
Cubby– There ya have it people, if you live in the Chi-Town metro you are dialed with free test drives. You've got the HobbyTown USA location in Orland Park, Al's Hobby in Elmhurst, and the ChiMini R/C club in Berkeley. Geez I need to get up there and partake of those test drives myself!
So what about the rest of America? Not one other hobby shop in the country does free test drives? If you know of a place that allows free test drives of hobby grade vehicles shoot me an email, I'd love to help spread the word. If you are a hobby shop owner I KNOW you have a couple cars just laying around that you could use to give noobs a test drive, so bust'em out!
---
Hi Cubby I hope you can help me out. I drive a Traxxas brushless revo on a pair of 3S zippy lipo batteries. The problem is every time I plug the batteries in they spark. What am I doing wrong? I don't want to ruin anything. Please help I don't have much extra money laying around.
Darren
Cubby- Hey ya Darren, thanks for the email.
Most likely everything is all good, it's just the high voltage of the two packs wired in series for 6S creating the spark, but double check your wiring just in case. On the first pack the positive wire goes to the positive on the speedo, on the second pack its negative goes to the negative of the speedo, the remaining two wires, the negative from the first pack goes to the positive of the second pack and not to the speedo at all. That's the wiring for crazy speed.
If you are looking for slow speed and maximum runtime you'll want to wire in parallel. The positive wires from both the first and second pack go to the positive of the speedo, while both negative wires from the batteries go to the negative of the speedo. This wiring won't yield much top speed or wheelie popping power, but you'll have oodles of runtime.
---
That's it for this week, get your "Win Cubbys Gambler" emails sent in, and submit your questions, comments, and really whatever is on your mind to Cubby at BigSquidRC dot com!
YOUR Cub Reporter