ASK Cub Reporter, 07.26.2012, Version- The More Serious Questions You Ask, The More Stuff I Make Up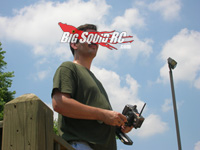 Hi my name is Richard and I wanted to ask if u could send me any stickers or swag? I have a traxxas stampede and just read the review of the pro line transmission. Keep up the good work.

Thanks for your time Richard P.
Albuquerque, NM
Cubby– Yo what up Richy? Thanks for the email, give me a couple days to shoot ya out some stickers.
First off, thanks for the props. And while I attempt to do as little as humanly possible around here, at times I let it slip and actually do some work.
So you have a Traxxas Stampede and you were dig'n our Pro-Line Performance Transmission review. If you are sit'n on the fence of getting one I'd urge you to get off and lay down the bucks if you ever plan on putting serious power in your Pede. Or even if you aren't, the PL tranny is just that trick, plain and simple.
Also… you know I'm a ridiculously huge fan of Breaking Bad. For those that don't know, it's set in the ABQ, so Rich, if you just happen to see Bryan Cranston, RJ Mitte, or Aaron Paul walking around, snap a couple pics and shoot'em my way.
---
G'day Mate,

I've only just come across your site, I actually have no idea how, but I somehow found it through surfing for something. Well done on a fantastic layout and from what ive seen so far, lots of good rc info.

Anyway, the reason for this email is to ask if you have done an article on the perfect basher and setup?

I currently own a Baja 5SC and have built it for bashing, but after having it for a short time I realized just how expensive consumables and repairs can be with these big boys.

I'm now looking into buying a 1/10 or preferably 1/8th scale brushless car to bash with, so I can have my wish of affordable performance and ease of setup/maintenance. Looking through what's on offer, I like the sound of the traxxas erevo's and hpi savage flux (more so the flux as it seems a lot more simple in design) for their reliability, but they also look rather cumbersome in the handling department due to their monster truck design.

Looking at racing buggy/truggy type cars, they look awesome, seem to handle great, but I don't think they would last too long copping the odd shitty landing due to being optimised for the track.

I noticed hpi have a 4wd trophy truck which looks cool and has a integrated roll cage that looks rather functional with protection in the right places but is a rather tiny 1/12th scale, not to mention its not brushless and the scale suspension geometry is rather archaic.

So my point is:

Is there a cool, strong, reliable, fast, and good handling brushless basher in the 1/10-8th scale sizes currently for sale? Or is there even a car that can meet most of the above that can have reasonable priced hop-ups added to complete my requirements?
Sorry for the long email, but this is something that I'm passionate about finding!!
Cheers!
Paul
Cubby– Wheewwwww…. now that was a long email, but thanks for taking the time to write in.
Sounds like you are from down under, I read today where fellow Aussie Speedy Reedy wants to sign Ryan Villopoto to team TwoTwo. I hope he does, that would be rad seeing them both putting Hondas up front in 2013.
Have we done an article on the perfect basher/set-up? Not per se, but I would think when we name one truck "Basher of the Year", that would be our declaration of what we are thinking is the best. Btw, basher of the year for 2011 was the Thunder Tiger MT4-G3.
Traxxas E-Revo vs HPI Savage Flux, yes, both are gnarly fast, both tough, and both are monster trucks. Both have loads of ground clearance, which is a huge plus when huck'n big air and driving over rough terrain. Do they handle a track or pavement well? Not too badly, but both will traction roll when turned at high speeds.
Racing buggies/truggies. You will want to stay away from 10th scalers. They are simply too low to the ground and not built beefy enough. However, 8th scale buggies and truggies are some of the toughest rigs out there (in general), and they drive remarkably well.
You mention the HPI Mini-Trophy truck doesn't really suit your fancy. Have you seen HPI's larger Apache SC Flux? It's basically a RTR brushless 8th scale buggy with uber short course truck scale looks. We have not reviewed one, but we did review its brother the Apache C1 scale buggy. If you are looking to go with scale appearance take a close look at both the HPI C1 and the SC. Otherwise, I'm gonna toss in the Losi Ten SCTE– fast, handles well, and loads of hop-ups available (TLR, STRC, MIP, and more). Or if you wanna go the monster truck route, the Thunder Tiger is the one I'd recommend, it is simply an animal.
Best o' luck, let us know what you decide on.
---
That's it for this week folks, submit your questions, answers, hate-mail, and blurry pictures to Cubby at BigSquidRC dot com! If we use your letter on the front page you'll get free stickers, and if I pick yours as "letter of the month" you'll win a BSRC t-shirt.
YOUR Cub Reporter