ASK Cub Reporter- 07.28.2011- The Questions Pour In, Answers Leak Out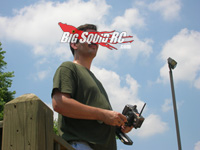 hello i just got the losi xxx scb and and im not happy with the motor system it gets really hot and i have to get a new motor its a great car and runs great and gets alot of attractoin but it is not fast or quick do you have any ideas on how to gain peformance instead of a really hot and now dead motor lol

Simon R.
Cubby– Hola, what's up Simon? Those Horizon/Losi SCBs are pretty dern cool aren't they? Amazing the crowd they attract wherever you go isn't it?
First off let me say I hope you are using a good 2S Lipo in your SCB. If you aren't using a Lipo you'll be losing a lot of performance- their lighter weight and higher voltage under load than old school round cells, makes them worth every penny.
So lets assume you are already running a good Lipo. The stock motor puts out good power but they run too hot and burn up too quickly. The brushed motor out of a RTR Blitz is slightly faster and lasts much longer, so if you are running a spec class, or simply want to save some cash by staying brushed on the stock speedo this is a good (and affordable) option.
If you stay brushed be sure and water dip the motor before installing it. Use 2 to 4 volts DC for around 40 minutes or till the water is noticeably discolored, then re-oil the bushings and you are dialed. The same can be said about the brushed motor that comes stock in the Traxxas Slash except they aren't quite as quick as the HPI, but they will also last many times longer than the stock Losi unit.
But to really "fix" the problem…
This requires ditching the stock motor and speedo and installing brushless gear. Regardless of price the best motor I've tried in the SCB is the Castle 1410 3800 kv. This motor has more power than you will every use, has a very drivable powerband, and it runs at very reasonable temps with moderate gearing. Unfortunately this motor isn't cheap to buy by itself but when bought in conjunction with Castles Sidewinder SCT speedo the entire system is under 150 clams. Some people consider this buying a great motor and getting a speedo for free.
But…
The system I'm currently running in my SCB is a Mamba Max Pro on a Castle 1406 4600 motor. The Max Pro is a far superior speedo to the Sidewinder (albeit not cheap) and I like the extra Kv of the 4600 on 2S. I also prefer the powerband of the 4600, but it doesn't run as cool as the 1410 3800. Btw, this system runs about 80 smackers more than the Sidewinder set-up. To me the "perfect" combo is the Max Pro on the 1410 motor, but Castle does not currently offer them as a combo meal deal.
Furthermore…
Some people prefer the perfect launch provided by a sensored system. In that case I'd recommend a Novak set-up. I haven't run one of their systems in my SCB so shoot'em an email and see what their set-up of choice (and gearing) is for the SCB.
---
I was casually posting in the forums today, and what came out of my mouth (well, actually, fingers) totally and utterly reminded me of the BSRC mentality.

(chatting it up, talking about a good, cheap brushed motor to power my Slash 2WD for my yearly camping trip while my new brushless motor get's RMA'd)

"…I was thinking today if there was any way to mash on an Emaxx dual-motor mount onto the stock gearbox… if only I had more time D: I may never need brushless again! haha and then… COMPOUND DUAL-MOTOR MOUNTS! like… dual motor mounts mounted on dual motor mounts!"

haha, that would just be silly.
"what are you running?"
'triple Titan 775 Slash 2×4 geared 55/50 on parallel 4S packs.'
"…………WAT?"… "

I couldn't not email you this. not really anything constructive, but I've always wanted an excuse to email you!

Keep doing what you guys are doing!
~Kyle G.
Cubby– Looks like we need to make you an honorary member of the BSRC Bash Crew, sounds like you'd fit right in.
The whole triple 775 Slash 2×4 geared to the moon on 4S does sound like a LOT of fun, actually it sounds like something Adam The Intern would be perfectly suited to bring to fruition. Hummmm… wonder what we have Adam doing tomorrow? Maybe between building 12 wheeled E-maxx's and perfect 1000th scaled replicas of downtown Chi-Town he can bust this project out.
Speaking of the BSRC mentality… I hear we have a new event planned for BashAPalooza at RCX. Our new event involves using your rc truck to knock (read- Smash) down old transmitters like bowling pins. Heck even I want to enter that one…
Have fun on your annual camping trip and send us some pics of your Slash in action!
---
We know you are filled to the brim with questions so let them pour out. Email me- Cubby at BigSquidRC dot com!
YOUR Cub Reporter