ASK Cub Reporter, 08.02.2012, Version- So Many Questions, So Many Keys To Mash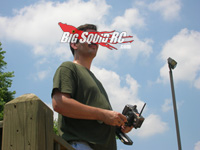 OK I think I'm about to jump on the 4×4 sct train….my? Is what is the best truck out there to get…..I'm looking for out of the box fast…tough plenty of upgrades….let me know what you think…thanks

Glenn B.
Cubby- Hey what's up Glenn, thanks for the email, shoot us your snail mail so we can send ya some stickers.
You make it kinda tough to give you an answer as you give me very little input data to formulate an answer. So… I'll just assume that you'll be using a new SCT 4×4 exclusively for bashing, and that you don't have a certain price point you are trying to stay under.
The Slash 4×4 has several things going for it.
1. Parts availability
2. It has good ground clearance making it better for driving in grass
3. It is plenty tough
4. It is plenty fast
The Slash 4×4 isn't exactly cheap at just over $400, and it's not the best for track use, but overall, it's a great truck.
I can't recommend the Helion Dominus here. The Dominus is a good truck at a great price point, but its stock power plant would need immediate replacement for it to be fast.
The Losi Ten SCTE RTR is plenty tough and better suited to the track, but has a price point of over $500, which might or might not be an issue for you.
So, to boil it down, the Slash 4×4 VXL is what I recommend for you.
---
This next one is a long one.. make sure to 'read more' to get the whole question and answer..
---
As always, I enjoying reading the cubby column, and as always, I say there should be "someone" writing a counter-punch column to his.
Sure, on-road is not at its best and I agree with statement that it is at an all time low…but that was the case probably two years ago. There's been a small resurgence due to the popularity of Formula 1 (go talk to the Tamiya guys and ask them what's been paying their bills this year…and they will tell you it's F1). Locally, a shop holds a local/regional race on a quarterly basis, and it was suppose to be just a "Grand Club Race" at the world famous Tamiya facility test track turned out to be a 100+ racer event. Two of these races have gone by and the last turn out was over 150 entries. So I agree, on-road is not where it used to be (and when it was at its peak, it rivals the popularity we see with short course today) but it is steadily building a come back. Will it be main stream again? No, I don't think so, because it will take something from Traxxas to make it popular again. However, the rest of the world (Asian, Europe, Some Australian) Touring Car is still the "it" class to run and most could care less about short course. It is some what shallow of American sometimes to think that what we got that's popular is popular for the rest of the world (NFL vs. Soccer…woohoo…whole new can of worms)

And the most heart warming part of the story that maybe even the great cubster have missed is that the winner Jilles Groskamp who the worlds at his home track where he started r/c racing 20 years ago. There were also huge controversies (I know cubby loves those) during qualifying, there was a DQ of a Frenchy racers (cubby should love that one) and a few eloquent take-out served during the Mains (and we are not talking about your local Chinese restaurant types). Not to mention the shocking tire strategy of 4 out of the top 10 Amainer actually sat out one of their triple A-mains to preserve tires (talk about confidence) or the feat of young 18 year old Naoto who won 3 consecutive 1/12th title in a row equaling the great Masami (I sure hope cubby know who that guy is)….so yes, might not be important and well known what happened to the worlds (except for the over 1500 audience including many American that got up early in the morning myself included to watch it live) but to the rest of the earth…yeah, it was a pretty big deal. I'm not gonna lie, but short course/off-road pays our bills too. But when I hit the track, most of the time I'm racing my TC. However, it is also due to the technicality, precision, and knowledge I accumulated from racing 20+ years of TC that allow me to make the products that we sell. As an industry, we need to grow as a whole. We are still not a "Mainstream" hobby like skateboarding or video gaming….so we should always push and promote all classes of R/C because only when manufactures and industry media work together to build and present the hobby to potential new consumer does the industry as a whole move forward.
You have my permission to print this lol
S.
Cubby– And just when I thought there wasn't anyone more verbose than me. LOL. Thanks for the email Mr "S", you should already have some BSRC stickers, but if not I'll crack the whip on Brian to shoot ya some out.
Just FYI to everyone reading this, Mr "S" is a long time West Coast Industry guy, a guy who's company I'm quite certain you've spent hundreds (thousands?) of dollars with.
And yes, I followed the worlds because it's part of my job, no doubt there was plenty of controversy and epic racing this year, exactly why I'm particularly dismayed that on-road is so freak'n screwed up here in the states. I spent a decade doing the on-road scene hardcore, so just like I eluded to in THE Cub Report, I'm more than a little pissed off certain people have ruined on-road for us Yanks.
And I'll agree that all the big races in the U.S. are getting good turnouts, it's all those privateers maxing out their credit cards in an attempt to score sponsorship deals to save cash in the future. But look at local weekly races, it is there that the overall health of rc racing is more accurately measured. Local weekly turnouts are crap, and the people that are there are the same guys that have been there every weekend since 91′.
Ok, so it wouldn't be so bad if it was only the racing side of on-road that was down, but it's the bashing side too. Sure, the big guns of rc are pushing rally cars right now, but that is a real niche market for Americans that will take a LOT of pushing for it to blow up huge.
To finally get to some sort of point, all the fun has been sucked out of on-road here in America by a handful of people. Sad, so sad.
---
That's it for this week, submit your questions, answers, what-not, and non-sense to Cubby at BigSquidRC dot com. Any letter that hits the front page gets free stickers, and every so often I pick a letter of the month and give someone a free t-shirt, so hit us up!
YOUR Cub Reporter