ASK Cub Reporter, 08.29.2013, Version- Your Questions Never End, My Replies Make You Wish You Didn't Write In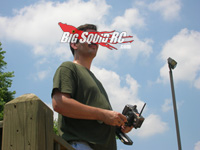 Axial Exo
I'm getting the Axial Exo Terra and reading multiple solutions to its jumping nose dive but not sure what to believe. BSRC has reviewed Axial (aluminum shocks much better than stock) and STRC shocks (shocks better than Axial but not enough threading) and it seems the Exo is a BSRC bashing favorite. I was thinking of using Proline shocks but read that they are optimized for the Slash and since Exo is heavier need to upgrade to Proline's strongest springs and 45/50 weight oil which is making me think twice about them. Do you have any recommendations on shocks and setup to fix its jumping problems? Would you recommend the Axial shocks over the Proline shocks?
Any assistance would be much appreciated. Thanks very much for your help and keep up good work.
Sincerely,
Jerry
Cubby– Yo what's up Jerry, good hearing from you again.
Yes, we bash Axial EXOs all the time. They've been out for a while so we have learned quite a bit about them.
If you go with the aluminum upgrade Axial shocks or the STRCs there is one major downfall- running the stock Axial plastic shock ends. These love to break at the worst possible time. Now, we haven't changed over to another shock end, but if you do go with the Axial or STRC switch to something different ASAP.
We've used the PL PowerStrokes on one of our EXOs with good success. Yes, you'll need to use heavier springs (primary and secondary), but once those are installed they work well and take a hardcore beating.
The EXO likes to endo on certain types of jumps, not all, but some. We've had some success by moving the rear hubs more rearwards. Stock there are two washers behind the hub, move them in front, this helps move the rear wheels back, keeping the rear of the chassis from bottoming out so much on jump faces. The rear of the cage behind the chassis can also get bent down over time, make sure it is pushed up to its proper position to keep it from rubbing on jump faces as well. Do those two things, stiffen up the shock damping a bit, and your EXO will rarely endo.
---
Best brushed motor/ESC combo?
Dear Cubby,
What do you think the best brushed motor/ESC combo is best for racing? I have a Traxxas Rustler XL-5 competing in an open-wheel brushed class at my local dirt oval. No motor limit, but it has to be brushed. Likewise, it has to have a brushed ESC. I have been running my Dynamite 20T for quite some time now, and it just doesn't have the right power. Let's keep it under $100, for both the motor and ESC.
Thanks,
Riley C.
Cubby– Hey now Riley, thanks for the email.
A Dynamite 20 turn has soft, driveable power. If you local oval is super small or extra slick, it might actually work quite well after a good water dipping and lubing of the bushings. But… on a "normal" track, if you are running against a full field of mod they'll yank you like crazy coming out of 2 and 4.
What's the best brushed speedo/motor combo you can buy for under a hundred clams? You gotta be freak'n kidding me. Maybe you haven't stayed up till 3 am turning comms as much as I have, but trust me, you want absolutely nothing to do with fast brushed motors. I consider all the hours I spent screwing around with brushed motors one of the biggest mistakes of my life, hundreds of hours wasted that I should have spent with family or friends.
Respectfully tell the idiots making the rules at your local oval that the brushed motor era is dead. Today, brushless systems are far superior in every way. They are just as easy to drive, they have more power, more runtime, they are cheaper, and you don't have to constantly work on them. Be cool with them, but try to work out a deal where you can run brushless. If they have a single brain cell left in their heads they'll "bend" the rules and this story has a happy ending. If not, I would seriously consider racing somewhere else. Would they rather bend their idiotic rule or lose a racer? Hopefully chose to keep a racer…
---
That's it for this week, shoot an email to me at Cubby at BigSquidRC.com. If your letter hits the big-time you get a free sticker pack, and next week I'll be picking another "letter of the month" winner that will get a free t-shirt.
YOUR Cub Reporter