ASK Cub Reporter, 09.05.2013, Version- Hey Look, More Question Dodging!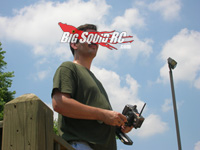 Torment Xtreme LCG Kit

I have a new Torment and I'm interested in putting an Xtreme LCG kit on my truck. My only question is, what is the ground clearance after you put the Xtreme LCG kit on the Torment? How does this truck compare to a 2wd Slash with the STRC LCG kit on it as far as handling goes?

I want to buy another Torment for my 6 yr. son so we can go to our local track and race in the 2wd stock class. I was thinking that if the Slash with STRC kit on it is a much better setup than the Torment, I would give my Torment to my son, and buy a Slash for myself and put the STRC kit on it. I would of course put the Xtreme kit on the Torment for my son. Thanks.
Sincerely,
Bryan F.
Cubby– Guess what Bryan? I proclaim your email as "Letter of the Month", shoot Brian your snail mail so we can hook ya up with a free t-shirt.
We haven't tested the Xtreme LCG set-up for the ECX Torment, so I can't state first hand what it handles like or if it's worth the cashola. What advice I will give you is this- if both you and your son plan on running at the track it will be cheaper/easier to keep spare parts if you both run the same machine. If you run a Slash and he runs an ECX, you'll need parts for both, while if you both run the same thing you can pick up a beater off eBay or Craigslist and have a spare of everything on hand while you bash. And remember, it's not a matter of if you'll need parts, it is a matter of when and how many, so you will be needing plenty of spares.
A stock 2wd Slash drives well, dropping it with the STRC LCG kit makes it even better at a reasonable price. Should you decide to go that direction you certainly won't be disappointed.
Enjoy your new BigSquidRC shirt and let me know what you ended up buying for a second vehicle.
---
I have an Ofna Hyper 10SC Nitro Truck that I want to convert to electric…
Can you help me with a kit or other ideas?
Mario A.
Cubby– Yo hey Mario, thanks for the email.
So… you want to convert your nitro Ofna 10SC to electric. I think I would probably skip that process, and here's why. By the time you buy a conversion kit, buy all the electronics and spend the time doing the install, you probably could have spent a few more bucks and bought a brand new Losi SCTE RTR or Slash 4×4 RTR. So while it certainly is possible to convert your truck over, I would sell the nitro and pick up a new ride that comes out of the box kick'n electric power. Just my 2 cents, but then I'm ultra lazy and hate wrenching.
---
That's it for this week ya freaks, shoot me your questions, rants, and epic meltdowns to Cubby at BigSquidRC.com. If your letter makes the big time you'll get a free sticker pack, if I proclaim yours as "Letter of the Month" (like I did Bryan's this week) you'll win a free BSRC t-shirt. Be cool, shoot me your letters.
YOUR Cub Reporter