ASK Cub Reporter- 09.22.2011- Oh No I Didn't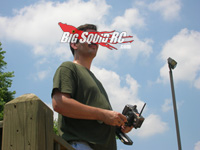 I've been going out of my mind trying to find a 10Volt.850ma valve regulated lead acid battery for my RC dragster. Can you help me?

Thanks and have a nice day,
Rocky
Cubby– Hey what's up Rocky, and thanks for reading BigSquid.
So… you've been looking all over for a 5 cell (10 volt) 850 mah VRLA for your dragster. Well… it's certainly easy enough to find a gel cell, and it's no problem finding an 850 mah battery, and while hard, it's not impossible to find a 10 volt lead acid, but… I'm calling it impossible to find all those things in just one battery. If anyone out there can prove me wrong, please feel free to shoot me a link and we'll gladly pass it on to Rocky.
Wish I could help ya on this one Rocky, but it sounds like you might have to use a more commonly available battery in your rc hotrod.
---
I was surfing your site looking at all the reviews and shootouts and didn't see any info on ESC's. I've found lots of other great and helpful info. There is also not much about electric motors either.

I like how your recent shootouts have been with a wide variety of names. Top of the line, middle of the road, and bargain stuff. It's a real eye opener, especially the 4×4 RTR SCT article. I was thinking of an esc shootout with maybe Castle Creations sidewinder or MMP, LRP, vxl-3, Hobbywing, Tekin, and the like…. The problem would be trying to keep them all similar. Preferably ESC's used in SCT's like my slash…

Thanks for the great site,

Cory
Cubby– What's up Cory, and thank you for the way-super-dope letter.
Ya know…. we recently attempted to do a short course motor/speedo shootout. We reached out to all the big manufactures and several were nice enough to hook us up with systems. But… when we requested systems we basically said "send us your best short course system under $200". So… we ended up with a wide range of systems. Some came with high kv motors, others with low. Some systems could only take 2S, while others could take 6S. We already had our test "categories" made up, but unfortunately several of those made it very hard to make it a fair fight for all the companies involved due to the wide variety of systems we received. We spent a lot of time thinking about how to make things fair, but in the end we decided the best thing to do was to test each system independently.
So… we have several systems in hand and have been testing them the last few weeks. Look for my review of the Novak Havoc Pro SC 8.5 system later this week, look for my review of one of the new Viper systems next week, and look for more brushless system reviews in the very near future. Regrettably we won't be able to compare these systems against each other in a shootout format, but at least you'll be able to read reviews of several of the newest short course brushless systems done by us.
---
I live where many months of the year there is snow or rain. So NONE of my Castle Creations Monster Mamba will work.since they are not waterproof. And I really don't want to plastic dip them to waterproof them.

Can you search or are you aware of any manufacturer offering a waterproof 6s capable ESC that is on par with the Mamba Monster? Thanks..

Or why doesn't someone come up with a vented yet splash proof ESC box. I hate not being able to drive my stuff in the wet!

-Kirk H.
Scottsbluff, Nebraska
Cubby– Well hello there Kirk. I'm not a water sports kind of guy so I called our resident water expert Craig "The crazy ramp builder and hydroplane guy" to get more info for my reply. Based on my convo with him (and a little industry inside info I know) lets play a little game of "bad news, bad news, good news".
The first bad news is that nobody currently makes a good 6S waterproof speedo intended for rc cars.
The second piece of bad news is that if you want a good waterproof speedo you are going to have to reduce your cell count (and probably the size of your vehicle) so that you can use a waterproof Venom or Traxxas Velineon. You have to ask yourself, would you rather drive a smaller truck on 2S with a waterproof speedo or not drive at all?
Finally… lets get to the good news. There is a 6S waterproof speedo headed for the market. It's not here quite yet, but just be patient as it might very well be on dealer shelves before the weather in your area turns sour. 🙂
---
That's it for this week ya bunch of wacky rc'ers. Send me your letters, pictures, Breaking Bad swag, and tax returns to Cubby at BigSquidRC dot com!
YOUR Cub Reporter