ASK Cub Reporter- 09.28.2011- Great Questions, Questionable Answers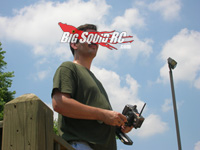 Traxxas 12800mah lipos
Hi there
just wondering if you have reviewed these yet and if you have, what would be a suggested ac dual charger to keep these bad boys fresh.
Thank you
Aleic G.
Cubby– Nope, sorry Aleic, we've yet to test any of the new Traxxas packs, but I'm guessing some time in the very near future we'll be getting some for review. If not, there are plenty of other good packs on the market to chose from. 🙂
So… what would be a good dual "ac" charger for a monstrous 12000 mah+ pack? That answer is easy, None! Why is that? Because the power supplies that come built into "ac" chargers are far too tiny to charge large capacity packs at anything even close to a 1C (60 minute) rate. Perhaps you don't mind 3 or 4 hour charge times, but I do, so I am only going to recommend a charger/power supply combo that can at least do 15 amps. So… for huge capacity packs like the Traxxas 12800's, I'm recommending a Hyperion 720i Super Duo3 charger (charges at up to 20 amps on both outputs, about $280), and a MaxAmps 12V 47 amp power supply (about $80). With this set-up you can charge a pair of 12800s easily at 1C.
---
Hey Guys,
I hope you had a great summer.

Anyway, I've been noticing on your website that HPI has some new releases coming soon. I'm definitely keeping my eyes out for the Trophy Truggy and hope it makes it to the US but I've also noticed that it plus the two Bullet trucks and the Trophy Buggy have phillips hardware. What's up with that?! I mean it's almost 2012 already, so why would you put phillips hardware on cool new vehicle releases?……..I'm just say'n….

Joe C.
Cubby– What's up Joe? Yes, we had an outstanding summer, too good to be true really. Thanks to you guys BigSquid keeps blowing up, and we get to play with rc cars for living, it just doesn't get any better than that.
So to get to your email…. there is all kinds of sad in the answer to your question.
So why is there Phillips hardware on the "new" HPI releases? Ok, I don't work for HPI, so my pure guess is- they sourced some really old units, units designed years ago when Phillip head screws were "acceptable".
It's sad that HPI is releasing "new" vehicles with Phillips head screws, not only because Phillips suck, but because it shows they don't care enough to put out new quality products. Ok, I can see people at HPI reading that and wagging fingers and uttering obscenities at me, but….
Let's take a look at another of their "new" releases, the HPI Mini Recon. HPI is marketing it as new, but holy cow, the platform for that sucker has been around over half a decade. Why in the world would a quality company like HPI ever do such a thing? HPI has some pretty incredible designers on staff that could have put out something revolutionary, instead they went the easier (and cheaper) route. Kinda hard to overthrow Traxxas as the sales leader by putting out a half a$$ product don't ya think? Just say'n…
---
That's it for this week, submit your angry responses, quirky questions, and whatever else that will fit in on a 5 gig hard drive to Cubby at BigSquidRC dot com!

YOUR Cub Reporter