ASK Cub Reporter, 10.03.2013, Version- I'm At iHobby, You Are Missing All The Fun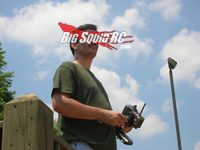 "I just wanted to shoot you an email to see if you guys could help with my problem. I live in Panama City Beach, Fl, I am very big into the rc hobby, however down here I feel like I am the only one who is. My wife and I want to see if there is some way to organize some sort of yearly event to build an interest in our hobby. There is only one hobby shop here and everything I need or want I have to order online. This shop could care less about anything. I would love it if you could get involved and maybe we could make big things happen here. I asked if there was somewhere to fly my plane and I was told I had to join a club just to bash my plane around. I take my cars out and I am treated like a little kid. I am 34 years old for petes sake. I really want to figure a way to get our hobby out and show people that it is not for children. We spend big money on these things. If you could help me in any way I would forever be in your debt. Thank you soo much
for your time. And keep up the great work. I love you guys.
Thank you,
Michael B."
Cubby- Yo to the yo Mikeee B, congrats, I proclaim yours as letter of the month, shoot Brian your snail mail and shirt size so he can give ya the hook up on a new BSRC t-shirt.
Before you attempt to put on a big formal bash, you need to get in touch with some of your local bashers to support it.
Ever notice how it's easy to find track directories, but next to impossible to find out where people are bashing? Ya, me too. We are working on a solution for that here at BigSquidRC, until we get the kinks worked out I would recommend you try these things to find other bashers in your area.
1. Facebook Groups are quickly replacing tradition message boards on the internet. I know the search function on Facebook frelling sucks, but give their search a try with common key words to potentially find other bashers in your area. You might be surprised.
2. Do a post in the "sale/wanted toys & games" section of your local Craigslist about meeting up for an informal bash. It's not uncommon for bashers to go through their local CL listings looking for deals, you might get lucky and have some of them contact you. If you can get some of them to meet up with ya, you can start planning a bigger and more organized event.
3. Put up fliers in your local grocery stores and gas stations. Something simple about an informal bash at a local park will do.
Once you've found some locals to bash with, I'd recommend planning a bigger bash, perhaps one to raise money for charity. When you've got a solid plan on what you are wanting to do and have some other bashers to help put it on, shoot us another email and we'll see what we can do to help spread the word.
---
"How do I get my lipo ready for storage when my charger doesn't have a storage mode and when is your next lipo shootout?
Gale C."
Cubby- Hey now Gale C, thanks for the email.
Yes, we are wayyy overdue for another Lipo shootout. At this time we don't have another one planned, mainly because we are insanely slammed/overbooked for reviews the way it is. However, we really need to crowbar another one in sometime soon.
How do you prep a Lipo for long term storage without the use of a storage mode function on a charger? This is super easy. For long term storage (in theory, I've never tested it first hand) you want to store Lipo batteries at roughly 3.8 resting volts per cell (7.6 volts for a 2S pack). Get out a voltage meter and see what voltage your pack has. If the voltage is too high simply pop the battery in your truck and do some driving to drain some energy out of it. If the voltage is too low, hook it up to your charger and put some juice in. Use your volt meter to make sure its in the ballpark. You don't have to be exact, so don't stress if you are a tenth too high or low.
---
That's it for this week, shoot your questions to me at Cubby at BigSquidRC.com. Your questions, answers, and epic meltdowns are what I'm looking for. If your email hits the big-time you'll win a free sticker pack and the first week of the month I pick a "Letter of the Month" where the author gets a free t-shirt (like I did this week with Mike's email).
YOUR Cub Reporter