ASK Cub Reporter, 10.04.2012, Version: I Ran Out Of New Answers Months Ago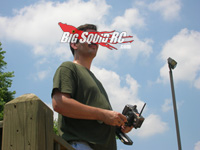 Hi there!
Ive been watching a lot of your vids lately and i figured id toss this question at you! 🙂

I just acquired an Optima Mid, and i'm curious if there's a mild enough brushless set up? I'm well aware that a full blown system would melt an optima mid. I'm not trying to bring the optima up to the speed of today's brushless cars, i would just like to run a more current set up and get familiar with brushless before i move up to something bigger and more expensive. I currently have a Lemans 240st, Novak T4, and a Futaba Magnum Junior in the car and obviously, Its slow. I used to marvel at how fast the guys could get cars moving with 14 and 13 turn brushed motors. This car is a basher as well, i have no plans to compete with it. What can you guys recommend?
Thank you very much!
JL
Cubby– Hey there JL, you've got some seriously cool old vintage gear in your stable. You'll also have a totally uber-dope BigSquidRC t-shirt to wear as I am picking yours as email of the month. Shoot Brian your snail mail so he can hook ya up with a t-shirt.
So… what would be a usable modern brushless set-up for your vintage Kyosho Optima Mid 4wd off-roader? Certainly you'll want to stay away from most of the non-sensored systems, they are simply capable of wayyy more than enough power to destroy your drive-line parts.
No, I haven't tried this first hand but you should be safe with a 17.5 brushless system, and perhaps even a 13.5. Modern 17.5's are very soft on power and should not present any issues for your vintage buggy power wise. A 17.5 system will bolt right in, but you may run into issues gearing it tall enough, 17.5's are insanely low rpm motors. Count on using a bigger pinion on your Kyosho than you've ever used before,
and that may still not be enough for decent top end, LHH.
---
Hello,

I love reading and following all of your guys reviews! After doing a ton of research, I would love for you to do a video review of the new Brushless Mad Warrior from Nitrorcx which can be had for $320 artr. Squirrel did a review on a similar nitro version, but I feel your reviews are much more thorough, and they've changed a few things on this truck. I feel this one actually may be a cheap winner after tons
of research and hands on experimenting. Please help!
Thanks!

Jason from MD
Cubby– So… you want us to do a review on an Exceed 1/8th EP Mad Warrior from NitroRCX. After a quick Bing search I see the "Mad Warrior" isn't a bad looking truggy and sells for only $360. Unfortunately, the NitroRCX peeps don't really talk to us (like a lot of companies… LOL), and even if they did our review calender is over-booked for the next 6 months. To boil it down, I don't see us getting to that one. However, if you contact the NitroRCX guys and can somehow talk them into shipping me one (with a bottle of 98′ Dom inside the box of course) I'm quite sure I can make some extra time to squeeze in a review.
Btw, Jason mentions a guy named "Squirrel" in his question, if you haven't heard of him he's one of the guys over at TheToyz forums, they seem like a pretty good group of guys over there. Check'em out if ya get the chance.
---
Hi Guys,
Great site and thank you for the thorough reviews.
I'm leaning towards the HPI-Savage XS since it costs less up front, is compact and gets awesome reviews. On the other hand, the standard 1/10 Savage Flux also gets great reviews and seems like it might be less maintenance and have better options to modify/upgrade long term.
If you were in a situation where you could have only one car for the rest of your life (wife protocal), which would you choose?
Thanks,
Davin H.
Cubby– Hey Davin, thanks for the email and be sure and shoot us your snail mail for
some free stickers.
So… I have to pick one rc for the rest of my life. Interesting question for sure, one that would yield 10 different answers if you asked everyone around the office. But… my answer would be the Losi Ten SCTE. It has scale looks, it's 4wd so it's an animal on track, it's fast on just 2S, and it can take a pretty insane beating. It is an all around great bash mobile that can pwn on the track as well. Coming in a close second would be the ECX Torment, it just rarely freak'n breaks and is always up for a bone crushing game of rc demo derby.
I'm going to just guess here for the rest of the guys, but my bet is Wrench would say a Losi 8ight-T. He likes those stinky ass nitro's, and he seems to never be able to break his.
My guess for Brian would be the Thunder Tiger MT4 G3. It's his style of machine- big tires, big power, and he rarely has to wrench on it.
Tim seems to be addicted to the Durango DESC210 short course truck we just tested. I don't think he can get over how a truck can drive so well on the track yet doesn't shatter into a million pieces when you slam it full speed into a brick wall a half dozen times.
My guess for Adam "The Intern" would be some obscure 10 wheeled crawling beast that is made out of Traxxas, Duratrax, Kyosho and Axial parts.
Craig "The Uber Ramp Guy" seems to be an 8th scale electric kind of guy, so I'm gonna guess Losi 8ight E for him. Big power and big traction to hit low Earth orbit off of some insane 20 foot tall ramp.
I have no guess for Jeff, he has been glued to a computer screen watching the movie "π" over and over again for the last 36 hours. I have the feeling his hunt for the missing 216 digit number will become his life's quest and he'll give up rc entirely.
---
That's it for this edition of ASK Cubby, hit me up with your emails at Cubby at BigSquidRC dot com! Best of the month gets a free T, while any email that makes the front page gets free stickers.
YOUR Cub Reporter