ASK Cub Reporter- 10.06.2011- Stick'n My Arm Deep Down In The Mail Bag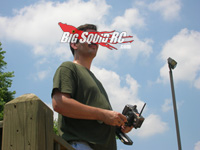 Dear Cub Reporter,

How the hell can you only give the Novak Havoc a power rating of only 7 out of 10? I have one of those in my Slash and it's way more power than I will ever use I would have given it a solid 9.5.

Darren K.
Michigan
Cubby– We've gone round and round at the office about that very subject. It boils down to this- it's a 7 out of 10 compared to what? To me if I was comparing the Novak to only other 8.5 turn systems it would have been a 9. But… I ended up comparing it against all the other power systems available for 2wd short course trucks. For example, the Kershaw system on 2S that I tested months ago was quite a bit more powerful than any of the 8.5 systems I've tested lately. Then, pop 3S on that Kershaw system and it was in yet another level of power above that (at the 9.5 or 10 level). I went with that ranking system to inform readers that on the grand scale of power systems for a 2wd SC that the Novak 8.5 turn system weighed in about a 7, there are systems much slower, and much faster. If you are used to driving a 17.5 the 8.5 is going to feel gnarly fast, if you are used to a Castle on 4S it's going to feel slow.
Also, my 7/10 rating definitely wasn't a knock to Novak, their 8.5 performed well for it's wind, and if you are truly looking for a "10" in the power department I'm pretty sure they have the motors to accommodate you.
Btw… I'd put a stock brushed Slash system at a 4 and a stock brushed Venom Gambler system at about a 2.
---
This next letter is huge.. so we will avoid the cool font.. and you'll have to click through to read the whole thing.. but it was a good letter and worth posting…..
---
"So after reading the transmitter shootout, I now know why my Dx3s craps the bed when it comes to the range…because they all do. Mine is way worse than most though, as it only gets about 50 feet from me when it randomly loses signal, goes into failsafe mode and applies full brakes. (very annoying and also causes some crazy and unnecessary wipeouts if doing high speed wheelies). A google search revealed that I am not the first person to experience this, but convincing customer service at horizon that it is not being caused by any fault of mine is a whole different battle that is a losing one so far. Contacting spektrum directly is just a waste of time, emails and phone calls go unanswered. Good thing it's got a year warranty, cuz it's gonna take all of it to get this problem remedied.
Anyways, I figured I'd throw in a suggestion for a possible entry in the next transmitter shootout.

I am a member over at the Traxxas forum (baldydaniels), and the radio that is most suggested on the stampede and monster jam forum as a great 2.4ghz replacement for cheap is the Flysky gt3b. I bought this radio after reading many member's positive reviews on the Traxxas forum, and I have to say that for a tx/rx system for 35-40 bucks it can't be beat. Has tons of options that are usually only available on higher priced radios, has a huge crystal blue backlit LCD display on a black transmitter accented with chrome menu dial/selector button, chrome buttons and chrome steering wheel. It does have the flaw of being powered by 8 AA's, but has a charger input port to allow for
rechargeable batteries to be charged by plugging your charger into the port on the remote. The manual for it comes in the form of a cd and the receiver is among the smallest ones available. Compared to the dx3s I paid 260 for, I would choose the flysky gt3b hands down, the crazy low price is just a bonus. Check it out, it's a contender for sure.
http://www.hobbypartz.com/79p-gt3b-carradio-lcd.html
Remember the duratrax element 3900kv combo by castle creations that came out recently? Yeah, it sucks. Lol. I bought it from towerhobbies for 130 bucks and it was pretty mediocre from day one. I ran it on 2s and for a 4 pole motor, it cogged worse than any 2 pole I've ever ran in my stampede. The speed was comparable to the vxl 3500 system, but ran way hotter and cogged worse the longer I ran it. So I decided to test the theory that castle underrates their systems, and I ran it on 3s. Well the motor lasted about 4 medium to hard runs on 3s, and now smells like burnt cow crap, so I guess the 2s motor limit is to be taken seriously. I contacted castle about this element system and asked some questions about it, and they either told me that they know very little about the element system and that I should direct all questions to duratrax. They did say that the element system will not be as powerful as their sidewinder system, and also told me that all of their 4 pole motors are rated for a max of 75000rpms. Apparently not the 4 pole element motor, as I found out by ending it's life running on 3s, and without coming even close to that rpm limit, cuz It would take 5s to come near that rpm limit! One good thing has come of it though, and that is the esc. I run my 3500kv vxl motor paired with the element esc, and I run it on 3s every time. The vxl motor does not cog at all at low speeds with the element esc (always cogged with the vxl3s) and after running the truck for a full pack, the motor is barely warm to the touch and the esc is the same. Duratrax will not give me any details I've asked about on the specs of the element system, and failed to answer my question of why the element esc is rated for 3s max but has programming for LVC for 4s lipos, or why they state that the system is not covered under warranty if ran on 4s. Can't figure out why they would even have a 4s warning statement, or why the programming for 4s is included, or why they bothered to make the esc 3s max but the motor it's paired with only 2s max. Castle creations pretends like this system doesn't exist when asked about it, but even though the system looks similar and has the same specs as the sidewinder system (except for the extra 100kv of the motor), castle will say that it won't perform as well as the sidewinder system. Kinda makes a guy wonder if they actually made the system or if they are just selling the esc case design and their name?
I love your website and am a very frequent reader. Your announcements of new Traxxas products always come days before anyone on the forum announces them, so kudos to you guys for announcing them faster than the guys that actually make the stuff!! Keep up the good work guys! And thanks for taking the time to read a couple of my reviews. 😉
Sent from Dan's iPad"
---
Cubby– Wow, you've just won the award for the longest email we've ever received (it's even longer than the ones we've gotten from lawyers… LOL).
So… where do I even start here? LOL
About your Spektrum DX3S, sounds like you got a bad one. Attempt to troubleshoot it, is the receiver bad or is it the transmitter? Indeed every Spektrum we've tested hasn't had very good range, but they were all much greater than the 50 feet you are getting.
And yes, we actually got a FlySky transmitter to test, but… we needed a transmitter for an iHobby project and guess which one we picked? Yup, the FlySky. So… ours is all torn apart and working great for some super secret project we've got kicking for the iHobby show. Btw, you mention it "can't be beat" for only $40 but there is getting to be a lot of 2.4 radios at that price point. Yes, we need a sub-$50 transmitter shootout. Test their ranges, their ego's, etc and see which one is the creme of the crop.
About your Duratrax Element combo… sounds like you got a bad motor? What have you done to anger the RC Gods into giving you such bad luck with new product? Have you tortured a poor little rc car sometime in your life? (If that's the case Craig, Brain, Jim, Bill, Adam and I are also screwed!!! LOL) I've had the opportunity to run the Duratrax Element 3900 system and mine performed fine, normal motor temps with plenty of wheel pop'n power. My advice to you is to quit torturing your cars and trucks, that way all your new Spektrum and Duratrax equipment will work as promised. (Just kidding, if you are a real basher keep on huck'n it off your roof!)
Thanks for the props on our web-site. About our posting of Traxxas news first, well… we will keep doing it when we can, but… Traxxas won't even return our emails now. That's fine with us, our readers come first around this place. What other media source can you think of that when faced with the choice of p!ssing off Traxxas or making their readers happy actually chooses their readers? Yes, that's what makes us different, that's why we have so many readers, and that's why none of the mags can come close to our numbers on-line.
---
That's it for this week, submit your questions, answers, non-sense and manifesto's to Cubby at BigSquidRC dot com!
YOUR Cub Reporter