ASK Cub Reporter, 10.17.2012, Version- More Questions, Less Answers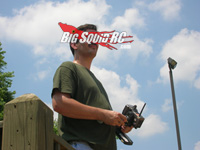 "Do you think that lipo batteries will destroy rc? They are inherently dangerous, i see videos on youtube all the time of them catching fire. How much longer can hobby shops keep selling them?

Daniel P."
Cubby- Hey ya Danny P, shoot Brian your snail mail so he can send you a sticker pack.
Are Lithium based batteries killing rc? Ummm…. let me think about it….. absolutely not. Are they dangerous? Absolutely not when used properly. Can they be dangerous? Yes. However, they have helped take our hobby to a whole new level of power, runtime, and dare I even say fun. IMO, when combined with brushless power systems, they are the main reason our hobby has remained solid after the whole nitro T-Maxx craze was over.
---
"Hi I check your site twice a day, nice job, but why is it that you never allow people from outside the United States to enter your contests? There has to be some reason, are you just too cheap to ship outside your own country?

Jules T.
Amiens France"
Cubby- Yo hey Jules, nice question ya have there.
Yes, we are way too cheap to ship free contest merchandise outside the United States. We spend the cash we could be using on shipping to visit our local Morton's for lunch every day. I must say screwing all the foreigners sure tastes good to me, especially the bacon wrapped scallops.
So seriously, yes, there is a good reason why we don't include other countries in our contests. What is one of the reasons? Wait for it….. because we've been screwed a bunch of times in the past. Numerous times we've shipped things half way across the globe only to be told the person never received the package. So then we would ship a second time, only to be told they didn't receive it either. So whether it be terrible overseas shipping companies, or a bad string of luck with dishonest people, we did the logical thing and stopped the madness.
Also, many times, the products in our contests are shipped directly from an American manufacture and they stipulate no overseas winners.
Now you have the full scoop. But there is good news, I hear our next uber contest will include everyone, regardless of how far they may live from our Chi-Town base headquarters. Heck, even you Jules are personally invited to enter our next contest.
---
That's it for this week ya bunch of lunatics. Shoot me your questions, rants, and perfectly chilled bottles of Dom to Cubby at BigSquidRC.com. You know the drill, if your letter makes the front page you'll win a BigSquidRC sticker pack, and if I proclaim yours as letter of the month you win a BSRC t-shirt.
YOUR Cub Reporter