ASK Cub Reporter, 10.18.2012, Version: Leave Your Message At The Tone, I May Respond, I May Not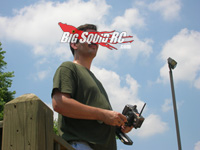 hi guys i m from brasil this the second time i need your advice,the first time you guys nailed it advising me to buy a hpi vorza, now I'm wanting a short course and read the review that you guys made of the losi SCTE and slash 4×4 platinum … so personal to bash, which of these two is the best and more durable, if you guys had to pick just one what would? thanks again and I will await the response of you before you decide …

Jonas T.
Cubby– Hello there Jonas, glad we "nailed it" for you the first time around.
Losi Ten SCTE vs Traxxas Slash 4×4 Platinum is the question, a question that a lot of our readers are pondering now days.
The Slash has one major upside over the Losi, it has more ground clearance. The extra ground clearance of the Traxxas makes it better when driving in grass and when driving in soft dirt areas that have large clods. The second biggest advantage of the Traxxas would be its parts availability. Here in the states nearly every local hobby shop stocks parts for it, but with you being from Brazil that may not be the case.
The Losi's biggest advantage is it is lower slung, meaning it has a lower center of gravity. The lower CG of the Losi is advantageous in corners and on higher bite surfaces. Perhaps the second biggest advantage of the Losi is its center diff. The Losi's center diff makes it generally easier to drive and to jump. The Traxxas comes stock with a slipper, with an optional center diff in the box but not mounted.
Both trucks can take some pretty sic beatings, both come with more power than you'll probably ever need, and both are great fun to drive. However, you asked me to pick just one, and it is a well known fact I'm a huge fan of the Losi Ten SCTE, so that is what I am recommending to you. The Losi Ten SCTE is a solid truck all the way around. However, there is one thing that could change my mind for you- parts availability in Brazil. Not that either truck is going to need many parts, but broken parts are a big part of life in the basher game. If for some reason you can't easily get parts for the Losi then I would certainly recommend the Slash to you, it is also a solid truck.
Shoot us an email to keep us posted on what you end up putting in your rc garage and thanks for the email.
---
HPI E10 Monster Energy Mustang, Read your article. Thank you. I heard this is only 18 mph top speed. Although this is needed for drift control. What is needed to make it faster and touring driven?
In addition what is your experience with Exceed cars?

Thank you,
Jim
Cubby- So James, you have an HPI E10 Drift RTR and it's crazy slow and does nothing but drift/slide around every corner. I am soooo not into the drift thing, I'm all about going fast, not sliding around like I'm on ice.
Thankfully it's pretty easy to get the E10 up to speed. First reposition the motor from the "drift" placement to the "touring" placement. This will give ya better traction for real cornering and won't cost you a dollar.
Secondly, pitch the rock hard stock drift tires. For drifting they might be the bomb but for actually getting some traction and going somewhere in a hurry they blow. HPI makes tons of regular on-road tires, pick up a full set. Putting new wheels/tires on your ride is relatively affordable and they are ultra easy to bolt up, and they will yield incredible gains in traction/performance.
Third, the stock 6 cell Ni-MH leaves a lot to be desired in the power to weight department, pitch it ASAP and go Lipo. Your stock speedo (an HPI sc-15wp) is Lipo compatible so it's not an issue to run a lithium pack to get more power. Once you've started running a Lipo- see if that is fast enough for ya, if not (and if you haven't run into any motor temp issues) try adding a couple of teeth to the pinion. Going up a couple teeth will give your car a little more kick in the pants.
Normally at this point I'd recommend tossing in a brushless system to really get that Mustang hauling, but… I have not personally attempted to run BL in the E10 platform. The E10 series is made more for fun than taking 500 watts plus of brushless power and I can not personally vouch for whether it can take it or not. Should you be inclined to put one in and TOFTT let us know if it lived or if you blew its guts out.
Lastly, about Exceed cars. I personally have very little experience with them, but I've seen multiple people at the track with them. Of all the people I've seen at the track with one they were all having issues. I don't like issues, I like to drive, go big, then go home. And that's all I have to say about that…
---
That's it for this week ya freaks, shoot whatever is on your mind to Cubby at BigSquidRC dot com. We are averaging over 100 letters a week now days, so if yours is lucky enough to make the big time you'll get some free BSRC stickers, and if I chose yours as the "email of the month" we'll totally hook you up with one of our uber new t-shirts.
YOUR Cub Reporter