ASK Cub Reporter, 11.01.2012, Version: You Write, I Rage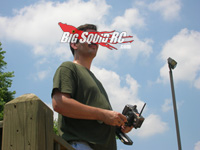 Just wondering if the king shocks with piggyback shocks will fit on red cat racing volcano s30
Paul B.
Cubby– Hey what's up Pauly, shoot Brian your snail mail address and we'll send you some BSRC stickers to put on your rig.
To be perfectly honest, like I rarely am, I have no idea if scale King Off-Road shocks with faux reservoirs will fit on your RedCat Volcano S30 monster truck, nor will I go to the effort to find out. I do know this- the King shocks are intended for use on scale crawlers, which are typically a much different beast than your nitro monster truck, and I don't have an Volcano S30 sitting here to look at and see if there is any chance that they might fit.
I will also say that while I have seen a Volcano S30 in person, I've never driven one, seen one driven, or held one in my hands. The RedCat crew doesn't really talk to us, probably because of some of the things we've said about their products. But… seeing as how we could help them sell a lot of trucks it should probably be a necessary evil for them. We have multiple staffers here that own and enjoy running their RedCat products, but we've also tested some of their gear that did not work well. Any which way, they should at least respect us for posting exactly what we experienced with their products, for better or for worse, instead of posting worthless kiss ass reviews that don't do anyone any good. We certainly do not have anything against RedCat, in fact we would "like" to like them because they are a basher company.
---
Wanted to alert you to something that should be of interest to your readers. I purchased a Savage Flux HP and the wheel comes off under power. Because the wheels use threads that are the same direction the effect is that under power one wheel tightens the nut and one loosens the nut. A good design by HPI would be a reverse thread on one of the wheels. I get around 3 minutes of run time before the wheel falls off. I contacted HPI and they said it's a common problem and one they are aware of. In fact, Scott in their customer service department acknowledged the problem (says he has the same problem on his truck) and agreed a reverse thread would be a better design. HPI's stupid solution is to red loctite the wheels. But as BSRC knows red loctite is supposed to be heated up to loosen and since the nut is against plastic heating up the nut will melt the plastic wheel.

I think your readers should know about this exceeding poor design and that HPI makes no effort to help customers or fix problems they are aware of.

Thanks and keep up the good work. I purchased a Flux HP partly on your review of it. Do you have any better solutions for the problem?

Jerry H.
Cubby– What's up Jerry? You've got some BSRC stickers coming your way, send us your snail mail.
So you contend that HPI has a poor design on their Savage Flux because the nuts on all four wheels are threaded the same direction. Yes, it is true that the nuts on one side of the truck will tend to tighten themselves, while the nuts on the other side will tend to loosen, this is due to rotation forces on the direction of the threading.
However, as much as I hate sticking up for HPI… if it can be said that is a poor design on HPI's part, it could also be said it is a poor design on 99% of every rc car ever put out by any brand. The threading is like that on nearly every rc ever sold, not just on your HPI Savage.
So why do they use the same threads on both sides when using opposite threading on one side of the truck would fix the problem? Because it really isn't a problem. Not on your Savage, nor on any other rc.
Every vehicle I own has the same threading as your HPI Savage Flux and I haven't tossed a wheel in years. And why is that? No, I don't use red Loctite, nor do I even own any, but I have learned from the past to really tighten down my wheel nuts, all four of them, and to check them often. There are very few parts on an rc car that really need to tightened down hard, but wheel nuts are one of them.
So.. to fix the problem of your wheels coming off I'd recommend this-
1. Tighten down your wheel nuts harder. Tighten down as hard as you can or until they start binding (on 8th scale buggies I can usually tighten down with full force).
2. If they are still coming off- apply blue Loctite and let it dry fully on the axle before putting on the nut.
3. If they are still coming off- use nuts with serrated edges on the surface that mates to the wheel.
FYI to any noobs that might be reading this, do not use red Loctite on anything in rc unless you never intend on taking it apart again, ever. Sometimes you can get it loose, sometimes you can't, and the times you can't are sure to make for an ugly day of wrenching.
Thank you, you're welcome, and have a nice day.
---
That's it from the uber well lit and ridiculously posh offices of BigSquidRC for this week. Submit your questions to Cubby at BigSquidRC dot com. If you letter makes the front page you'll get free stickers, if for some strange reason I select yours as "letter of the week" you'll totally own a new BSRC t-shirt.
YOUR Cub Reporter