ASK Cub Reporter- 11.10.2011- You Write The Questions, I Dodge The Answers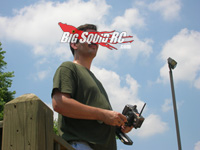 Cubby what is the best body for my HPI Blitz?
Tommy C.
Cubby– The best body for your Blitz is whatever style you like best, so go with your own gut on this one. But… if you really can't make up your mind- I personally like the Pro-Line Flo-Tek, especially in 2wd short course where the parachute effect is the hardest to correct with the throttle and brake. The Pro-Line Flo-Tek is the trickest looking IMO, and handles the best on windy days. It does take a bit longer to cut out all the extra body vents, but IMO that is time well spent.
---
I saw you helped test the new Arrma raider buggy cubby. I am going to buy a new buggy is the raider good or am i better off with a boost?
John
Cubby– Hummm…. what's better, the ECX Boost or ARRMA Raider? Now that would make a great shootout. Thanks for the idea John. 😉
But really, not to dodge the question, if I had to pick one of the two buggies I would personally pick the Raider, and here's why.
1. I like the looks of the Raider better, I like how original it is.
2. It has a beefier powertrain to handle brushless power.
3. It jumps better.
On the other hand… the Boost is no joke and is a daily driver around here (yes, I drive one nearly every day, no joke), it drives well and is tough as a tank.
So… if you were to go around the office and ask 6 of us which we'd pick you'd probably get half for the Boost, and half for the Raider. Every person has different wants and needs, which one is best is really up to you.
---
Dear Cubby,
You always say "support your local hobby shops" but I do not have one, the nearest hobby shop to me is over 2 hours away, so now what do I do?
Rayford D
Cubby– What's up Rayford? I saw in your email that you are from Oregon, no doubt you don't have too many local hobby shops.
Anyways… your answer is easy, you are gonna have to mail order. Yes, I know it's a sin and all, but a 4 hour round trip is gonna cost ya some serious bucks in gas. So…. if you have to mail order I only recommend one place, Tower Hobbies. You can hit'em on the web HERE, or call'em toll free at 800-637-6050. They are good peeps over there and will hook ya up. They set the standard for mail order, good prices, outstanding inventory, and quick shipping, they are who I'd use if I lived 150 miles from an LHS.
---
Yup, that's it for this week ya bunch of freaks. Email me all your crazy antics to Cubby at BigSquidRC dot com!
YOUR Cub Reporter