ASK Cub Reporter- 11.17.2011- The More Questions Asked, The More Questions That Are Raised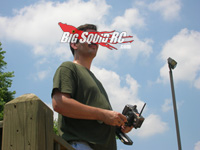 Cubbby

The rear of my E-Revo sags too much when I take off from a dead stop, it sags so much my rear skidplate is getting eaten alive, any tips?

Gail
Cubby– Yes indeed those Revo's sure like to sag when you pound the gas, both the nitro and electric versions. On one hand, that's part of what makes a Revo so much fun to drive, all that luscious suspension travel. On the other hand, that's what makes them sluggish around a track and makes them traction roll on high bite surfaces. So what can be done to firm up your Revo?
Step #1- Purchase stiffer Traxxas springs.
Step #2- Install Associated 70 weight shock oil.
Step #3- Crank up the pre-load.
These mods won't totally eliminate the sag but they will help and are inexpensive.
---
There's another question, but it's a little long, so keep reading…
Hi Guys,
First I love your reviews and your site big fan and I go to your website every single day since June. I design/engineer major websites for a living and have been doing it for a long time. Just a couple of things I'd like to point out:
1. Savage XS – Was waiting for your review before buying one. Saw the unboxing was checking your site times a day for the next 2 weeks to never see a review. Disappointing to see the least considering what hot release that was.
2. Mini 8ight – saw the unboxing curious if a review will ever come. Actually bought it, totally awesome… Merv is going to see a lot of shelf time.
Website design issues:
1. WAY TOO DAMN CLUTTERED
2. Multiple ads with animations look like crap and basically kill your effectiveness. I understand you are probably getting paid via CPM so you need the page views or people are buying fixed real estate on your website so you need to do as much as possible to maximize revenue. Since June, I've never clicked a single ad. So you will lose them all if you can't get a click rate to conversion number going.
3. Would you believe today was the first time I noticed you even had forums? Why are you not pushing the top 2 or 4 threads to the front to get people to click on them and draw them in. You have recent posts on the right.. Why not recent posts from the forums just like it?
4. Why are you not getting my email address and asking me what interests I have? Ie. Bashing, rock crawling, etc.. Instead of plastering so many ads you can make money doing segmented email blasts that will convert into very trackable dollars. Do you know how valuable a list like that is?
5. Iphone app link broken and does nothing.
6. Lastly, don't sell your soul. I see ARRMA has some ad space but the product is crap.
Don't mean to sound like a douche but I like your site but it was some a lot of flaws that keep it from being totally awesome. Also while I do love the focus on cars, a lot of us have planes and heli's. There really isn't a bigsquid type site for planes the best we have is rcgroups and that's just forums. There's a couple of decent Heli sites but there is a gap which maybe you can fill.
Now you can press delete!
Sincerely,
Nelson R.
Cubby– Hello there Nelson, thanks for the email. As I'm a very busy person (read- I am just breaking the seal on some 18 yr Glenlivet) I didn't make it very far down your email so I'm not certain if any of your points are valid or not. However, I did make it down to point 1 about the Savage XS. It's amazing how many people won't buy a new product till WE review it, even if it takes months. I got in a lot of wheel time with the XS and it's hands down the fastest mini I've ever pulled trigger on, 2S standing backflips are no joke. It handled amazingly well on the high bite surface I drove it on, and while I didn't huck it off any roofs, I did bash it around with no breakage. The Savage XS gets two thumbs up from me. And of course you can read the full HPI XS Review Here!
As for the website stuff, I have been told Brian and Jeff have been doing a TON of planning behind the scenes and that a lot of your concerns are being addressed as we feel the same way about a few.
---
Aarrrr, we've reached the end of yet another ASK Cubby, so that's it for this week ye buckos. Strap your letters on a bottle of Dom 98′ and send'em to Cubby at BigSquidRC dot com!
YOUR Cub Reporter