ASK Cub Reporter, 11.28.2013, Version- Why Are You Reading This? Eat More Turkey!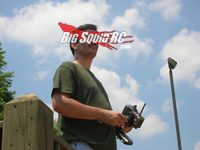 "Hey Cubby,

I need your advice on 4×4 Short Course trucks. I'll initially bash but grow into racing and am currently looking at the SC10 4×4 Factory Team and the Losi SCTE 2.0.

Obviously I don't want to start a fan war between the two platforms, but can you give any advice on which way to go?

Thanks,

Matt M."
Cubby- Yo hey Matt, thanks for the email and a super uber Thanksgiving to you and to all our readers.
Ummm… if you know me at all, then you already know the answer to this one, I'm going with the Losi SCTE (or 2.0) all the way. The SCTE has proven itself to not only be a freak'n animal on the track, but also an incredible bash machine. The AE on the other hand… takes too much time to dial in, is comparatively a PITA to work on, and while its belts may be able to handle the average racers 2S set-up, they live a short life on crazy basher power. Buy the Losi and never look back.
---
"Snow plow for a Honcho rc

I want to buy a plow for my grandson for Christmas. how can I find one?

Jean P."
Cubby- Yo hey Jean, what's up?
So…. your grandson is totally dialed with an Axial Honcho and you want to hook the lil' fella up with a snow plow for X-mas. You sound like a pretty cool Grandpa. Have I mentioned all I want for X-mas is a case of perfectly preserved Dom Rosé '00? Just a subtle hint if you feel so inclined (hint, hint).
Oh ya, about the snow plow. RC4WD is your friend on this one. Check out their # Z-X0007 snow plow which runs about $80. You'll need the plow itself plus some mounting hardware which is also available from RC4WD and your Grandson will be uber-dialed for X-mas. Oh ya, look for our "Product Spotlight" on the RC4WD snow plow next week.
---
That's it for this week gang. If you are working this Thanksgiving extra props to you, it sucks being away from family on a holiday. Btw, if you have a question just shoot me an email, Cubby at BigSquidRC.com.
YOUR Cub Reporter