ASK Cub Reporter, 11.29.2012, Version: More Of Your Questions, More Of My Butchery Of The English Language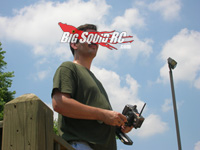 What say you? What is the best 2 wheel short course available right now?
Keep up the good work
George F.
Cubby– Hey what's up George, thanks for the email and shoot Brian your snail mail so we can hook ya up with a BigSquidRC sticker pack.
The word "best" is a very powerful word. Not that I'm going to skirt around the question, but the word "best" used in conjunction with short course trucks can have many different answers. For example, what is the best turning 2wd SCT? IMO it's the Venom Gambler in mid-motor configuration. With proper tires and tuning nothing rails corners like the Venom can. What is the best overall handling 2wd SCT? For pure bashing I'd say the Slash, but for track use my vote would go to the Durango. For pure toughness, which is the best? IMO that would go to the ARRMA Fury. Which is the best value? My vote would go squarely to the Torment.
However… none of those "bests" mean a darn thing to you George, or any of our other readers out there. The only "best" you give a dern about is which of those trucks meets your criteria making it the best one for you and your specific needs. Your email you give me absolutely zero specifics to see how you would be using a new SCT, so I would highly recommend you read a bunch of our reviews and make your buying decision based on those.
But… as I attempt to never "dodge" a question, I will blindly say go for the ECX Torment if you are looking to save some bucks, or take home a new Durango DESC210 if you are looking for something for both bashing and track use. But those are just my personal picks, if you would ask one of the other guys sitting around the office I'm quite certain their picks would be different.
---
Hi Cubby,
I caught the bigsquidrc live show last night and I had to shoot your an email and say that was one of the coolest things I've ever seen. Keep it real guys and thanks for taking rc talk to the next level.
Henry
Cubby– Hey Henry, thanks for the props on the show. It wasn't ment to be uber polished, nor some super high buck production, what it was ment to be was just some good ole' laid back rc bench racing, and I hope it came across that way. Well actually, I hope it was at least worth your time and kept you interested for at least 10 minutes.
First off, expect us to be doing more "BigSquidRC Live" shows each Wednesday evening, for at least a few more weeks to sort out if they are truly worth doing or not. So if you haven't already made plans, make them now for next Wednesday evening 12/5. It might be at 10 pm CST, but we are also considering 9 pm CST to make it easier on our East Coast viewers.
We had talked for a long time about doing a podcast, but I rarely listen to them. In fact most of our guys don't listen to podcasts as they take up a lot of time and most come across as boring. We had also talked about doing something video related, but that also sort of fell short of what we were looking to do.
Then… the Google Plus Hangout technology came along, and with most of us being "tech" types we latched onto it. We've had a blast over the past few weeks using the technology and we were hoping you guys would enjoy watching us goof around while doing some rc talk. The G+ tech also allows for soooo many possibilities in the future, the current set-up is cool, but I think it will really come to fruition when our readers can join in live on cam as well. Full live video chat between us and our readers is ultimately the goal I think.
We'll be trying out a bunch of stuff in the coming weeks, everyone please shoot us an email telling us what you think is working, what is worth watching, and what's not. I think as long as we are all having fun it will be entertaining. Yes certainly its needs some polish, and none of the BSRC staffers are models nor incredible speakers. But… what we are is average Joes just like most of our readers, and I think that relationship can make the "BigSquidRC Live" concept really take off.
---
That's it for this week folks, shoot me your questions, rants, rants, or anything else in that deviant mind of yours to Cubby at BigSquidRC dot com! If your question makes the bigtime on the front page you'll get a free sticker pack, if I proclaim your email as "email of the month" we'll totally hook you up with a free BSRC t-shirt.
YOUR Cub Reporter