ASK Cub Reporter- 11.30.2011- Avalanche Of Questions, Trickle of Answers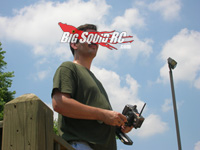 my thoughts on the xo-1
I agree with cubby…the XO-1 is not about selling large volume and making money….it's to make a statement!

It's like the Ferrari of R/C. Not all of us is going to be able to afford one, but somewhere in all of us, we all want one 🙂

Sxxxx
Cubby– Just fyi for our readers, Sxxxx is a west coast industry guy who makes some pretty uber hop-up products. (his name has been changed btw)
While I find it hard to believe anyone would agree with me, ya, that's pretty much how I see it. The coffers are exploding at Traxxas, when you hit that point you can do crazy projects like the Traxxas XO-1. It's totally non-practical, it costs way too much, but even the people hate'n on it would not turn one away if it mysteriously showed up on their doorstep. It is indeed one hell of a statement piece.
---
Hey guys,

So I just read the Cub Report on the XO-1 and while you give props to Traxxas for releasing one bad azz car, would you actually buy one? I agree the price point is very steep but one big question (in my opinion), does the average basher have access to an area large and empty enough to take advantage of the 100mph performance? I mean, it's one thing to spend that much money on an rc car but where else would you run it besides an actual full scale race track? maybe parking lots after hours?…I don't know…it's not like you can just grab your Slash or 1/8 scale buggy and head down to your local rc track or bash spot. I think it's cool Traxxas has the b@lls to release a vehicle like the XO-1 but to me the XO-1 is more of a novelty item and unfortunately they have indeed alienated their core audience.
just thinking out loud,
Joe
p.s. it would have been cool if Traxxas released a scale-looking 1/8 buggy to compete with the new buggies from HPI and Axial….
Cubby– Hola Joe, and of course we dig hearing from people thinking out loud, that's essentially all we do here at BigSquid. LOL
Would I actually buy one? No, I would not. I've run a lot of high speed the last half decade so I know first hand how hard it is. Every crash above 60 nearly totals out your rig, everything bad that can happen usually does, and perhaps the biggest thing I've learned is- running high speed isn't cheap, EVER. Also, I'm more an off road guy, I get more personal satisfaction from clearing a 40 foot triple with only an 8 foot run than I ever got from breaking 100 mph.
I am a marketing guy, so I enjoy researching peoples reactions to new products, so of course I've been hitting up all the guys around the office for their take on the new Traxxas Supercar. And yes, one my questions has been if they would actually cut the check and buy an XO-1. And no, nobody in our office is willing to pay a grand for the XO-1. Most of the guys here would pay $500, but a grand is just too high, even for our two in-house Traxxas fan boys. The one possible exception is Brian, he really digs large scale on-road cars, but even then he's on the fence whether he'd actually cut that big of a check for a car that really needs 500 foot of clean pavement to be used properly.
The Nakamichi Dragon was the most uber, most esoteric, tape deck money could buy back in the 80's. Nakamichi didn't sell many Dragons, but… the mere existence of the Dragon sold thousands upon thousands of their lower end decks. Everyone wanted a Dragon, but the mass populous was more than happy with a lesser deck, just as long as it had "Nakamichi" on it. Traxxas may not sell many XO-1's, but they will sell a LOT of their other product simply because it exists.
Btw… the XO-1 is a solid platform that can be used on a Lot of other types of cars/trucks/buggies. 🙂 I think we all have the feeling we'll be seeing a Lot more of this platform before it's all said and done.
Oh and lastly, yes, I'm all about the new Axial EXO. I'd take one of those any day over a half dozen Traxxas XO-1's. But that's just me.
---
First off, Very Nice Website! I am new to the R/C world and ran across your site while searching for my son a R/C. He is 10-yrs old and looking to get into the R/C world. We are tired of disposable r/c's from the retail stores and want to get him a good one. He will not be a racer but more of a basher. He loves off-roading and will just use the r/c to show off to friends and around the yard. I have narrowed my choices down to 2 – The Traxxas Stampede XL-5 or the Electrix Ruckus. Looking for some advice on if the Stampede is worth the extra $$. The "waterproof" claim of the Traxxas is making me lean that way. It appears I can get a Stampede for $185 or a Ruckus for $130. Just looking for some pro's & con's on each and some advice on which "starter" r/c to choose.
Thanks for the help!
Chris W.
Cubby- Hey ya Chris, thanks for the email.
IMO this is how they stack up….
ECX Ruckus
Upsides- Good driving truck, takes a good pounding, loads of funs. Downsides- stock motor needs a proper break-in process, nowhere near the parts support of the Traxxas, limited hop-up potential.
Traxxas Stampede XL-5
Upsides- Incredible parts support, wheelie pop'n machine. Downsides- same old shock caps that pop off and spur gears that die too easily, it's hard to steer, dinosaurs still walked the Earth when the platform was conceived.
I'm going to throw one more into the mix… the ARRMA Granite. The Granite isn't quite to the market, but it's new tech, uses a twin spar chassis, waterproof, can handle big power, and it's 2.4 GHz. I got some time in with one at the iHobby show and I was impressed, unfortunately it's not due till late December.
Best of luck with your buying decision, feel free to shoot us another email letting us know what you bought and how it worked out for you and your son.
---
Hey Guys,
I'm looking to purchase either a Duratrax Evader Ext2 or Losi Desert Truck for my son. The Losi is $30 more.no biggie, but which is better for a kids first RC truck?
We been playing with my old Super Blackfoot 2, Losi Buggy and RC10T, but they are officially retired.
Thanks,
Marc
Cubby- Thanks for the email Marc. Btw, you are a lucky man having an old Super Blackfoot 2, a real Associated RC10T and a true Losi buggy in your rc garage. Todays offerings may be significantly higher tech, but I'd argue all day long that your classics are way more fun.
So… if I had to pick between a Duratrax Evader Ext2 or a Horizon/Losi Desert Truck, I'm going with the Duratrax all day long. Why? Because the Losi Desert Truck isn't a stadium truck, and it's not a short course truck, and it's not a desert truck, it's a monstrosity, a truck put out to try and capture some scale truck sales right after the Slash got huge (but they wayyy missed the mark). The Evader Ext2 is a durable stadium truck that is every bit as fast out of the box, plus the $30 you save can be put towards an extra battery/tires/charger/etc.
---
That's it for this week. Shoot your emails to Cubby at BigSquidRC dot com!
YOUR Cub Reporter