ASK Cub Reporter- 12.14.2011- You Write, I Retort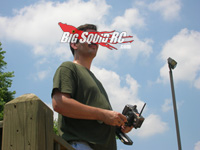 HobbyKing?… Denied!
Just wanted to let you guys know that I went straight to your store and bought a set of stickers after reading the article about not letting HK advertise on your site. I've been racing (not a basher here!) RC cars for 12 years and I have never bought stickers for any of my RC vehicles. Keep up the integrity.

Thanks,
Tyler
Cubby– Thanks for the mad props Tyler. Oh and, those BSRC stickers work great for fixing cracked spots in bodies too. 🙂
---
How are you doing, I have a VMX450 dirt bike and it came with the lipo 2s 3200mah 20c battery. So can I upgrade the battery to something higher for more speed like, a lipo 2s 4000mah 40c battery or higher with out burning the motor out? Thanks!

Lamont B.
Alexandria VA
Cubby– Hello there Lamont and thanks for the way-super-dope question.
Can you upgrade the battery in a Venom VMX450 without burning out the motor? The simple answer is- Yes.
Going to a higher capacity (read- mah) battery will give you longer run-times with a bit more power and speed (typically) while causing no issues with your stock electronics. Going simply to a higher "C" rated pack will typically give you more power and speed (but that isn't always the case) and, like a higher capacity pack, will not hurt your stock electronics.
However, one thing you don't want to do is go to a higher cell count, like a 3 or 4S Lipo. The stock speedo and motor are not set-up to handle the extra voltage. So keep away from the higher cell counts unless you enjoy the sweet smell of burnt electronics. 🙂
---
Hello,

I'm new to the world of RC sports. I've got no one to talk to here locally and have been slowly researching and building a custom Axial Scorpion. I put a DIG in it and am currently working on adding working headlights to it.

With my mods to the build, I will need channels for Throttle, Steering, DIG (3 positions), and Headlights (On/Off). From my understanding, I need a 5 channel Rx and a 4 channel Tx because the Rx needs power plugged into one of the channels.

I want to have Channel 3 be for the DIG, which requires 3 positions: 4wd, free spin rear wheels, locked rear wheels. I need this to be adjustable for the set points on the servo to engage the DIG at the appropriate position at all 3 points. I want to have Channel 4 be for the Headlights, which requires a simple On/Off feature. I already have a E-Switch module to plug into the Rx that I run the LEDs to and it can be set for when the On/Off triggers from the signal.

My question is: What is out there that can do exactly this for me? There are so many choices out there and I don't know how to read the features and interpret which one offers what I need. I did find the Radiopost TS401 2.4 GHz Tx with Rx system and it looks impressive, but don't know if it will fit my needs. Can you please show me what will? Also, I'm reading that 2.4GHz systems are the way to go and would like the best of the best.

I appreciate any and all help that you can give me.

Sincerely,
Mark B.
Cubby– Whoa, whoa, whoa, quite the question there Mr Hawking, what do you think we are around here, rocket scientists? LOL
But to be serious… I'm not a crawler guy. AT ALL. LOL. I suggest you hit up the crawling guru's over at rccrawler.com- your questions about dig, lighting, this channel, that channel, etc would be kids play to them.
About 2.4 GHz… is it the "best"? Well… its biggest advantage is being able to run a lot of people at one time without having to worry about someone else being on your channel (Oh how I miss the good ole' days of switch'n out crystals! NOT!). The second biggest advantage is less glitching. Crawlers seem to be all about brushed motors (which wreak havoc on AM transmitters), and because all the uber transmitters now days only come in 2.4, then yes, you'll most certainly be ending up with 2.4.
Anywhos… if I had to throw out a wild, uneducated guess, I'd say buy either a Futaba 4PL or a Futaba 4PKS. Both are quite uber, and if neither of them can do what you are looking to do perhaps you are trying to accomplish something that is only possible in a type 2 (or higher) Kardashev civilization. Just say'n…
---
Hey guys!

I'm a newbie to the electric RC world and stumbled across your site. It's fantastic by the way. I've really learned a lot and find the reviews extremely useful. Keep it up!

The reason I am emailing is because I've owned a couple of nitro TMaxxes in the past, but want to try getting into racing electric short course trucks at my local track (Joliet). Not really that local because I live over an hour away (downtown Chicago), but close enough. I've watched a few races already and I was immediately hooked. In reading through the reviews I have noticed that you guys have listed Leisure Hour Raceway as a test track quite a few times.

I was hoping to take you guys up on your offer to try out some of your stuff the next time you are at the track. Any chance you could give me a few dates on when anyone from BigSquidRC will be out there?

So far from my research I have decided to purchase a Team Associated SC10 Kit and build my race car. But as far as the transmitter, ESC/Motor and servos I have gotten lost in the myriad of options available. Hopefully, your set-ups along with some hands-on experience with them will help navigate me to the best options.

Hopefully you guys will be out there soon. Even if you have some dates into 2012 that works too!

Thanks again,
Kris
Cubby– Thanks for the props Kris, we are giving the site 110%, glad you dig it.
When will we be at Leisure Hours? Brian should be pretty easily found there on Thursdays, otherwise we all are kinda hit or miss. Where we run depends on what we are testing and who we can get together. We might be in Brian's cul-de-sac one day, a track in the greater St Louis metro the next, and a parking lot in Champaign the next, so it's hard to tell where we are running from one day to another (even for us! LOL).
One thing that we are trying to make a priority for 2012 is having more "semi-official" get together/bashes. Hopefully one a month, giving plenty of notice to our readers so they can join in on the fun (not to mention for you guys to try out all the test gear). Just keep your eyes tuned on our front page, we'll do our best to keep everyone informed.
As far as your new SC10 goes- props to you for building a kit. Yes, it might take 3 or 4 solid nights of hard work, but the feeling you get when its finally done and you get to drive it for the first time is amazing. About electronics for your new SC10- we've been testing a lot of short course brushless systems lately, that should help ya out there, and we've got another Lipo shootout coming in January (I hear there will be a Traxxas pack in it!), so hopefully we'll be able to guide you to a good quality Lipo as well.
---
That's it for this week ya bunch of scalawags, submit your questions, answers, and various ramblings to Cubby at BigSquidRC.com!
Your Cub Reporter