ASK Cub Reporter, 12.14.2012, Version: Honest Questions, Sketchy Answers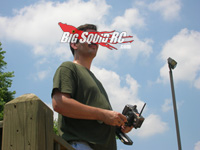 Can I check if Big Squid is gonna to do a review on Radiopost products? They've been out for a year now. Would be good to hear some honest reviews.
Adric T.
Cubby– Guess what Adric? You have just won "Letter of the Month" and are therefore going to receive one way-super-uber BigSquidRC t-shirt. Shoot Brian your shirt size and snail mail and he'll totally hook ya up.
And ya, the RadioPost radio gear has been out for a while now. We have attempted contacting them but haven't heard back from them. And not that it's weird to not get a reply from a company, there are a bunch of companies out there that won't touch us with a ten foot pole. But… our numbers can not be denied. If RadioPost has an interest in getting the word out about their products to the vast oceans of people in the bashing community, BigSquidRC is the place to be seen, for better or for the worse.
With that said, I really don't know much about RadioPost, maybe they just aren't heavy into marketing, maybe they are indifferent about the bashing crowd, I have absolutely zero idea. However, I do know the guys at Futaba and Spektrum have their acts together and passionately want their products in the hands of every basher from the Atlantic to the Pacific. If I'm going to spend my hard earned cash I'd be more willing to give it to people that are actively seeking my business than those that aren't even talking to your favorite website. But then that's just how I see it…
---
This next letter was a little long to fit it all on the front page, so make sure to KEEP reading to get the full letter and our answer..
To Horizon,
Below is s sample of the type of review I'm writing throughout the RC web.

I bought several Electrix Vehicles as did a dozen friends and the majority of the cars have never worked right. Most of the Electrix vehicles have a short range for radio reception or an off and on intermittent glitch with the car starting and stopping constantly–all batteries and connections have been checked repeatedly. I called A Main and Horizon a number of times. Each time Horizon sent first a new Tx then a new esc and neither corrected the problem. There has been a lot of time spent trouble shooting these vehicles most of which still do not work.

Our school community bought a dozen various ECX = Electrix cars and the majority have similar problems. I have called Horizon a number of times and they did send several radio component replacements but most of the time the problem persisted. Though these vehicles have a low price and the plastic parts seem sturdy the electronics often work intermittently and are discouraging to entry level customers and bad for the RC hobby. Better to pay more for Traxxas or Associated and drive happily for years.
I own over 20 RC cars that work well = I've been around the block and have been into RC since 1986. A year ago I was looking for RC cars for younger kids and bought an Electrix Torment–it worked well and was sturdily built–so I recommended Electrix vehicles to about a dozen parents of 8-12 year old kids for Christmas presents. They got various Electrix 2wd off road models = Boost, Torment and Ruckus. Most Torment 2.4s were ok = all but one–of the other models more than half had glitches right out of the box. These families immediately brought the vehicles in to me in my extensive RC shop where we checked them out. These faults cannot be blamed on the age of the kids in question as I and teenagers, all very experienced with RC, have the exact same problems with our Electrix vehicles. Less than half of the vehicles work very well–the few that do are great–it could have been a boon to entry level RC.
My local hobby shop had a handful of other Electrix customers with problems too. When I called Horizon I usually got a good response and they would send out various radio system components or an esc which only fixed one or two of the problems–the rest remain dysfunctional. I called Horizon and asked if the problem had been fixed about six months after getting the first bunch of bad Christmas cars. Horizon said the issues had been
corrected and that I should get a 2.4 Ruckus–I did and it had the same issues–they sent some replacement components that did not fix it. I finally installed a Futaba Tx, Rx and Novak esc and the truck now runs great.

Several months ago I couldn't believe that Horizon was having high profile promotions/sales on these vehicles. I wrote to Horizon a similar complete explanation of these problems (not including the first part above about the bad reviews I and others are now putting out) In my message I explained to Horizon how I have contacted them a number of times but the problems persist and asked how they could promote these vehicles with high profile sales in good conscience. The response I received from Horizon said they did not have records of
any other emails and suggested that I was mistaken or lying about my number of contacts to Horizon. In reality all six of my previous contacts had been by phone and you can check to see how many (4 or 5 components) you have sent out to me. I did not call or ask for replacement components for all of the glitchy vehicles as I
do not have time to mess with this stuff any more.
All of the said Electrix vehicles were bought at Dauth Hobbies, A Main Hobbies, Dollhouses Trains and More or directly from Horizon by various parents or myself. We started buying them over a year ago and one bought just a month ago still had the exact same issues–which means Horizon allowed these flawed cars to go out for over
a year. I have copied or called each of these vendors about this message explaining the current status of these issues.
The owner of one of these hobby shops told me he emailed a higher level executive at Horizon and received no comment about the persistent problems with the Electrix vehicles. This is a sad and disappointing story for the families involved and not good for the RC industry as these are entry level customers. We just don't have time to be dealing with the poor quality of the Electrix vehicles and Horizon's poor quality response. We are ready to move on to other brands and other distributors.

Here is a post from someone I do not know on this forum; http://www.rctech.net/forum/electric-off-road/575021-electrix-boost.html

"…Do not buy electrix rc vehicles, they are a short path to disappointment and a waste of money.

I have been reading up on others experiences with these vehicles and I am seeing a large amount of
dead on arrival (cars that don't work out of the box). That is another reason to run from this company."

Sincerely,
Al M.
Cubby– A little background on this one for our readers. The person writing the email is "Al M." and he states that he works for a middle school in Cali. And… this message was sent to us along with being forwarded to people at Horizon and the mags.
Ok, so where to start on this extremely verbose internet Jihad on ECX.
I find it hard to believe that a bunch of different electronics were bad in a large group of ECX vehicles. I find it harder to believe that their replacements were also bad. In my personal experience, we've had roughly 20 Electrix/ECX vehicles come through the doors at BigSquidRC and we've had one with short range and one with a trigger that didn't move smoothly through its entire range. In addition, we've had a few motors burn up a bit prematurely IMO, but every one of the motors we have water dipped lived a reasonable lifespan. Overall, I would call their QC about average to that of what we've seen from other brands.
Surely if "Al" has been in the hobby since 86′ he'd know what water dipping is, and surely he'd know how to trouble shoot electrical issues. But… IMO, if he knew how to do both, he wouldn't be having the issues that he has. He also mentions he doesn't have time to deal with the issues he has been having. Which, if he has truly been in the hobby since 86′, he would already know this is a hobby, it is intended to take up spare time. I've never known any car/truck, or any part of this hobby, that doesn't take up huge chunks of time. Water dipping takes time, so does properly trouble shooting. Perhaps if he was looking for rc that doesn't take up time he should have hit up a Toy-R-Us and bought a case of Tyco's and just thrown them away
as they broke.
"Al" seems to insinuate that ECX has a horrible rep, and in certain circles it probably does. But then I'm quite certain with a little digging I could find out the school "Al" works at has a horrible rep, as I could with any school (or any workplace for that matter) in our country. The internet is a good place to spread
information, but it's an even better place to spread mis-information.
To boil this one down. Al, if you are having issues shoot us an email or hook up with us on our live G+ show. We can help solve your truck issues a heck of a lot better than carpet bombing the internet with ECX hate-mail.
Oh and Al, shoot Brian your snail mail so we can hook ya up with some stickers. 🙂
---
That's it for this week folks, shoot me your questions, comments, or whatever else you have bouncing around inside that head of yours to Cubby at BigSquidRC dot com! You'll get free stickers if your letter makes the big time, or a free t-shirt if I proclaim yours as "letter of the month".
YOUR Cub Reporter