ASK Cub Reporter, 12.22.2011- Terrific Questions, Horrific Answers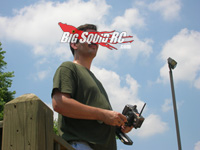 I want to get my son a r/c for xmas. I like the Torment for the 2.4ghz radio but he likes the monster truck look of the ruckus. I was thinking I could do a cheap 2.4 radio in the ruckus. What truck did you think was more durable? What would you suggest? Thanks
Ryan J.
Cubby– Yo thanks for the email Ryan, and Merry Early Christmas.
Which is more durable, the ECX Torment or the ECX Ruckus? Well… we didn't do a demolition derby between the two (but that does sound like fun!), so it's hard for me to put one above the other as both have proved quite durable for us. The Ruckus has bigger tires allowing it to drive over smaller trucks, but the Torment has big bumpers and body mounts that help protect the running gear underneath.
The Torment comes stock with a Spektrum 2.4 GHz transmitter that has very good ergo's, the Ruckus comes with one of the worst stock transmitters I've ever seen/used. I'd pop the extra bucks for the Torment based on that alone, but that's just me. Brian would totally go for the Ruckus because it's more like a monster truck. Either way, both ECX trucks are great starter trucks that are easy on the wallet.
---
1st off, i love the site man.. but i have a question.. im a nitro kinda guy but just bought a rustler vxl which rocks, and a Helion Dominus 10SC… its fun as is… but… I NEED BRUSHLESS!!! Im kind of ballin on a budget coz of christmas for the kid and family and ive decided to go with a ezrun brushless combo coz ive read nothing but good reviews for them… my question is.. will a 4000kv brushless motor be good for the dominus? I dont really get the whole kv thang… i know a 3500kv would be good but cant afford that.. so is 4000kv good or something different? Ive saw people saying 3500kv-6000kv.. i need help! Lol.. wish the brushless kv was as simple as the cc for the nitro lol… thanks for ur site, time, and help man…

Donnie M
Huntington, WV
TCRC Tri cities RC Club
Cubby– Hola Donnie, thanks for the props. I haven't been to West Virginia in a while, I need to get back there! Maybe I can catch some laps at TCRC?
Does a 4000 kv brushless motor work well in the Helion Dominus? I can't answer that as we've yet to throw brushless in our Dominus. However, I've got our resident racer guy on it, he's doing a series of hop-up articles on our Dominus and a brushless upgrade is coming in the next couple of weeks.
About kv ratings- thankfully they are really simple to understand. A 4000 kv brushless motor simply means that it can produce 4000 rpm for every volt of input. Given 1 volt of input it can produce 4000 rpm, given 2 volts it can produce 8000 rpm, given 3 volts it can produce 12,000 rpm, etc.
I will add that with the Dominus being a 4wd short course truck be sure and go with a 550 sized motor. A 550 is slightly longer than a typical "10th scale 540" motor. The added length typically has more torque, but more importantly, 550's typically run cooler and with less issues than a 540 in a 4wd SCT.
---
And now one from Brian's email box. 🙂
Hi Brian thanks for the great site bigsquidrc.com. I need it I'm 45 years old and was forced to retire 12 years ago cause of a back injury. Going Nuts at home then a friend Roger M told me about your site cause I told him I needed a light hobby and he's into short track. He has the Venom Gambler and I live here on Prince Edward Island Canada. It's just starting here, I mean short track RC and not much to do here, so in your opinion what is a good choice for price and strength to keep up with the Venom GAmbler? Having 3 kids and trying to get them into something Cool like this I hope would be great but me it's the $$ factor with everything going on Dr.s visits and all. Sorry to ramble on and my skills in letter writing are not the greatest. Anyway thanks for your time oh and do you have rules and regulations for short track?? Have a Great day!
Sean K.
Canada
Cubby- Hey there Sean, what's up in the great white north eh? Thanks for taking the time to shoot Brian an email. It's a good one so here it is in ASK Cubby.
Your buddy has a Venom Gambler and you are looking for an affordable alternative. Here's what I am going to recommend- another Venom Gambler! Why? Spare parts. Your buddy probably already has some spares, and if you get a Gambler you can "share your spares". When out bashing you'll have twice the pool of spare parts to rely upon. Not to mention the Venom is already a very reasonably priced truck. Lastly, in my opinion, the Gambler is the best looking 2wd short course on the market, and the best handling in the corners, a good truck, one well worth owning.
What are the rules and regs for short course racing? For local racing they vary from track to track, so give your local track a call and find out. But.. chances are they are racing one or more of these classes in 2wd SC-
1. Spec SCT- typically meaning running the stock brushed motor, stock electronics and stock tires.
2. Stock SCT- a class that allows normal upgrades but limits brushless motors to 17.5 turns.
3. Mod SCT- all normal upgrades allowed and no motor limits.
---
And… one last bonus email!!!
hi would you no if you would ever have a drag race event in philly or nyc
streetracer84
Cubby– Ummmmmmm…….. maybe? LOL
But seriously, the NYC/Philly area is filled with fervent rc'ers that don't get much love from the industry. There are a few big names out there, so honestly it shouldn't be tough to find some rc drag racing. We've been approached to do something out east in 2012, so who knows? Keep your eyes on our front page..
---
That's it for this week gang, submit your questions, comments, and other non-sense to Cubby at BigSquidRC dot com!
YOUR Cub Reporter