ASK Cub Reporter- 12.29.2011- More Questions, More Fun!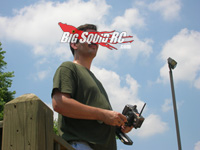 Actually Flite Test is also sponsored by Horizon Hobbies and I have seen them point out problems with many of the Hobbyking products they review. Also some of the products they review are pre-production units which they review and make suggestions to improve the production units.
Ken C.
Cubby– Yo thanks for the info Ken, duly noted.
---
Hi,
I'm looking to get an electric RC off road truck / buggy and have been looking at your website quite a bit as you seem to offer honest advice and opinions. I've had a few in the past but not for a good few years now. Initially I was considering a Traxxas e-revo VXL but then started looking at slightly larger models and thought about the savage XS and bullet flux from HPI.

I couldn't find reviews of these on your website so was wondering what you thought of these models. Basically i'm looking for something to blast around various places and on different surfaces. I do intend to use it at the coast so a resilience to sand would be really good. I did look through your list of 'basher approved' stuff and the trouble is the MT4-3G is a bit too expensive and I don't seem to be able to get Duratrax products in the UK unless I import from overseas.

Any advice or recommendations you can offer would be great.
Thanks in advance.
Gary F.
Cubby– First off you say " you seem to offer honest advice and opinions", and I'm going to correct that- "you offer honest advice and opinions". Seriously, we make our bones by saying it the way it is, that's the only reason anybody bothers to read us. Seriously.
Secondly… the MT4-3G is from Thunder Tiger, not from Duratrax. And while Duratrax product might be hard to get in the UK, Thunder Tiger might be a different story.
So… you are looking for a truck that will be used on different surfaces and in the sand while you cruise the coast. Here's what I recommend- small tires do nothing but sink like an anchors in sand, so while the Savage XS and the Revo VXL both kick a$$, I'm ruling them out for you. I am however feel'n the love for the HPI Bullet MT Flux. The tenth scale sized tires and 4wd are a big asset on sand, and the flat bottomed chassis of the Bullet MT gives it a lower CG for street bash'n.
One note about sand and rc- sand itself isn't really a big problem. Sure it causes premature wear, but by itself it won't typically destroy your truck in a few runs. Much worse is water- getting into bearings, into electronics, etc. When running in or around water WD-40 is your best friend, and don't you forget it. 🙂
---
That's it for this week folks, submit your questions, answers, top-secret-under-cover-info, and anything else you have on your mind to Cubby at BigSquidRC dot com!
YOUR Cub Reporter