ASK Cub Reporter- A Weekly Q & A Session, 11.25.2010, Special Uber Turkey Day Edition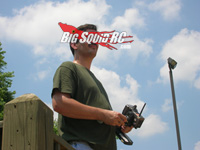 Each week we bring to you only the very best of our readers questions, this week is no exception.
==========
"hi i have found the shootouts very helpful i own a baja 5b and i have just got a 2wd slash so i have no idea about brushless and i was curious if a brushless shootout might be in the future
6.7#TreverM. Race Hard Go Fast Turn Right"
Cubby– What's up Trever? Thanks for reading BigSquid and the props on the shootouts. Our 4S Lipo shootout is really close to being done, I finished up my end of it tonight, and Brian should be finishing the editing and graphs over the weekend. Keep an eye out for it on the main page.
Which brings me to your idea about a brushless shootout. Hell ya, I for one would dig a shootout between the Castle Sidewinder, Kershaw 10th scale system, and Novak's entry level BL system. Brian sounds like he's stoked on it as well. So ya, we'll get started working on that one. The wheels turn slow around here sometimes, so give us a couple months and maybe we'll have a shootout that you, and hopefully a lot of other people, will enjoy reading.
==========
"Dear Mr. Cubby,
My name is Yang, I am from BATTERY BEAR (BB).
I learnt from our Mr. Chow that you are one of the most brilliant companies in the hobby industry. We are very much excited at the prospect of cooperating with your company.

We, BB is an expert in manufacturing battery, charger, power supply, cable, tool and connector for RC products and airsoft gun with pronounced quality, voluptuous price, full delivery and safety standard. Here are some of our product
1) Lipo battery and NiMH / NiCD battery for guns and RC products
2) spermicides
3) power supplies
4) pacifiers
5) BB bullets
6) handguard set
7) cat litter
8 ) Balance charger for Lipo / LiIon battery
9) thumb drives
10) granular soap products
Battery Bear has been providing batteries for the widely popular radio controlled hobby vehicles and electric BB guns.
We also offer Lipo battery packs. This type of sophisticate higher performance battery packs will be able to uplift your customers'.
Should you be interested in knowing more about our products, please do not hesitate to contact us at anytime.
With ultimate pleasure looking forward to pleasure with you soon.
Best regards,
Yang"
Cubby– You must be talking to the right people if you heard we "are one of the most brilliant companies in the hobby industry". Although I'm not sure if "brilliant" is a strong enough word. 🙂
I like the name Battery Bear, it just sounds so warm and cuddly. Does your company work with America's Smokey The Bear at all? While I don't know Smokey personally, I've seen him in commercials for years, and I hear he's damn good at putting out Lipo fires. He might come in handy around the plant eh?
Mr Yang, because of the uber amount of brilliance around the BigSquid office, I'd like to request some of your "sophisticate higher performance" Lipo battery packs. They must be better than the lower performance ones I use now, correct? Not to mention you claim they will "uplift" our customers, and I just GOTTA see that. Will our customers just start flying? Like, if they just touch one of your batteries will their feet lift up off the ground? If so, give me at least a half dozen to try out. I'm am just itching to sneak a couple in Brian's back pockets and watch him float around the office all day.
Best Regards to you Mr Yang, and it's with ultimate pleasure I await you to pleasure me and my readers.
==========
Our readers questions are the best in the industry (hands down). Submit your proof to Cubby at BigSquidRC dot com!
YOUR Cub Reporter